Shari'ah doesn't obligate disabled Muslims to perform hajj. Nevertheless, a strong desire to make this spiritual journey pulls on the heartstrings of every Muslim.
In past ages, the physical challenge of hajj was far more rigorous than our air-conditioned era of comfortable accommodations.
Nowadays, compassionate attention to the needs of disabled Muslims means that more and more Muslims are able to fulfill their dream of performing Hajj.
📚 Read Also: Best Things to Do in the 10 Best Days of the Year
Dedicated to Disabled Pilgrims
:
Beyond the normal travel/visa regulations, every pilgrim must comply with, there are more travel agencies and services than ever available for disabled pilgrims wishing to make Hajj.
The level of assistance required by a disabled pilgrim will determine if a dedicated travel agency is required. In all cases, travel arrangements and assistance for any disabled pilgrim must be made carefully.
For pilgrims not fully wheelchair-bound, nearly all Hajj travel agencies and services can accommodate disabled pilgrims with limited physical abilities, such as boarding buses, and ascending/descending stairs. Online reports are encouraging, regarding the variety of disability services available.
Pilgrims requiring full-time wheelchair service and assistance will be better served by a dedicated travel agency. Caregivers providing for individual needs of each pilgrim in their group.
For example, Disabled Hajj services have been offered since 2000 by the UK & European Disabled Hajj Mission (DHM), a non-profit Hajj and Umrah tour operator specializing in disability needs.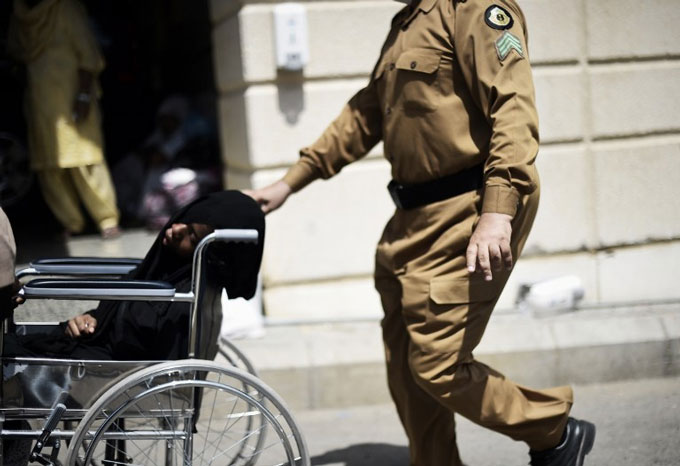 Making Hajj in a Wheelchair
Based on the wisdom gained with more than twenty years of experience, DHM recommends performing Hajj in a ten-day period. This represents a manageable length of time for people with disabilities.
Most pilgrims arrive at King Abdul Aziz International Airport in Jeddah. But with the existence of the International Airport in Madinah, disabled pilgrims find it more convenient to fly into Madinah.
Not only are the crowds lighter, but the period of customs procedures upon arrival is also significantly less.
Arriving Early Into Madinah
Arriving into Madinah several days ahead of Hajj offers a convenient opportunity to visit Masjid Al-Nabawi.
Programs offered to disabled pilgrims may also include visits to Quba'a Mosque, Qiblatain Mosque, Uhud Mountain, etc, while in Madinah.
Pages:

1

2