A sign of endurance that shapes the landscape of Egypt's Western provinces are enormous rock formations. Their numerous cracks have served as pathways for the flow of water and bound minerals, just another signature of time.
Later sculpted by the blow of the wind and the glaring sunshine, these rounded and hexagon like shapes resurrect whale fossils that encircle the trails of Wadi Al-Hitan from over millions of years ago.
Wadi Al-Hitan (Arabic for "Wales Valley") is a valley with concentrated marine fossils of primitive whales tracing back 40 million years.
Twenty species of plants and animals have been found like mangroves and turtles, with 400 whale fossils mapped out so far. What makes the valley even more special is that some of the whale fossils there were found to have fossilzed legs.
The "story of evolution" has given Wadi Al-Hitan its significance and conserving value up till now. Yet, hidden in the same valley is another story waiting to be heard of the people who are giving new life to this protected area, one of 28 National Parks in Egypt.
Investing in Eco-Tourism
This new type of eco-tourism is attracting bird watchers and hikers alike to National Parks around the world.The growing popularity of this World Heritage Site and its close proximity to Cairo has attracted many visitors.
Wadi Al-Hitan has received around 4,000 visitors in 2005, the first year of being inscribed as a World Heritage Site, and the number had doubled in 2006.
This has been mainly due to the development of the infrastructure that enables people to access it easily, but also because of the internal restructuring that took place within the park.
For example, instead of leaving visitors to roam through the vast desert expanse and use their own judgment to locate ancient fossils, visitors can now chose to take the 1.7 km Dorudon trail or the shorter 1.3 km Basilosaurus trail (named after two whale fossils located along each of those trails.)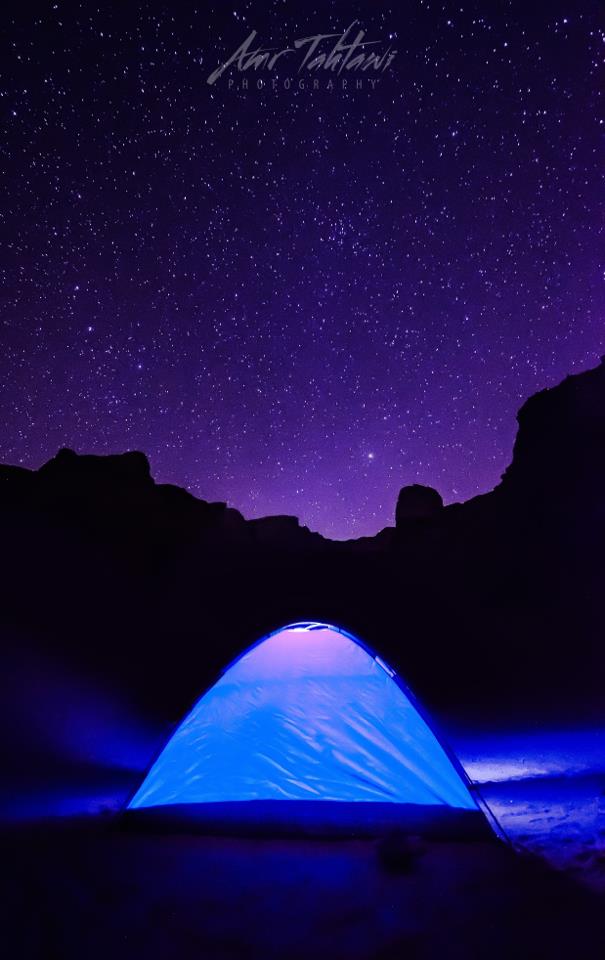 Among 18 Rangers appointed to the encircling Wadi Al-Rayan, Ayman Salem said that "different nationalities visit the site, mostly Italians followed by the French."
And with an influx of tourists, there is a rising need to take protective measures at the site. Providing an effective patrolling management system is one way of accomplishing this.
For this reason, an investment of about US$ 3 million has been made by the Italian government over a six year period to develop the necessary components of a conservation program and supply needed equipment such as vehicles, radios, and computers.
The Italian government, through the Egyptian Italian Cooperation Program, is nearly two and half years into its second phase with an earlier presence between 1998-2001.
"When you bring more people, you need to secure the site; a healthy community and a healthy protected area," says Dan Paleczny, international co-manager of the Egyptian Italian Cooperation Program in Wadi Al-Rayan, the large valley region incorporating Wadi Al-Hitan. "Easy concept to put in mind and much more difficult to implement."
"If you are driving in the desert, the chances of hitting a fossil is like a needle in a haystack," says Paleczny, but in Wadi Al-Hitan "not a needle in a haystack anymore because of the high concentration of fossils in the area."
"It has only happened once," asserts Mohamed Sameh, a ranger and geologist at Wadi Al-Hitan. Part of Sameh's responsibilities is monitoring and managing the site and reporting any violators who may move, collect or damage fossils.
"A report was written describing the incident when Belgian diplomats drove four-wheel-drive cars through the site damaging a fossilized whale."
"Pictures were taken of the damaged fossils and it was left as it is so that the investigating committee could see it as it is," Sameh said. "In every inch of the site there are whale fossils and some we haven't seen yet."
In reaction to this incident, Paleczny said "a person would have to make a conscious decision of driving past the rope fence" used to block the main entrance way to the park and keep the cars out. And because of such incidents and fear for the fossils, other desert roads leading into the park had to be closed.
Local Efforts
The local community plays an important role in the management and protection of the site. They have been involved in closing down the valley to restrict such desert crossing. A 4.5 km square perimeter has been constructed using limestone boulders quarried from nearby Tunis village by tractors for the purpose. Trails and terracotta plant pots have also been used to demarcate and enclose the fossilized whales.
Eco-tourism planning, such as providing stone-signs, was another way of involving local talent and skills. Working for five years in the park, ranger Ayman Salem said that locals from the villages of Sayedna Musa and Sayedna Al-Khidr have come to the area to learn stone carvings.
Workers and staff also come from the nearby Al-Faiyum town, located 85 km south of Cairo. "A place like Faiyum is a place that is depressed. Here is the opportunity to do something that's the best of it's kind in the world [with] spin-off benefits to locals living there," said Paleczny.
The project integrates several components that help deliver these benefits such as strengthening and building the capacity of staff, eco-tourism development and collaborative management with fish farmers and other locals, environmental education, and the protection of Wadi Al-Hitan.
Local efforts and local materials have also been used to construct the eco-mimicking facilities recently established in front of the main gate and across the valley. Eco-friendly domed structures built from sand mud-brick with plaster make up the newly built visitors site, and resting station with information boards are dispersed across the trail.
Towards Future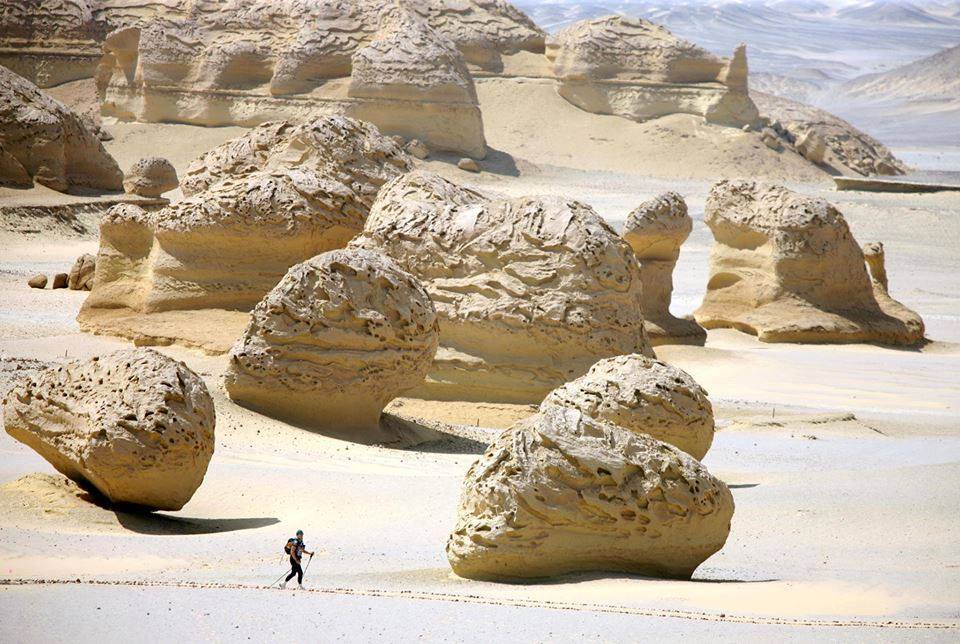 These resting stations are the bi-product of another cooperation that took place with the Italian government. A twinning agreement between Wadi Al-Rayan and Italy's Gran Sasso National Park has allowed the latter to provide technical as well as financial support, including the sponsoring of these stations.
In addition to cooperation with Italy, a research team from University of Michigan, the United States, brings expertise and research possibilities.
Other types of sponsorship includes the US-EGYPT Joint Technology Fund as well as the debt swap initiative program.
A non-governmental/non-profit organization, Friends of Wadi Al-Hitan is also being established to support conservation of the park.
By selling brochures such as the "Guide to the Open Air Museum", the group hopes to raise money for conservation, research, educational and local support programs.
While such sponsorships offer diverse ways of sustaining the park on the short term, the question remains, will Wadi Al-Hitan be maintained long after the Egyptian-Italian project is over?
Salem isn't worried that the project wouldn't get funded for a third phase because of the expertise gained by the staff already working there. "Wadi Al-Hitan is under control because there is plenty of staff," he said confidently.
Paleczny is also not worried. "Whether there is a third phase or not, staff will be skilled to plan and manage."
This article is from Science's archive and we've originally published it on an earlier date.