Pakistani actress Humaima Malik has appeared donning hijab in a post on social media, praying that she would be able to wear in for the rest of her life.
Malik said she got the hijab gift from Noor Bukhari, another Lollywood star who quitted the industry a while ago, to follow a righteous path in the name of God.
📚 Read Also: Indian Actress Quits Bollywood for Islam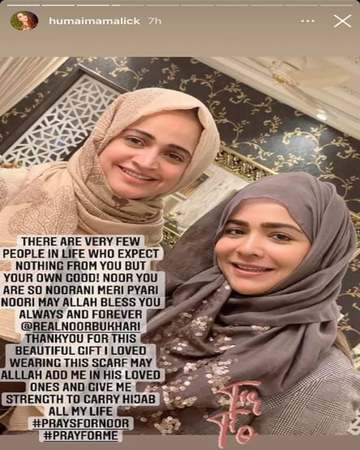 In a detailed caption on Instagram, Malik penned a heartfelt token of appreciation. "There are very few people in life who expect nothing from you but your own good. Noor, you are so noorani (luminous) meri pyari (My lovely)," Dawn reported.
She then thanked her for the scarf, saying a little prayer of motivation for herself and asking fans to do the same.
📚 Read Also: Kader Khan: Bollywood Star-Turned-Islamic Scholar Dies
Quitting Showbiz
Over the past years, a growing number of celebrities have been converting to Islam or quitting industry to follow a righteous path.
In October last year, Indian actress Sana Khan quitted Bollywood and entertainment industry to "serve humanity and follow the order of my Creator."
Award-winning Bollywood actress Zaira Wasim quitted showbiz industry in 2019, saying that working in such an industry constantly interfered with her iman (faith) and threatened her relationship with her religion.
Indian TV actress Dipika Kakar embraced Islam in 2018 before marrying Indian actor Shoaib Ibrahim.
Earlier in 2014, famous young Indian actress Monica decided to revert to Islam, donning Islamic headscarf and quitting the film industry.
In February 2014, reports said that both musicians AR Rahman and Yuvan Shankar Raja took the same decision to revert to Islam.