MONTREAL – The Quebec Court of Appeal issued a decision Wednesday, October 3, ruling that no person can be prohibited from wearing their hijab in the courtroom if it is worn on the basis of their sincerely held religious belief and does not conflict with an overriding public interest.
"Freedom of conscience and religion – which entails both the right to hold religious beliefs and the right to act upon these beliefs – does not disappear or change when the concerned individual is dealing with courts . . . Freedom of religious expression does not stop at the door of a courtroom," the Court of Appeal wrote in its unanimous decision quoted in the statement sent to AboutIslam.net.
In 2016, a Quebec Superior Court judge ruled that Montreal resident Rania El-Alloul should not have been asked to remove her hijab during her 2015 appearance in a Montreal provincial courtroom.
However, the court stopped short of issuing a broad declaration that one could not be denied access to the courtroom solely on the basis of their wearing the hijab, potentially leaving room for this issue to recur in the future.
El-Alloul appealed the Quebec Superior Court decision to seek a declaration about the religious right to wear the hijab in court.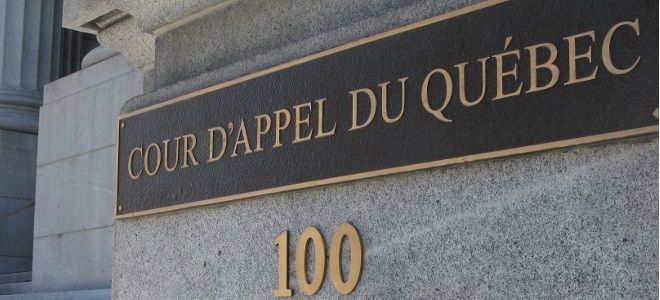 The National Council of Canadian Muslims (NCCM) advocated on behalf of Ms. El-Alloul's case from the outset including guiding her through the legal process and helping her secure legal counsel.
"Today's decision is a significant win, not only for Ms. El-Alloul and the NCCM but for human rights and religious freedom more broadly," says NCCM Executive Director Ihsaan Gardee.
"The court's ruling further protects the ability of Quebecers of all faiths and backgrounds to access the courts without undue barriers to their constitutional rights. We congratulate Ms. El-Alloul for her courage in taking on this extraordinary challenge and seeing it through to the end."
NCCM Vice-Chair Khalid Elgazzar also praised the court's decision as affirming religious freedoms in Quebec courtrooms.
"Access to justice means that courts have to be open to all Canadians regardless of how they choose to manifest their faith. The Quebec Court of Appeal decision is unequivocal in affirming this principle and the religious freedom of Quebecers when accessing the courts," he says.
"I am so happy and relieved about today's decision. This challenge was never just about me; I did this for every woman who wears the hijab," says Ms. El-Alloul in a statement.
"Whenever I hear stories about young Muslim girls and women being harassed in the streets for their hijab, for example, it's upsetting to me. So I did this to stand with these women, and I hope today's decision really encourages them.
"I also want to thank everyone who supported my journey over the past few years. I am especially grateful to my lawyers and to the NCCM, who have been by my side from the very beginning."