In less than two weeks, a Muslim-led crowdfunding campaign has raised nearly $150,000 to bail out parents detained in immigration jails, announcing that a tenth parent will be released today, August 29, Religion News reported.
"The forced separation of families is very antithetical to everything our faith teaches," said Tarek El-Messidi, director of CelebrateMercy.
"It's the harshest thing you can do, especially when these families are coming from such difficult circumstances."
American Muslims have kicked off a new campaign to bail out detained migrant parents, helping to reunite their families as soon as possible.
The crowdfunding campaign, titled Muslims for Migrants, is managed by CelebrateMercy, working alongside the National Bail Fund Network. Campaign advisors are Imam Zaid Shakir and Imam Omar Suleiman.
The initiative has so far released nine detained parents — seven fathers and two mothers — and reunited them with their families. A tenth parent will be released on Thursday.
Released parents include a Central American man fleeing gang violence, a West African immigrant, a West African who reunited with his wife and children, a mother of two who had been detained for eight months after fleeing domestic violence in Honduras; a single father who had not seen his 8-year-old son in 10 months; and a mother of three teen daughters, all of them US citizens.
"The core of this campaign is based on a saying of the Prophet Muhammad: 'Show mercy to those on earth, and God will show mercy to you,'" El-Messidi said.
"What's going on in America right now goes against the poem enshrined on the Statue of Liberty, and it's also antithetical to everything taught by the Prophet Muhammad and the Islamic faith."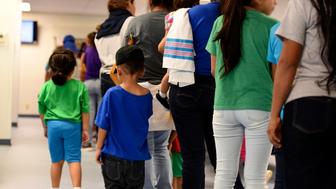 Help Needed
Muslims for Migrants campaign was kicked off after the sharp increase in the number of immigrants held by the US Immigration and Customs Enforcement which hit a record number of 50,000 in May.
Bonds for detained migrants have reportedly increased under Donald Trump, amounting from $7,500 to $30,000, according to Pilar Weiss, executive director of the National Bail Fund Network, a network of local community bail funds.
The released parents had been living in the US for several years before being held in detention centers for periods ranging from two months to four years.
More than 30 prominent Muslim community leaders across the US are supporting the campaign as partners, including campaign advisers Imam Zaid Shakir and Imam Omar Suleiman.
"As the humanitarian crisis at the southern border deepens, there is a deafening silence from most corners of the American Muslim community," the two imams wrote in an open letter earlier this month.
"Shouldn't the nation of the Prophet (peace and blessings of Allah upon him) who was himself an orphan and a migrant … be the first to be moved with the images of children in cages?"
Imam Suleiman said his goal is for Muslims For Migrants to raise $1 million for families.