Marking Islamic History Month this October, mosques and Islamic centers are hosting various events to celebrate Islamic culture.
Throughout the country, Islamic centers, mosques, and school boards are hosting virtual events to mark the month.
The upcoming events include the following:
October 12: Navigating Al-Waba Public Health and Islamic History by the Canadian Muslim COVID 19 Task Force
October 12: Muslims in Canada: Reflecting on Our Past, Embracing Our Future by the Muslim Association of Canada (MAC)
📚 Read Also: Coalition of Muslim Women Host Events to Mark Islamic Heritage Month
October 17: A Muslim History of North America with Omar Mouallem by the Canadian Council of Muslim Women (CCMW) and the Ottawa International Writers Festival
October 19: What Is Islamic History And How Can We Approach It? by the Muslim Association of Canada (MAC)
October 26: Muslim Women's Contributions to the Islamic Civilization by the Muslim Association of Canada (MAC)
Canada annually celebrates Islamic History Month in the whole month of October, and the focus this year is on sharing and healing from anti-indigenous racism and Islamophobia.
The annual Islamic History Month provides a time to focus on celebrating and educating the Muslim and non-Muslim community on the rich history, heritage and culture of Canadian Muslims and Muslims around the world.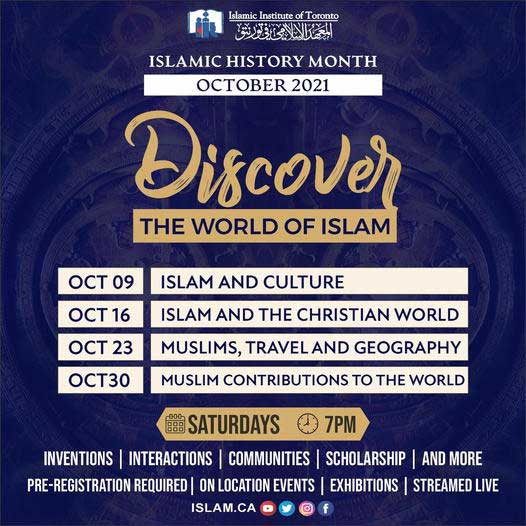 In-Person Events
Due to the pandemic, only a few events hosted by Islamic Institute of Toronto and Al Falah Islamic Center allowed in-person attendance.
With the them "Discover the World of Islam", the Islamic Institute of Toronto will host weekly events to help attendants discover the vast contributions made by Muslims, take a peek into Muslim culture in various parts of the world and meet interesting historical figures who have contributed to modern civilization.
The events are held weekly every Saturday till the end of the month.
On the other hand, Al Falah Islamic Center will host "Meet Your Muslim Neighbors Open House" on October 23.
The event was suggested as an effective means to share the message of Islam with the local community and build bridges with people of other faiths.
Dr. Sabeel Ahmed Director Gain peace will conduct Q/A session and a short lecture. Attendants will enjoy ethnic food, mosque tour, exhibition, Arabic calligraphy, face painting and henna for other faith community members.