A new survey of religiosity in Canada by StatsCan has found that the Muslim population has more than tripled since 1996, becoming the fastest growing religion in the country.
"The religious landscape in Canada has undergone significant changes," analysts wrote in a report published by StatsCan, The Western Standard reported.
"From a sociological standpoint, the study of the evolution of religion allows for a better understanding of some of the changes modern societies are facing.
"In addition, religion is important with respect to population change because it can influence important demographic factors such as marriage, divorce and fertility."
📚 Read Also: Spotlight: Early Muslims in Canada (Facts & Pictures)
According to the survey, from 1996 to 2019 figures on various religious groups' share of the total population indicated:
the proportion of Jewish Canadians declined from 1.1% to 1%;
the Sikh population doubled from 0.7% to 1.4%;
the Hindu population doubled from 0.5% to 1.7%;
the Muslim population tripled from 1.1% to 3.7%.
Catholics remain the largest religious group in Canada at 32% of the population. Anglicans and United Church members account for a combined 8%.
As late as 1985 there were so few Muslims in Canada the religion was categorized as "others" in a federal survey. The postwar population of Muslims was so small StatsCan's predecessor agency, the Dominion Bureau of Statistics, deleted "Muslim" from its 1944 Census questionnaire.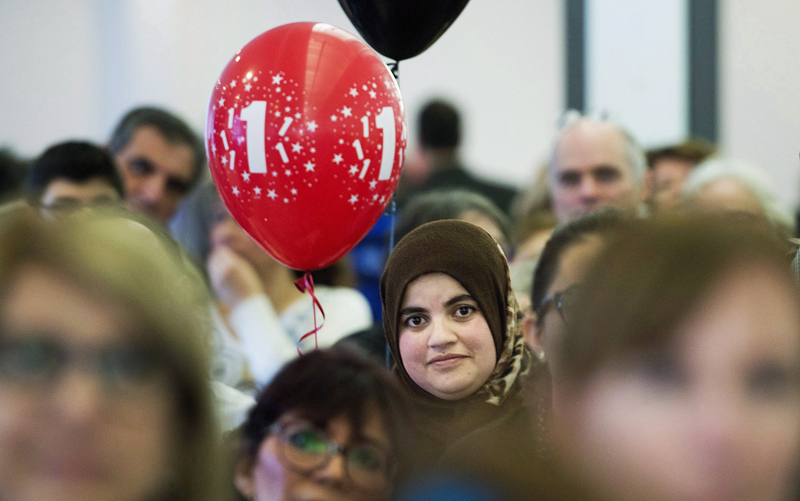 Decline of Religiosity
The survey, published on October 28, found that religious affiliation, religious activities and importance given to religious beliefs have been in decline for decades.
Presenting key trends in the evolution of religiosity in Canada since 1985, the survey shows that 68% of Canadians aged 15 and older reported having a religious affiliation in 2019 compared to 90% in 1985.
"The proportion of people who attended group religious activities at least once a month nearly halved, from 43% in 1985 to 23% in 2019," the survey says.
"Moreover, 71% of people reported in 2003 that their religious or spiritual beliefs were somewhat or very important, compared with 54% in 2019.
"Lastly, the proportion of people who engaged in religious or spiritual activities on their own at least once a week also declined, from 46% in 2006 to 30% in 2019."
There are about 1,053,945 Muslims in Canada. This has been shown to increase every census (10 years).
A majority of the Muslims in Canada follow Sunni Islam, and a minority of them follow Shiite Islam.
Canadian religious groups in 2036 would number 12.9 million Catholics, 5.4 million Protestants, 2.8 million Muslims, 1.2 million Hindus and 1.1 million Sikhs, said the report.