Seeking to protect her son from racist comments hunting him during a school hockey game, Ebtehal Badawi decided to use her artistic skills to create the "Pittsburgh Builds Bridges" painting.
The blue poster with a yellow bridge on it also includes raised fists of different colors and various religious symbols to promote healing and unity. The bridge is an especially meaningful symbol for Pittsburgh, which boasts 446 bridges.
"For me, it's not just a painting," Badawi told Religion News Service. "It's bringing everyone together so they can feel they belong."
📚 Read Also: With Halal & Kosher Food, Muslim Couple Create Melting Pot
Three years after launching her campaign in 2018, her poster now features at five schools in the city, a cafe, Penn State's Greater Allegheny campus and soon, a nonprofit dedicated to refugee resettlement.
Badawi's poster of the painting is also sprawled across the city in countless libraries, coffee shops and other public places.
"When I drew this, I didn't know I wanted to paint it as a mural. I've never painted a mural in my life," said Badawi.
"I never thought it would be a campaign. My intention was to help kids in the community I'm in, because it's not very diverse. That's why I painted this. And then it started all coming together."
According to Pew Research Center 2014 data, less than 1% of Pittsburgh residents are Muslim, with 78% identifying as Christian.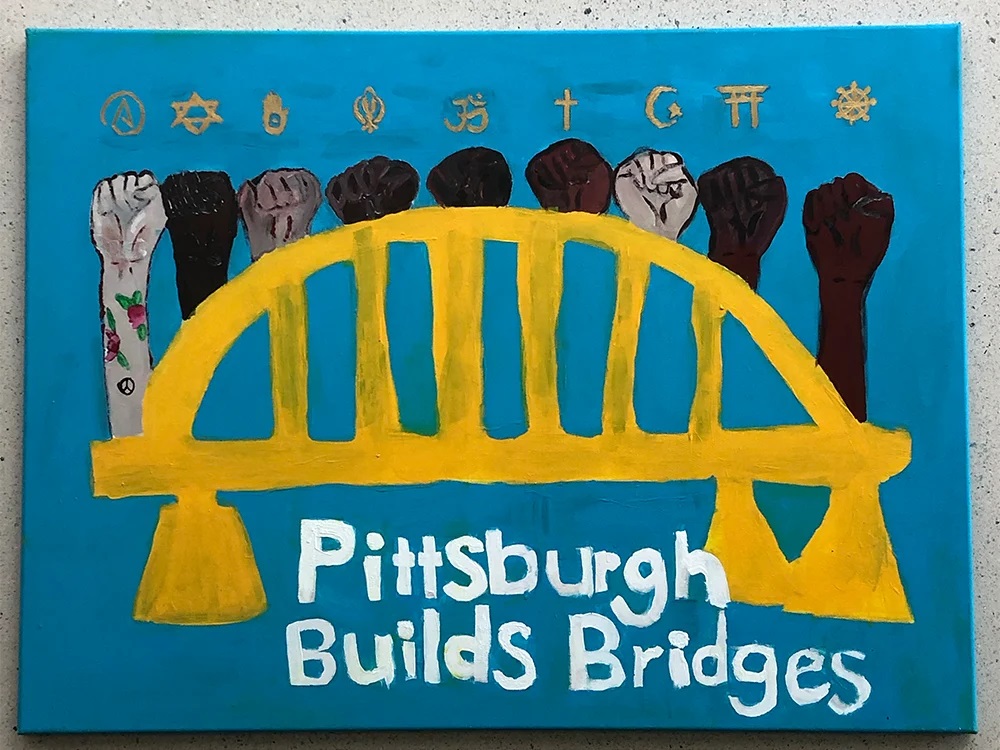 Inspired by Islam
Badawi said that the message of Pittsburgh Builds Bridges is inspired by her Muslim faith.
"In Islam, we are welcoming of all religions," said Badawi. "And we're taught that when we see someone in pain or hurting, we offer help. That's what our prophet, peace be upon him, did."
Now, Badawi is planning to paint an outdoor mural of "Pittsburgh Builds Bridges" with the help of community members from across the city.
"The reason these things happen, incidents of racism and bullying, is because people are afraid of people who are different," said Badawi.
"We need to accept those who are different, people who don't look the same or share the same belief. We need to be open, to see the people in front of us."