One daily struggle most working parents go through is keeping up with their kids between the time they are back from school and bedtime. Imagine that being a 24/7 job. It can turn to an unending nightmare, or can it not?
Experienced homeschoolers and educators have some tips for parents who are forced to stay home now under the coronavirus pandemic.
Long before the coronavirus hit, some parents chose this lifestyle, to stay with their kids 24/7 through homeschooling, and they seem to find it doable and sometimes enjoyable. Sisters Zalima, Hira, and Randa are three homeschooling mothers living in the US who got some valuable tips to share.
General Tips
First off, they are clearly telling you: don't panic! There isn't one correct way of doing it.
"Be open to the different types of learning" and "get up and move around with your children," Zalima, who is a long-time homeschooler and later a schoolteacher, says.
Randa, a mother of two girls who went around trying all kinds of educational experiences, agrees. "There is no one 'ideal' way to do it. Just choose what better suits you and your kids." Only, she says: "Don't stress and don't panic."
It only takes time to develop a schedule and daily routine, the mother of three kids with four years of homeschooling experience, Hira, explains. "With time, routine and learning become comfortable."
Home Activities
Yet, away from the panicking side of it, there seems to be a daily problem now with most of us parents, or may I call us the corona-hostages. We are locked up with our kids 24/7 and are asked to keep them off the screens. Telling them "Go play," as Zalima explains, isn't the solution.
"Think about it this way," Zalima is telling you, "kids at school are trained to have some sort of physical activity during the day, so create a weekly challenge list that they can compete with (I hate to say against) one another."
"In my home, we have a lot of board games, cards, marbles, blocks, Legos, and even pennies (there is a fun penny stacking game) to just play around with." "Keeping them occupied and playing with them instead of just saying, 'Go play' shows that you are having fun with them."
So, get down on your knees for a couple of hours every day and engage yourself with them. Such interaction will bring your family closer together; you will be looking into the face of your children with the attention which they need. Unfortunately, with the prime importance that we give to our cellular phones, we end up giving our children what Linda Stone calls "continuous partial attention." This is harmful to our kids.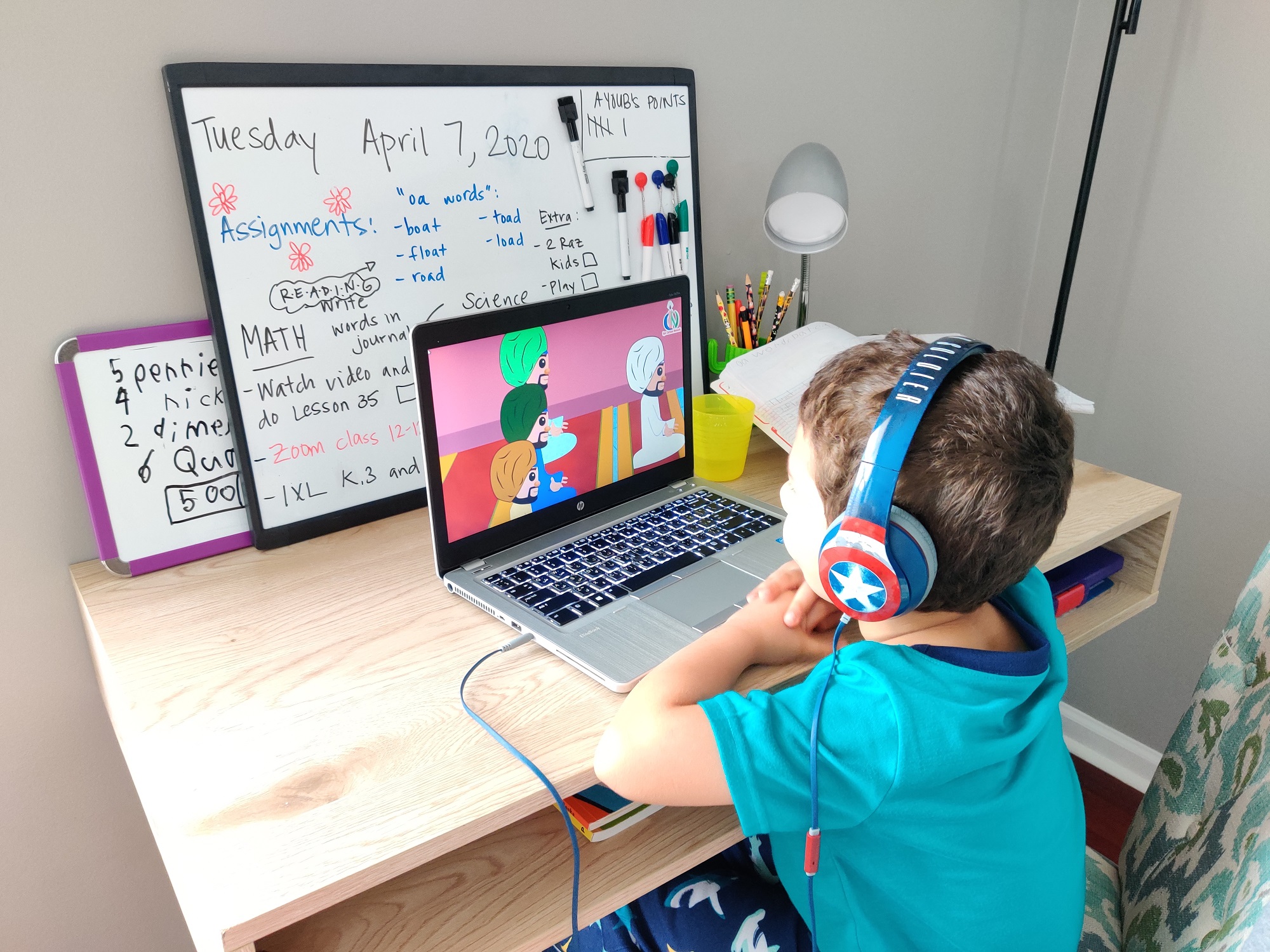 Challenge Your Kids
Another challenge to our children is the lack of challenge. Physical presence in school creates a classroom atmosphere where they would educationally progress through competing with their classmates. Now under the stay-at-home environment, parents need to mimic such an environment.
"Using social media in a safe way can help with that," Zalima says. In addition, for a schoolteacher like Zalima, online, interactive classes can help. "We have been hosting Zoom sessions with our students where I have word games at the end of my class," she explains.
Hira and Randa have been having that challenging environment by engaging with other homeschoolers in their neighborhoods. "We have a Co-op in our local masjid. They meet with their friends once a week," Randa says. Social media and interactive live sessions can be a good alternative to keep the masjid environment alive around the kids.
Stress Management?
For us, the corona-hostages, it becomes very stressful sometimes. In fact, there are some reports of a spike in child abuse cases in the US because of the stress created by the stay-at-home environment.
Being responsible for the education of your kids creates even more stress. Randa attributes the stress to two reasons: "First: your kids' success depends solely on you. If they fall behind, it will be totally on you and no one else to blame." "Second: As a parent, you get no free time. The kids are all the time with you. This is a challenge especially if you need to work or study."
The first step to deal with it is "acknowledging that it is stressful," Zalima explains. "As long as we remember that learning is a lifelong process, and our children will not be 'behind,' we can get through the stressful moments."
Plus: have a daily schedule! "I think the key is having a schedule," Hira advises. It will surely take some time for the kids to stick to the schedule, but once they do life should go much smoother.
The Best of All Knowledge
Finally, and most importantly, "take time to make sincere dua'a, take a moment to decompress from the lessons if they are stressful and most of all rely on Allah," says Zalima.
"Allah is giving us time with our family that many of us desperately need. Take a step back and understand that we can only do so much is the best stress reliever I can share."
Spend more time with your kids to learn the most important of all kinds of knowledge: knowing about Allah. "We've just read the translation of the Quran together and just discuss the importance of the words and how they relate to us now in this life," says Zalima.
"My husband and I make sure they have the foundation in place of understanding, so when the questions arise, we can remind them of using the proper answers and guidance of Allah."