Amira Elghawaby is an award-winning Muslim journalist and civil liberties defender. And as a tireless campaigner for human rights, she is making great contributions to the Canadian Muslim community.
Before joining the Canadian Labour Congress where she currently works in digital communications, she spent five years promoting the civil liberties of Canadian Muslims as human rights officer and later, as director of communications, at the National Council of Canadian Muslims (NCCM) between 2012 to the fall of 2017.
Along with frequent appearances on Canadian and international news networks, Amira has written and produced stories and commentary for CBC Radio, the Ottawa Citizen, the Toronto Star, the Literary Review of Canada, and the Globe and Mail.
Much of Elghawaby's job is about holding the press accountable—she wants the media to discuss Muslims in a way that doesn't cast a pall of suspicion over the entire community.
But with terms such as Islamic terrorism, jihadism, and Islamofascism used liberally, both politicians and the press often contribute to the growing suspicion of Muslims and Islamophobia.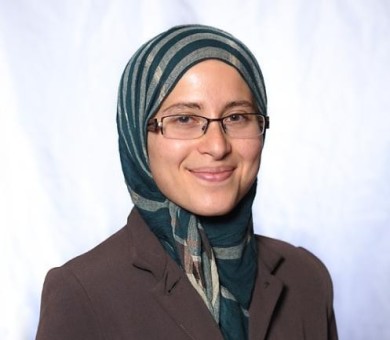 Freedom of Speech
Amira says that freedom of speech is important, but it's hard to imagine someone could write a letter criminalizing any other community and see it get published: "So there has to be that sensitivity."
Amira obtained an honors degree in Journalism and Law from Carleton University in 2001.
She is currently involved with several initiatives to promote civic engagement in diverse communities, including as a founding board member of the Canadian Anti-Hate Network, the Silk Road Institute, and as an advisor to the Muslim Fellows in Toronto.
Beyond media outreach, part of Elghawaby's work is building bridges between Muslims and other Canadians.
A 2013 Angus Reid poll showed that 54 percent of Canadians held a negative view of Muslims, up from 46 percent in 2009. But this changes, she notes, as people actually get to know Muslims. "So it's about increasing that contact," she says.
In the end, her goal is a basic one: to ensure that anti-Muslim sentiment, she says, "is seen to be on the same level as all other hatreds."