Following the footsteps of Prophet Muhammad (peace be upon him), nearly 1.5 millions of pilgrims embarked on their slow and steady trek to Mina on Saturday, in the first leg of their five-day journey.
Spirituality and peace were in the air in the sprawling tent city, surrounded by (Mountain of Light) and other hills, as more pilgrims poured in within every hour, each group reverberating with chants of "Labbaik Allahumma Labbaik" (O God, here I am answering your call).
Once in their fireproof tents, masses of faithful, clad in the white ihram garb, busy themselves reciting the Noble Qur'an and praying.
Many try to catch some sleep — after a tiring journey from Makkah which on average takes five hours – as they ready for the climax of their ultimate spiritual experience.
On Sunday morning, the pilgrims will descend on the site of Mount `Arafat where Prophet Muhammad (peace and blessings be upon him) delivered his last sermon more than 14 centuries ago.
The pilgrims then will return to Mina after spending the night in Muzdalifah.
They will take part in the symbolic stoning of the devil at Jamrat Al-Aqaba and sacrifice animals to mark the four-day `Eid Al-Adha, which starts Monday.
Here follows an infograph by Agence France Presse (AFP) showing hajj rituals: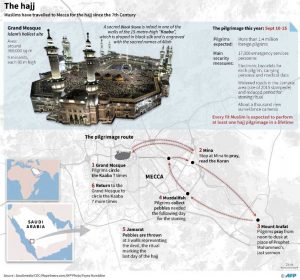 Save