In the time of open data, two UK Muslim university students have created a new prayer app, following a report that a popular Muslim prayer app was sharing people's private data.
The students, Abdul-Rahman Abbas and Tariq Imaad Jamal, announced plans to build the Pillars app on Twitter, informing their potential user base how their data would be used and allowing them to suggest features.
The idea came to them following a huge social media uproar in 2020 when a Motherboard report claimed that a popular Muslim prayer app was sharing people's private data, including their location.
📚 Read Also: Student Develops App to Help Muslims Find Group Prayers
Despite denial of accusations, Abbas said the report from Motherboard shocked him.
"The Muslim community felt a huge betrayal of trust, and the apps who did this faced a strong backlash," he told BuzzFeed.
Therefore, Abbas and Jamal attempted to develop a new app themselves. After posting on social media about it, they began to get a positive response from the Muslim community.
"We essentially looked at everything out there and thought, We can do better. It's actually a concept in Islam called 'Ihsaan' (essentially it's about 'going the extra mile')," said Abbas.
"For example, we kept our app completely ad-free (unlike most alternatives)," Abbas said. "They were intrusive and didn't belong on a prayer app anyway."
Protecting Users
According to the Pillars website, while the app accesses your location data, it "never leaves your phone."
"No data whatsoever is sent to Pillars or stored by ourselves [and] no other data is collected (including analytics or personal information)," the Pillars website reads.
The free app went live on May 1 and got a good response from Muslim Twitter.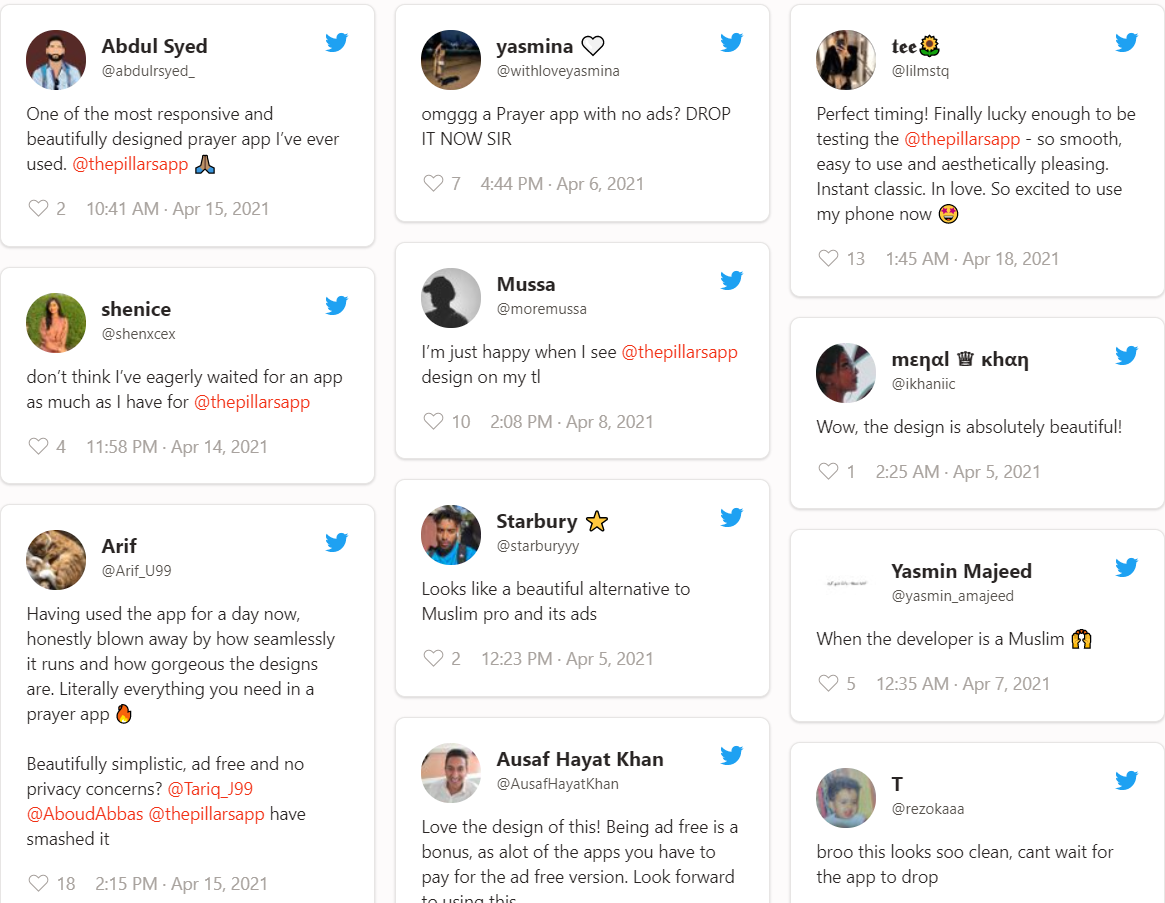 Abbas and Jamal have new ideas for improving their application.
"We're actually looking to launch a few more features soon, including a prayer tracker, which will also remain free, as well as a few other exciting features our community has asked for," Abbas said.
The app is not the first breakthrough for Muslims in this field.
Earlier this year, a new virtual app called ImamConnect was introduced to give Muslims spiritual coaching, counseling, khutbahs, and fatwas.
Another application, FajrUp, also automatically sets to Fajr prayer time by using GPS. It is a smart app through which Muslims around the globe can get connected; only what they need is just install the app.