Liverpool Muslim superstar Mohamed Salah joined in a heartwarming Keepy-uppy with a young disabled fan.
That was before his team met Chelsea in the UEFA Super Cup Wednesday night in Istanbul, Liverpool Echo reports.
Liverpool defeated Chelsea 5-4 on penalties to win the Super Cup for the fourth time in their history.
Salah played one-twos with Ali Turganbekov, a young boy who was born with no legs, at an event hosted by the UEFA Foundation for Children.
He was joined by his Liverpool teammates and Chelsea stars, meeting children from the Turkish Sports Federation for the Physically Disabled.
The talented children, from the UEFA foundation, beamed as they shared the pitch with the European champions.
The Egyptian winger also attracted a large crowd of children desperate to take a selfie with Salah and get his autograph.
Hours later, Liverpool lifted the UEFA Super Cup trophy after a thrilling 5-4 win on penalties following a 2-2 scoreline after extra time.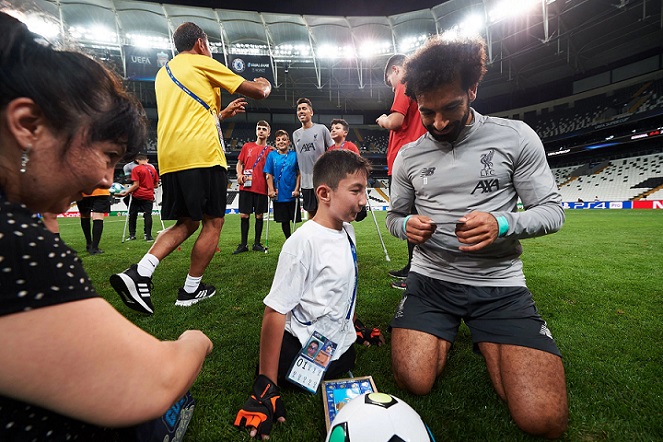 Coming Back for Fan
The match comes a few days after Salah won hearts by coming back to a young fan who hurt his nose as he bumped into a streetlamp while chasing his favorite player.
Eleven-year-old Louis Fowler and his 10-year-old brother Isaac had been spending their school holidays outside Liverpool's Melwood Training Ground, trying to get a picture with their favorite players when Salah drove out in his Bentley.
In a bid to get a wave from his footballing hero, young Louis took his eyes off the path and ran straight into a streetlamp — "busting his nose" in the process.
The child's pain was quickly forgotten as Salah turned back to check on his avid supporter.
"He'd [Salah] seen one of the boys had hurt himself and he had the decency to drive back into the close to check that he was OK," the boys' stepfather Joe Cooper told the Liverpool Echo.
"No-one could believe it. Everyone was gobsmacked. They were made up and Louis forgot all about being injured."
@MoSalah thank you for coming back to check on my boys after Louis KO'd himself trying to get a wave! He loves you so much and the pain went away instantly when you came to give them a hug. A nose reset worth well worth it he said. You are a top man and a true gent! #EgyptianKing pic.twitter.com/wrmHc4vxB9

— Joe Cooper ? (@joecooper93) August 10, 2019
Salah is arguably one of the biggest Muslim sports stars in the world at present.
Salah's record-breaking exploits for Liverpool have earned him millions of adoring fans.
Mohamed Salah Performs Umrah to Makkah Before Liverpool Camp