Recognizing her role as she tries to make the future easier for young women to enjoy sports and to remove barriers, Harun , the founder of Muslimah Sports Association, Fencing, and Football, was shortlisted for the British Muslim Award 'Rising Star in Sports'.
On the sidelines of the 7th British Muslim Awards, which took place in the city of Bradford, AboutIslam interviewed the Muslim woman who, though not one of the winners, is one of the inspiring figures.
AI: What inspired you to do what you do? Family, friends, general interest or what?
YH: My inspiration was my love for sports. I was captain of athletics, netball, football, hockey, and rounders and never realized there were any barriers until I left school and found that there was nowhere really for me to carry on playing sports, which offered an environment that catered for my religious and cultural background.
After I had my second child, I had a lot of health issues. I joined a gym, but I missed the competitive nature and teamwork structured sports gives so I thought other women, Muslim and non-Muslim alike, must feel the same.
I established MSA in 2014 initially with basketball, after volunteering with MSWF since 2008. MSA then rapidly grew and the number of sports being requested by the community increased. We now offer over 17 sessions a week, including Pilates, Fencing, Go-Tri, and Badminton. Seeing the impact our activities have on these women is so rewarding. The impact is not only on physical health but also on their mental well-being which is so important today. MSA has given these women an opportunity to play sports they either once loved or never had the opportunity to experience and this what keeps me going. We have over 200 ladies participating each week. That is an amazing achievement.
AI: To what extent does your religion define or contribute to what you do?
YH: Being a Muslim woman was a major contributing factor when setting up MSA. I wanted MSA to be inclusive for all women, and that meant not only catering for women who are not only Muslim but also women who may have different interpretations of Islam. For example, our boot camp classes are with no music, so it is open for those sisters who believe music is not allowed in Islam. Also, all our classes are strictly female with female coaches, with each venue carefully vetted. We explicitly inform the caretakers/janitors that the space we hire is strictly forbidden by men and if they are to enter, they must give time for the women to wear their purdah; and this has contributed towards the success and reputation that MSA has locally and nationally.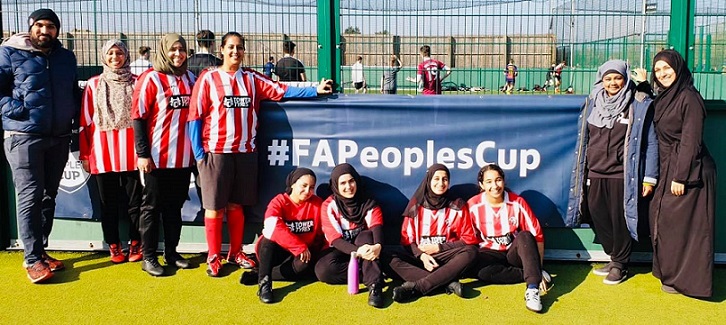 AI: Can you give an example of a man or woman (doesn't have to be a Muslim) who has shaped the way you think. What influence did they have on you?
YH: My husband has given me the support and strength to continue with MSA and make it what it is today. Working full time and having a family is hard work for the best of women; but to also run a sports association which now has 17 weekly activities in your spare time, attending meetings, answering calls and emails, with all the administration that goes with it, is another full-time job! In addition, being a Non-Executive Director at British Fencing and Trustee at MWSF and a Council Member and Inclusion Advisory Group member at London FA takes your time away from your family even more.
Without his support, I would not have been able to pursue my passion. He is my advisor as well as guardian, best friend, and soul mate. There have been many times due to poor health where I have felt I cannot carry on, but he has picked me and inspired me to carry on and for that, I am forever grateful to the Almighty and my parents.
AI: Can you share a challenge you have faced and how you have overcome it?
YH: In July 2016 we approached various stakeholders to deliver an Inclusive Level 1 within Redbridge targeting local Muslim and BAME females which is a hard-to-reach group. The project was the first of its kind, to tackle low levels of sporting participation among females' minority ethnic groups.
trailblazer took place with key partners including, London Sport, Essex FA, and Vision Redbridge, with MSA playing a pivotal role in identifying learners and advising the Essex FA on the barriers and the needs of the females.
Through our activities, we were able to identify several females for the course, but the course was also open to females outside of MSA.
Several obstacles were faced, including the venue as the initial venue did not suit the needs of the females by not being accessible or fully enclosed, which resulted in myself consulting with the women, to gain feedback and understand the barriers. I provided information on how, where and when the course should be delivered, to meet the needs of the women.
The project had taken 2 years for it to be successful and ensuring that all the needs of the women were met, there were many barriers faced, but all organizations came together collectively to help overcome each barrier. A great example of collective partnership between organizations, which has led to MSA working with British Fencing in delivering another Inclusive Level 1 for Muslim women who would like to coach in Fencing – a sport not necessarily considered by our community, but with my involvement has opened doors to the opportunity for this generation to inspire the next.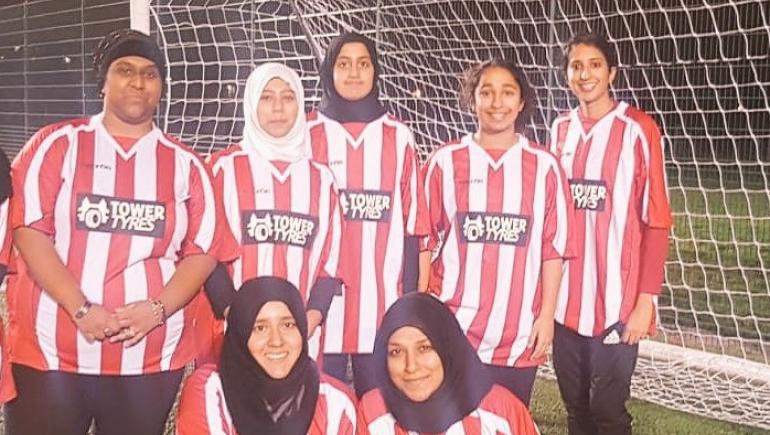 AI: To what extent does the Muslim community influence you, if at all?
YH: The Muslim community is integral in all the work I do at MSA as our success is dependent on them. Although there is no direct influence, I am involved in several local initiatives where the network can come together to discuss the needs and requirements of the Muslim Community and I always ensure to push the agenda of the importance of Health and Mindfulness for Muslim sisters. Working with local masjids has helped to push this agenda nearer to the top.
AI: Can you share an example of how you have faced discrimination and how it was resolved? You can be as detailed or as vague as you like.
YH: Alhamdulillah – I have not faced discrimination; yes, I am judged for being a woman, judged for being Asian and judged for being for a Muslim but it is my job to ensure that any pre-conceptions are banished, and leave them with a positive view of women, especially Muslim women.
We all face some sort of discrimination at some point in life. I grew up in a small harbor town in Scotland. We were the only non-white family there. Majority of locals were very friendly, we had two businesses there, but we faced racism nearly on a daily basis from small minded people. Luckily it was only a minority, but the way I got through it was to ignore them and make the best memories with those who did want to know us and learn about our culture and religion. I have some of the best memories from my childhood there, so it was not all bad – it taught me how to adapt, to live in harmony and to love the different cultures and heritages I encounter; but more importantly to practice my religion without imposing it on them. Allah made us all – we are not in a position to judge or hate.
AI: Who is your favorite Muslim personality and your favorite non-Muslim personality, who are alive today?
YH: This is a hard one. There are so many inspirational Muslims out there now which was very rare when I was growing up – I had Muhammed Ali who was the greatest, but now there are so many across so many sectors. Within the political arena, you have Mehdi Hassan who is such an important voice for Muslims and Ilhan Omar who has proved where determination and hard work can you, no matter what life throws at you. You also have Ibtihaj Muhammad who is a trail blazer in the sports world showing that you do not have to sacrifice your identity to pursue your dreams. You have so many footballers now playing at an elite level showing that you can be a Muslim and a footballer, it does not have to be one or the other. This is inspiring and very important for the next generation.
But one that a true inspiration for me is Mohamed Farah. His achievements are second to none. To read his history, he could have very easily ended up on a different path, like so many before and after him who share a similar journey, but he grabbed his opportunity with both hands and made the best of it. A true inspiration and one of the greatest British Athletes with the bonus that he is Muslim!
My favorite non-Muslim personality is Sir Alex Ferguson. I am a huge Manchester United to fan, so it would be wrong to not mention this in this interview! I have such respect for Sir Alex, his hunger and determination to win, to adapt to change and win again and again is awe inspiring. It takes a lot of energy to do that and he did it for over 25 years. The ethos he promoted throughout Old Trafford from knowing the staff names in the canteen to all the way the hierarchy was something his players learnt and respected.
For a leader to constantly engage and inspire his players at the same club and get that hunger in every match is no easy job as we have seen. His honors list is an amazing achievement for one man and the reason he is so loved not only at the club but around the footballing world. He gave me so special United memories, but his legacy will always live on and I do not believe there will be another manager that even comes close to his achievement any time soon.
AI: If there is anything else, you'd like to share feel free.
YH: Running MSA is not to gain recognition with awards, though it is always nice to be shortlisted or to be recognized. The biggest reward I get from running MSA is from the participants. The lovely messages of thanks I receive and to see how some of them have improved in their sport is so rewarding. These women have rekindled a love for a sport they once had or are playing a sport they had never even tried before. Some are now playing competitively in Badminton leagues and football leagues and winning cups. Some are also coaching in the community and these are all opportunities opened to them through MSA.
The support I have received from the community, participants and key partners has made this journey amazing so far. In shaa Allah there is more to come.