Is there anything more frustrating than seeing the beauty of natural landscape spoiled by litter? Beaches strewn with empty plastic bottles and packets; plastic bags entangled in trees and hedges; picnic spots mottled with plastic plates and cutlery; plastic rubbish floating on the waters of lakes, rivers and seas. Plastic, plastic, plastic everywhere!
Allah says in the Holy Qur'an: "Eat and drink from the provision of Allah, and do not commit abuse on the earth, spreading corruption." (Surat Al-Baqarah 2:60). And "… do not desire corruption in the land. Indeed, God does not like corruptors." (Surat Al-Qasas 28:77).
The amount of rubbish people produce is truly corrupting the earth. Not only is it ruining the earth's natural beauty, but it's also polluting the soil, water and air with toxins from manmade materials that aren't biodegradable or that take hundreds of years to decompose. The situation is so desperate that scientists predict that without urgent action there will be more plastic than fish in the ocean by 2050.
The realization of the scale of the problem is slowly dawning with some organizations and governments taking action. Their small steps to tackle a big problem will eventually gain momentum so we can reshape our relationship with plastic materials.
Muslim Pioneers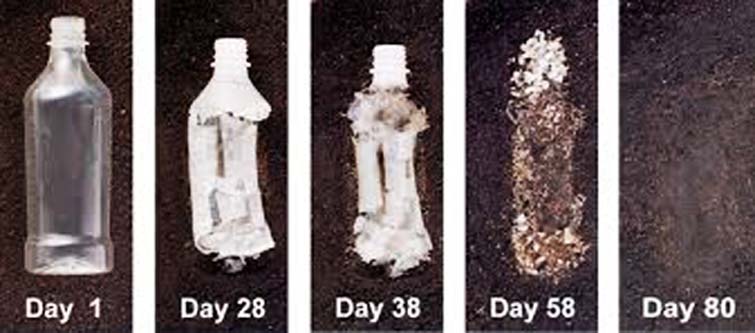 Bangladesh became the first country in the world to ban thin plastic bags in 2002, after they blocked drainage systems during devastating floods.
Similar problems in other countries also prompted bans, while others imposed a tax or fee on plastic bags to discourage customers from using them. Animals often ingest plastic bags, which kill them by blocking their intestines. Small animals can also be trapped in them.
Thin plastic bags are currently banned in a number of Muslim nations: including Eritrea and Tanzania, who banned plastic bags in 2005; as well as Mauritania who banned the use, manufacture and import of plastic bags in January 2013; and Morocco, which was the 2nd largest consumer of plastic bags in the world after the US, who took the same step five months ago.
Two other Muslim countries, Indonesia and Malaysia, have issued guidelines for retailers to charge consumers for plastic bags. The money that comes from this is used by retailers as public funds for waste management alongside non-governmental organizations.
Packaging Deposit
Sweden has one of the oldest functioning container deposit schemes. Container deposits, also known as bottle deposits, are the additional amount of money paid in return for temporary use of containers, such as glass or plastic bottles and metal cans, that are used to package certain products. The deposit is returned when the container is returned to the shop.
Operated by a private company, Sweden's recovery rates have reached 86% for cans and 77% for PET bottles (made of recyclable polyethylene terephthalate).
Similar schemes work effectively in other Scandinavian and European countries, notably Germany.
In other countries, like the UK, passing the 'bottle bill' has been strongly opposed by the manufacturers' lobbies. The UK's Marine Conservation Society has repeatedly called for a refundable surcharge to be added to the price of all drinks containers after its annual survey found that: "There was a big percentage rise in most drinks containers found on beaches between 2014 and 2015 – plastic drinks bottles increased by over 43%, metal drinks cans by almost 29%."
Recently, France became the first in the world to ban plastic tableware. The new law, part of France's "Energy Transition for Green Growth Act", will require all disposable cups and plates to be made from at least 50% biologically-sourced materials that can be composted at home by January of 2020.
According to the French Association of Health and Environment, 150 single-use cups are thrown away every second in the country; a staggering number of 4.73 billion cups per year. Only about 1% of them are recycled, the rest end up in the landfills or as litter. The disposable cup is used only as long as it takes you to finish your tea or coffee, but it will last as rubbish for 50 to 250 years, depending on its material.
France's move has been applauded by many, but the European food packaging manufacturers association, Pack2GoEurope, are determined to fight for their interests. Pack2Go Europe secretary general Eamonn Bates told The Associated Press: "We are urging the European Commission to do the right thing and to take legal action against France for infringing European law. If they don't, we will."
Plastic is cheap, light and convenient. It is easy to use and easy to dispose of as long as we turn a blind eye to what happens to it after we no longer need it. But if we keep on doing that, the amount of plastic rubbish will become too big to go unnoticed. Knowing that a product that will give us five minutes of convenience but hundreds-of-years-worth of burden to the ecosystem can't agree with our conscience. It shouldn't. Not as Muslims and not as responsible humans, God's vicegerents on earth.