Pilgrims continued, on the second day of `Eid Al-Adha, Wednesday, July 21, the symbolic stoning of the devil at Jamrat Al-Aqaba.
Chanting "Allahu Akbar (God is Greatest)," pilgrims used specially sterilized pebbles obtained ahead of the hajj season.
The stoning of the devil began on Tuesday, July 20, after the pilgrims had slaughtered sacrificial animals and performed Tawaf Al-Ifadah.
📚 Read Also: Hajj In Pictures: Pilgrims Ascend Mount Arafat
Wearing masks and the ihram, the limited number of pilgrims stood while observing physical distancing along a giant pedestrian bridge that houses the walls in the Mina valley, pelting Jamrat Al-Aqabah, Agence France Presse reported.
"All my life I dreamt of going on the hajj, and I still can't believe that the dream has come true," 38-year-old Syrian pilgrim Lina told AFP, describing it as "the happiest day of my life".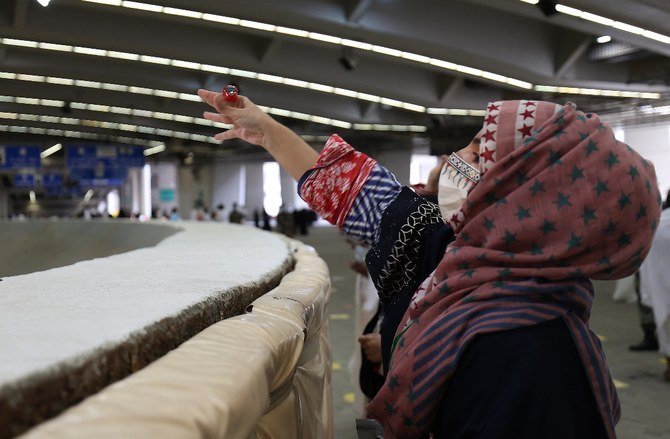 Downsized Hajj
In previous years, however, some 3 million white-clad pilgrims from across the world flocked to Islam's holiest sites to attend haj.
"From the beginning, our priority has been the safety of pilgrims, and for this reason we decided to limit their numbers to 60,000 to ensure that the precautions are enforced and everyone is safe," Saudi Health Minister Tawfiq Al Rabiah told AFP.
"We are monitoring the situation continuously," he said late Monday.
📚 Read Also: Hajj 101: How Muslims Perform Hajj?
Pilgrims hurl seven pebbles from behind a fence or from an overhead bridge every day for three days at each of the three 18-meter (58-foot) high concrete pillars symbolizing the devil.
Muslims believe Satan appeared on the same site to Prophet Abraham, son Isma'il, and wife Hagar, who each threw seven stones at the devil.
After the stoning ceremony, the pilgrims head to Makkah for Tawaf Al-Wadaa.
Muslims from around the world pour to Makkah every year to perform hajj, one of the five pillars of Islam.
Due to the COVID-19 pandemic, Saudi government cut the number of pilgrims to only 60,000 to curb the spread of the deadly virus.
Hajj consists of several ceremonies which symbolizes the essential concepts of the Islamic faith. They also commemorate the trials of Prophet Abraham and his family.
Every able-bodied adult Muslim who can financially afford the trip must perform hajj at least once in a lifetime.