Clad in white ihram, thousands of pilgrims arrived in Makkah on Sunday, July 19, before moving to Mina on the first leg of their journey of a lifetime, preparing for the climax of a downsized Hajj when they ascend Mount `Arafat.
"All the personal suffering, the exhaustion of long hours of travel and hunger just disappeared when I saw the Kaaba. Nothing else matters," Samira Abbas, one of the hundreds of thousands who applied this year for hajj, told The National.
📚 Read Also: Check Our Coverage of Hajj 1442 (Special)
"Many of us travelled in our Ihram, drove for hours and then waited for hours before we could board the bus. It's been a long journey, but this is just the beginning."
About 20,000 pilgrims performed circumambulation at the Grand Mosque in Makkah on Saturday, according to Saudi Press Agency.
"It feels different already to Hajj I performed 15 years ago. It used to be more social, but it's good to ensure safety of others by following social distancing," said Ayesha, a Pakistani national.
Pilgrims will spend Sunday in Mina reverberating with chants of "Labbaik Allahumma Labbaik" (O God, here I am answering your call).
Once in their fireproof tents, the faithful, clad in the white ihram garb, busy themselves reciting the Noble Qur'an and praying.
📚 Read Also: Your Toolkit for Dhul-Hijjah 10 Days (Special Collection)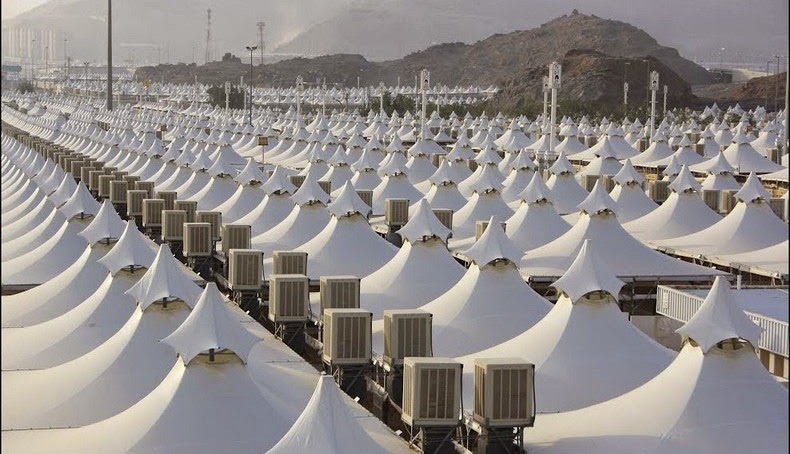 The Day of Tarwiyah
The Day of Tarwiyah (literally known as fetching water) marks the beginning of Hajj. There are no major rituals, so the pilgrims will spend their time praying and reflecting until sunrise on Monday.
On Monday morning, the pilgrims will descend the Mount `Arafat where Prophet Muhammad (PBUH) delivered his last sermon more than 14 centuries ago.
The pilgrims will then return to Mina after spending the night in Muzdalifah.
They will take part in the symbolic stoning of the devil at Jamrat Al-Aqaba and sacrifice animals to mark the four-day `Eid Al-Adha, which starts Tuesday.