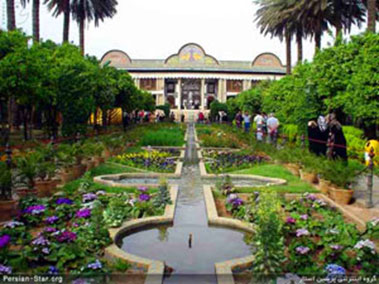 Islamic Gardens
Traditional Islamic gardens – Charbagh, are reflections of heaven on Earth, but the idea of heaven which they reflect is common to people of different faiths, not only Muslims.
And so through pondering on the beauty and the manifestation of cosmic harmony expressed through the design of Charbagh, people could find what has been missing in their lives and start the process of realigning themselves back to nature.
Mark Bryant, Development Officer for the study of Islam at the University of Cardiff, and the last speaker at the event presented a lecture 'Are British Muslims green?' which offered some insight into how local Muslim communities are reconnecting with nature, often through creating green spaces, Islamic inspired gardens, and communal gardens.
Community Gardens
One of the success stories he related is the Community Garden created by the Wapping Women's Centre in the East London Borough of Tower Hamlets. Creating green space for vegetable garden enabled women not only to grow their own greens but also boosted their confidence, helped establish a sense of belonging and promoted some pro-ecological changes to their lifestyle.
While many British Muslim communities are skeptical about the gardening projects, those who give it a try and start soon begin to see the positive changes that such ventures bring, their outlook changes and they do embrace more green lifestyles.
Refreshments and discussions over the cups of tea followed the lectures, where the speakers, organizers and the visitors freely exchanged impressions, opinions, and ideas. It was an interesting event and it certainly provided lots of food for thought and inspiration.
Maybe the best way to start reconnecting with nature is by getting physically close to it. To find our right place within Allah's creation we need to realize its grandeur.
This article is from our archive, originally published at an earlier date, and now republished for its importance.
Pages: 1

2