With sports events coinciding with Ramadan, many studies are investigating the effect of fasting on athletic performance. Will fasting hinder or reduce athletes' performance? A tough question, indeed.
In April 2012, the international journal of sports medicine published a research examining the effects of Ramadan fasting on athletes' body mass, composition, and muscle potentials.
Results showed that the fasting doesn't alter body mass and composition, neither does it affect athletes' neuromuscular efficiency and peak muscle performance.
📚 Read Also: Ramadan – Seizing the Moments for Dua
An important factor to be taken into consideration, though, as advised by the researchers, is the "modification in the distribution of activity times during the day" as the timing for peak athletic performance and highest level of activity was slightly shifted during fasting.[1]
A FIFA Medical Assessment and Research Centre (F-MARC) study found that young male national football players who observed Ramadan fasting in a controlled environment showed no compromise in their physical and physiological performance or reduction in their subjective well-being. The study is replicated to investigate a wider range of elite level players. [2]
Another study published in May 2012 in the journal of sports science showed that, generally, Ramadan fasting has minor effects on health and physical fitness.[3]
The same conclusion was drawn from another research published in June 2012, in the British Journal of Sports Medicine. The researchers stated: "in most of the situations studied to date, Ramadan observance has had only limited adverse consequences for either training or competitive performance".[4]
Advised Coping Strategies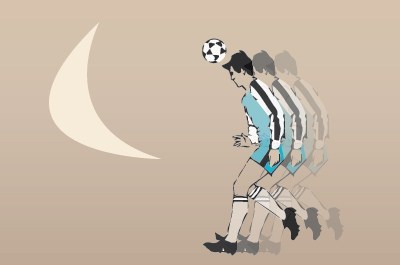 The significance of these studies came from their invaluable recommendations for suggested coping strategies that players should take into consideration when preparing and training for their games.
Coping strategies should include both physical and mental/emotional measures, they advise.
Modification of training timing and planning, optimizing dietary choices, and carefully drafting rest and recovery hours [5] should be accompanied with intention setting, mental reprogramming, motivational boosts, stress management, and emotional coping tools.
Optimal dietary choices are very important factor to take into account during both training and competing. As Burke and King advised, "Muslim athletes who fast during Ramadan should use overnight opportunities to consume foods and drinks that can supply the nutrients needed to promote performance, adaptation, and recovery in their sports".[6]
Shephard, on his side, stressed on the critical role of adequate protein intake in athletic performance especially for strength training and sports involving brisk, forceful, and/or repetitive muscle work.[7]
The increased demand on glucose to fuel sports muscle activity promotes Gluconeogenesis (glucose synthesis) from fatty acids and protein in the body. In case of inadequate protein intake, the athletes could run the risk of losing lean body mass with an adverse effect on muscular performance, he explained.
The challenge of fasting during the Olympics pauses an extra responsibility on coaches. Coaches should study and choose the best coping approaches for their players, carefully plan and personally tailor suitable endurance strategies, and optimize their athletes training, resting, and eating plans.[8]
Furthermore, coaches should educate their athletes about their chosen strategies and program to help them stay true to their faith while minimizing or even totally avoiding any negative impact fasting could pause on their competition results and to ensure that they perform at their peak level and achieve their long-awaited results.
Finally, we should bear in mind, as Zerguini, Ahmed, and Dvorak concluded in their study published in the journal of sports science, that "the best coping strategies will remain individual".[9]
References:
[1] Racinais, S., Périard, J.D., Li, C.K., Grantham, J. (2012, Apr 17). Activity Patterns, Body Composition and Muscle Function during Ramadan in a Middle-East Muslim Country. International Journal of Sports Medicine. [Epub ahead of print]
[2] Zerguini Y, Ahmed QA, Dvorak J. (2012, May 18). The Muslim football player and Ramadan: Current challenges. [Epub ahead of print].
[3] Kirkendall, D.T., Chaouachi, A., Aziz, A.R., Chamari, K. (2012, May 21). Strategies for maintaining fitness and performance during Ramadan. Journal of Sports Science: [Epub ahead of print]
[4] Shephard RJ. (2012, June). Physical performance and training response during Ramadan observance, with particular reference to protein metabolism. British Journal of Sports Medicine. ;46(7):477-84.
[5] Kirkendall, et. al., 2012, May 21.
[6] Burke LM, King C. (2012, May 3). Ramadan fasting and the goals of sports nutrition around exercise.
Journal of Sports Science: [Epub ahead of print]
[7] Shephard RJ. (2012, June).
[8] Kirkendall, et. al. (2012, May 21)