Terrorist Attack
Moments after Hicks' entered his plea, Assistant District Attorney Kendra Montgomery-Blinn played a cellphone video of the slayings as the victims' parents and siblings watched from the front row.
In the video, Deah spoke to Hicks in a calm voice. But Hicks responded by opening fire, before shooting at the two sisters.
"In 36 seconds, Mr. Hicks executed three people," Montgomery-Blinn said. "The defendant was an angry and bitter man."
After the video was shown in the courtroom, Deah's sister, Dr. Suzanne Barakat, fell to the floor, forcing a three-minute recess, News Observer reported.
"Deah, Yusor, and Razan were murdered in an Islamophobic hate crime," Dr. Barakat said later.
"Let's call this what it was: a terrorist attack."
The murderer was not charged with hate crimes, despite the victims' families insisting they were targeted for their religion.
"It is about cold-hearted madness and murder," District Attorney Satana Deberry told the court on Wednesday, according to the Charlotte Observer. "It is not about parking."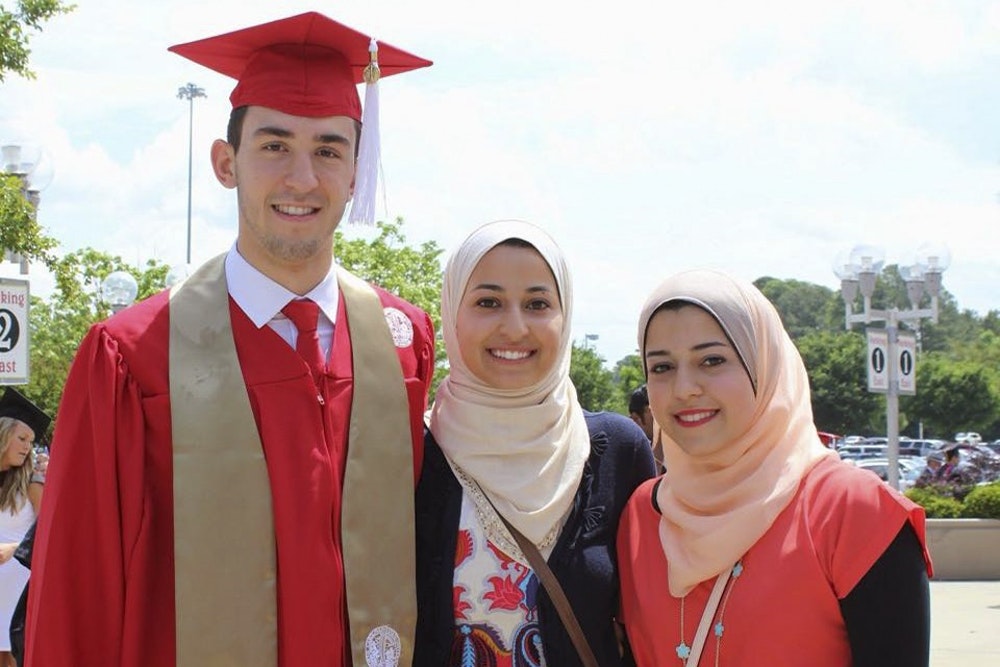 Legacy of Hope
Keeping their legacy alive, those who loved the three young Muslim victims have spent the past four years doing what they can to create projects and develop relief trips for people struggling abroad.
They've remembered them with service projects and social media campaigns with such hashtags as #OurThreeWinners.
Over the past years, the family has been working to keep the victims' legacy alive.
Since their deaths, the Our Three Winners Foundation was established by family members of the victims.
It aims to end hate crimes "through a preventive, rather than reactive approach."
Also in the wake of their deaths, Deah's brother Farris Barakat opened a youth group home in downtown Raleigh called "The Light House Project."
The Light House Project looks to end Islamaphobia and promote understanding.
In the fall of 2015, and every year since, hundreds of UNC dental school students, faculty and staff gather for DEAH DAY, an annual community service event designed to bring light out of the darkness that many felt when they heard the news.
Pages: 1

2