Members of the Muslim community in East Brunswick, New Jersey, gathered for a special and joyous occasion on Tuesday to celebrate the groundbreaking ceremony of their expanded new mosque.
After five years of planning, the new 11,000-square-foot building will have an assembly and prayer area, multi-purpose room, offices, and accommodation for the Imam.
"The most blessed places on this earth are the masajids, the places of worship. … These places bring out the best of us … (and) … God's special mercy descends on these placed," Imam Rehaan of the Islamic Center of East Brunswick (ICEB) said, Central Jersey reported.
"These are known to be the house of Allah or God. … They no longer belong to any human being …. rather they are going to the ownership of Allah – the Almighty."
📚 Read Also: What Are the Happy Vibes in the Quran?
Sharing the Muslim community in their special day, mayor Brad Cohen relayed the messages of harmony, peace, and good wishes.
"As a representative of the community and as a representative of my own faith … one of the greatest things you could do as a human is to create a home," he said.
"(This home) should be a place of peace, it should be a place where we celebrate great triumph … so on behalf of the township we wish you the greatest of luck and may Allah look down upon your new home and provide you with a place of health, well-being and luck."
📚 Read Also: How Prayer Makes Us Better Muslims
Support
The president of ICEB, Faheem Soherwardy, thanked attendants for their support.
"Thanks for everyone's help and especially Mayor Brad, you and the whole township have been very helpful to us, the planning board, the zoning board and the other officers in the building inspection. … We can't say enough 'thank you's to you guys."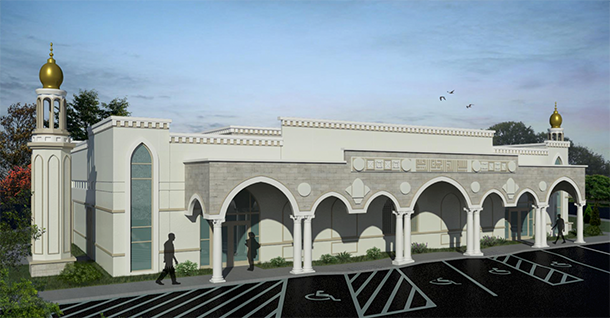 As a home of prayers, marriages, social gatherings, and even funerals, mosque serves as a focal point for the Muslim communities worldwide.
In 21st century, the role of the masjid is as important as it was in the time of our Prophet Muhammad (Peace and blessings be upon him).
At Islamic Center of East Brunswick (ICEB) Islam our purpose is to advance the Islamic faith through the provision of a wide range of spiritual, educational and social services enriched with Islamic values.
ICEB has been established by the members of the Muslim community of East Brunswick and neighboring areas so that individually and collectively they all can practice their Islamic faith.
The first Muslims came to East Brunswick in 2004 who started praying at the city's Congregational Church under arrangements made with its pastor.
In 2010, IQRA Community Service purchased the building and made the arrangements with the incumbent Christian community to continue to pray in the center.
The members of ICEB applied in 2016 for an expansion, a plan which was approved in 2018.