Imagine living near a mosque that had been in the national press as the chosen place of worship for a terrorist and his father. Would you feel like dropping in or would you avoid it?
Now imagine being a non-Muslim with zero connection to the community invited inside. What would it take to go cross the threshold for the first time and to be greeted by people written off by the media as "Libyan linked" and other coded phrases for "dangerous."
Sunday, organizers and volunteers at the Didsbury Islamic Centre joined more than 200 masjid UK wide, opening the doors to the general public on #VisitMyMosque2018.
Didsbury has had a torrid ten months. In May 2017, Salman Abedi committed the Manchester Arena attack responsible for the taking of 22 lives.
He and his father occasionally prayed at Didsbury, which drew national attention to the Mosque for the worst possible reasons.
Since then, the police have been called on several occasions to protect the Muslim regulars who have had unwanted visits from Far-right extremists as well as disturbing packages filled with "white powder."
The package in question triggered a full on terror alert, sealing of the building. In the end, the powder turned out to be harmless, but the children attending madrassa who were in lockdown for several hours as well as anxious parents waiting for the all-clear were described as "traumatized" by the incident.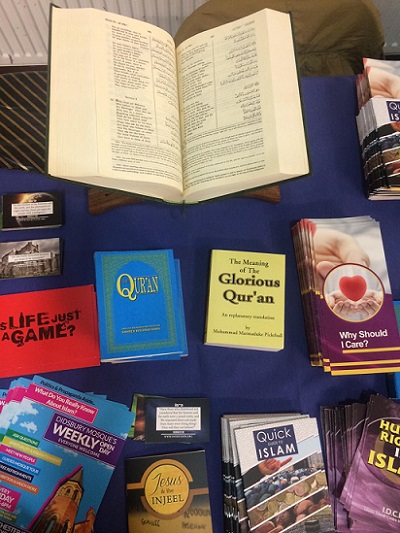 Fresh Start
Putting the past year behind them, the mosque optimistically opened its doors to the public as part of the national initiative.
Now in its fourth year, the brainchild of the Muslim Council of Britain (MCB) has encouraged and enabled more than 10,000 Britons the opportunity to see inside their local Islamic Centre, meeting imams, madrassa students and congregations in an effort to increase mutual understanding and cooperation.
Sheila, Laura and Miriam, were some of the first locals to arrive at Didsbury Mosque. They had chosen, (without being asked), to wear scarves "out of respect."
They are members of the congregation at the Unitarian church in Chorlton. Unitarians describe themselves as 'spiritual' but not necessarily religious and are, as the name suggests, monotheists of the Abrahamic tradition.
They watched the men at Dhur prayer in the main hall. A sight Sheila described as 'moving' as the men stand shoulder to shoulder and then prostrate in (near) perfect unison.
As guests, they toured the small exhibition of historical and religious facts related to Islam.
None were aware that the Virgin Mary (Maryam) had an entire chapter of the Holy Quran devoted to her. Miriam told AboutIslam, "I had heard Muslims say they knew about Mary than Christians, but I didn't know how important she was to you."
New Understanding
Over tea and biscuits, part of the hospitality on offer to visitors, which included guided tours and face painting for children, Laura asked AboutIslam to explain the life of a believer.
"What do you actually DO every day beyond the five prayers to express your belief," she said.
She had unwittingly touched a pivotal and timely nerve.
How DO Muslims positively affect our communities nationwide? Mosque bodies. Muslims in this society, activists, parents and neighbor can we say hand on heart that our litanies translate into social change?
The question on the publics mind when they 'Islam is a religion of 'peace' repeated ad infinitum is 'where' and 'how'?
Sunday was an important opportunity to strengthen communities across the UK in an easy atmosphere of mutual concern, supplemented by tea, biscuits and biryani.
Prime Minister, Theresa May, Leader of the Opposition, Jeremy Corbyn and Mayor of London, Sadiq Khan all attended mosques in the London area, in a pan-political show of support for peaceful relations and opposition to acts of right wing terror against the Muslim community.
Muslim leaders now need to ensure greater access to their urban spaces year round. Visitors like Laura, Miriam and Sheila deserve and need to see what a commitment to Islam and local community looks like in practical terms.