England captain's Jos Buttler showed a classy act after T20 World Cup victory by asking his Muslim teammates, Moeen Ali and Adil Rashid, to step aside before champagne celebration.
The England team became 2-time T20 World Cup champions after they defeated Pakistan in the final on Sunday.
As the celebrations began, Buttler is praised for asking both Ali and Rashid to step aside before champagne celebrations out of respect for their religion, Cricket World.
📚 Read Also: 'We Had Allah With Us': England's Cricket Team Captain after Winning World Cup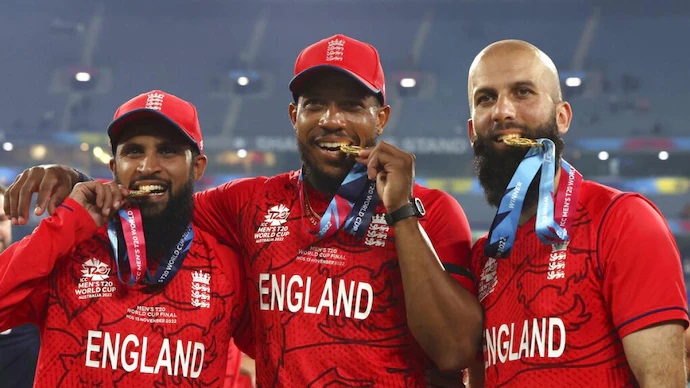 Following Buttler's gesture, the two cricketers left the stage and only rejoined their teammates after the champagne celebration was over.
Notably, Eoin Morgan had also come up with a similar gesture during England's celebrations after their 2019 World Cup triumph at Lord's, London.
Praise
The gesture has been widely praised on social media.
Deen over anything, Everything! 🖤

And Massive respect for England's Captain Jos Buttler who reminded Adil Rashid to leave as they were about to have Champagne celebrations. #PAKvENG #T20WorldCup pic.twitter.com/vLcVNReOmx

— One Ummah 🏴 (@OneUmmahConcept) November 13, 2022
What a great gesture by @josbuttler

Asking very politely his Muslim players, Moeen Ali and Rashid, to move away from the stage as other players were about to sprinkle champagne to celebrate the winning moments.
That's wat u call a team/family, respect everyone
#T20Iworldcup2022 pic.twitter.com/CptILCiqfC

— जनरल नरभक्षी™ 🏹🚜 (@GDnarbhakshi) November 13, 2022
Jos Buttler didn't use champagne for the celebration. He made sure that Moeen Ali & Adil Rashid shouldn't be around when Champagne bottle opened.

If same kind of respect would have been to Hindu Cricketers in India then,

BBC: Hindu supremacy spread hatred in the secular world.

— Farrago Abdullah Parody (@abdullah_0mar) November 14, 2022
Respect for religious diversity is an essential element of any peaceful society.

Here England captain Jos Buttler asked Adil Rashid and Moeen Ali to leave before they celebrated with champagne. Respect.#ENGvsPAK #T20WorldCup22 #T20WorldCupFinal pic.twitter.com/Tu9pvqKZba

— Mohd Shahnawaz Hussain (@Mohd_S_Hussain) November 13, 2022
Jos Buttler reminded Adil Rashid and Moeen Ali to leave as England players were going to celebrate with champagne.

Respect Joss THE BOSS. pic.twitter.com/DPWTHhOI6Y

— Avinash Aryan (@AvinashArya09) November 13, 2022
Islam takes an uncompromising stand in prohibiting intoxicants. It forbids Muslims from drinking or even selling alcohol.
The general rule in Islam is that any beverage that get people intoxicated when taken is unlawful, both in small and large quantities, whether it is alcohol, drugs, fermented raisin drink or something else.