Islamic Relief UK and Ultimatum Games have launched a videogame to teach young people how international aid works and to tackle negative perceptions of Muslims, The Star reported.
"Having worked in the video games industry for 37 years, I can't help but notice that, as with the media and pop culture, Muslims are generally presented in a negative light in videogames," Shahid Kamal Ahmad, Managing Director at Ultimatum Games, said.
"Often, when you see characters from the Islamic faith in videogames they are 'other'ed' as terrorists or villains you have to kill, usually dark-skinned characters shouting Allahu Akbar and carrying weapons.
"I haven't seen people from my community portrayed in any other way in videogames. It is as though there is no other way for a Muslim to be: you never see any peaceful, ordinary Muslims just going about their lives," added Shahid.
The idea for this game, 'Virtue Reality' came from a recognition that films, TV, and games often present Muslims in a negative way as 'the bad guys'.
It is based on real international development projects run by Islamic Relief in more than 40 countries across the world, from Pakistan to Mali.
Great Effort
Virtue Reality launched earlier this month at the National Videogame Museum in Sheffield, and local school students will be the first to try out the game. It will be available to download for free on Apple and Google devices.
"This is an incredible opportunity. We continually push our students to question and not to simply accept the norms and constraints of the world of technology they are immersed in.
"Choice, independence and determined questioning are the bedrocks of our Computer Science curriculum," Adam Russell, Head of Computer Science at Silverdale School in Sheffield, said.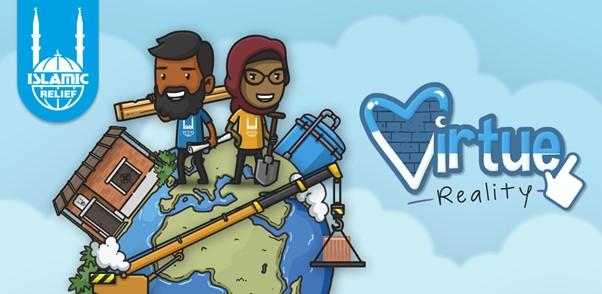 Finding Solutions
Judith Escribano, Head of Communications at Islamic Relief UK, said: "We see Virtue Reality as a solution to two challenges presented by society: skepticism of aid and increasing Islamophobia."
"The Fundraising and Charity teams at Islamic Relief are really excited about the launch of the mobile gaming app," Zia Salik, Head of Fundraising at Islamic Relief UK, said.
"We think it will be a great new way to engage the youth, especially the volunteer teams across the world that take part in Charity Week every year.
"It's another way to learn how our projects work, and also help raise funds for future projects. This is going to be something that we can build on and we hope that it will be a great asset to the organization for years to come."
The videogame will also launch simultaneously in the US and Canada by Islamic Relief partners. Islamic Relief offices will also promote it from Australia to Mauritius and Germany to Pakistan.
What Is Islamic Relief
Islamic Relief Worldwide was established in 1984 in response to the famine in Africa.
Islamic Relief is a truly global organization, working in more than 40 countries providing emergency aid, carrying out long-term development, and campaigning for change.
The group's international headquarters are in Digbeth, in Birmingham, UK, but it also has offices in countries including Bangladesh, USA, Germany, Iraq, Lebanon, Sweden, Australia, Malaysia, South Africa, and Mali.