Sharing the joy and blessings of `Eid with the community, Islamic Relief UK has teamed up with mosques and community groups across Scotland to distribute hundreds of food parcels to the needy in `Eid Al-Adha drive.
The parcels included around 600kg of sacrificial sheep meat alongside the general food items.
They were distributed by Blackhall Mosque, Crookston Community Group and Masjid Alhikmah to vulnerable people of all faiths including asylum seekers, refugees, the homeless, and survivors of domestic violence.
📚 Read Also: US Muslim Charity Distributes Meat, School Supplies
"It is our pleasure to have worked in partnership with Islamic Relief UK and Unity in this noble cause," said Imam Sohail of Edinburgh's Blackhall Mosque, The National reported.
"We would like to thank all the volunteers who have helped to make this project a success. Over 100 volunteers have come together over the three days to help, without these volunteers this would not have been achievable.
"A special shout out to Aldi (Gorgie Road, Edinburgh), who in such a short period of time was able to source majority of items. It has been a great blessing to provide around a dozen or so of our partners across the city with these packs, who have managed to get the food and provisions to 500 families who need it urgently.
"It's unimaginable the hardship that many families and individuals are facing right now, and this goes a long way to alleviate that."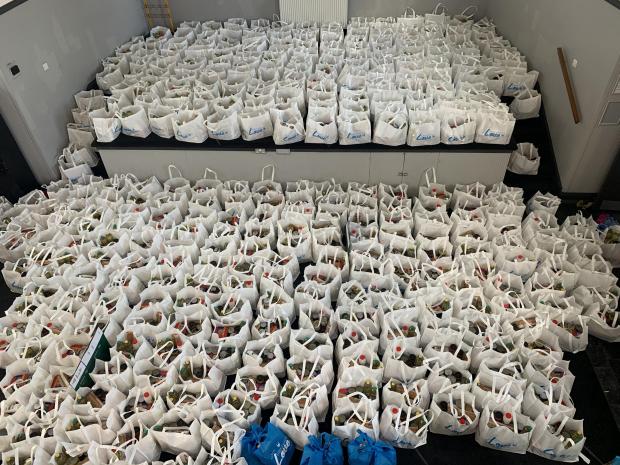 Successful Effort
Across the UK, Islamic Relief UK has already handed out 4700 food packs to the needy, achieving unprecedented distributions this year.
"Alongside their hard-working team and those of our regional partners, we will deliver high-quality meat and food essentials to those who need it most during this difficult time," Tufail Hussain, the director of Islamic Relief UK, said.
"This wouldn't be possible without incredible support from our donors who choose to help people in both the UK and abroad."
`Eid Al-Adha, or "Feast of Sacrifice", marks the end of the Hajj season and is one of the two most important Islamic celebrations, together with Eid Al-Fitr.
A financially-able Muslim sacrifices a single sheep or goat or shares with six others in sacrificing a camel or cow as an act of worship during the four-day `Eid Al-Adha celebrations.
It is permissible that someone in another country could perform the sacrifice on one's behalf.
Islamic Relief Worldwide was established in 1984 in response to the famine in Africa.