LONDON – With over a million Muslims in London, the city's central stage, Trafalgar Square, played host to its most recent festival, the celebration of `Eid on Saturday, July 9.
Flanked by food stalls representing cuisine from around the world, to displays of art by Peter Sanders in The City Circle tent, the main event brought musical and entertainment personalities to celebrate.
Amongst the highlights included London's new Mayor, Sadiq Khan, who after greeting revelers with the traditional Muslim welcome, 'Assalam alaikum' meaning peace be upon you, shared his thoughts on London:
"London is a city where you can be who you are, and welcome. You can be rich, you can be poor, you can be black, you can be white, you can be a Muslim," Khan said.
"You can be a Muslim, Christian, Jewish, Hindu, Sikh, Buddhist, you can be somebody who is not a member of an organized faith. We are the greatest city in the world."
London is one of the few places on earth today where the concepts of diversity and multiculturalism are at their best, with each and everyone is allowed to feel at home, no matter the color of your skin, or the faith you profess.
A place where residents have the freedom to adhere to their chosen religious and cultural identities, coming together to provide a safe place to live, thrive, learn, and discover.
It is why the city is popular to people from around the world, and it is a perfect example to those whose insecurity leads them to legislate or ban other religions.
Mayor Khan continued to say, "There are some people, criminals, who do bad things, and use the name of Islam to justify what they do. And you know what? We've got to make sure that the world knows that they do not do this our name."
`Eid Al-Fitr is one the two main Islamic religious festivals along with `Eid Al-Adha.
After special prayers to mark the day, festivities and merriment start with visits to the homes of friends and relatives.
And while traditionally everyone wears new clothes for `Eid, children look forward to gifts and traditional `ediya (cash).
"London" Ramadan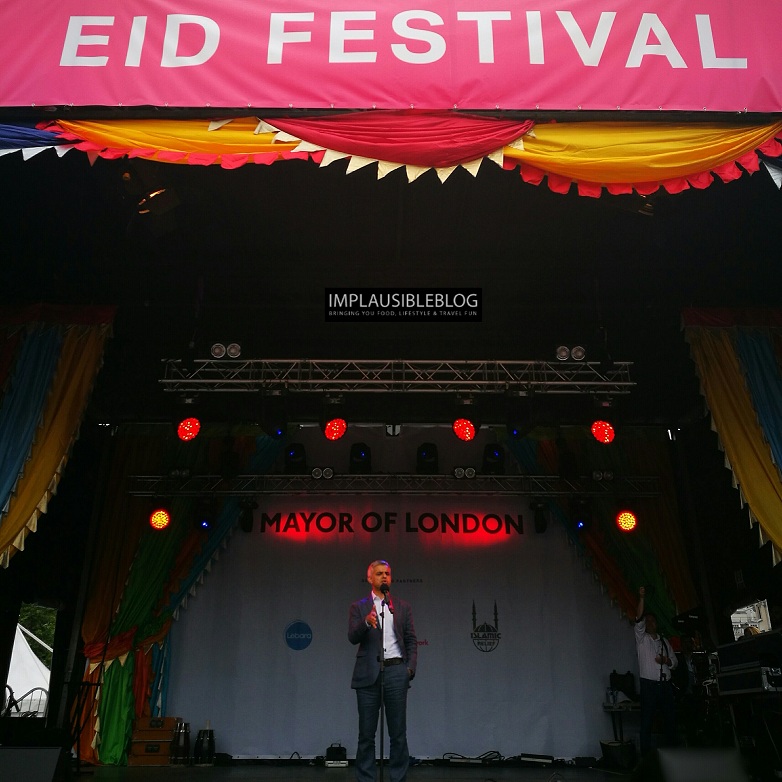 Speaking of the London Muslim experience of Ramadan, one of our three hosts for the afternoon, Navid Akhter, the CEO of the Alchemiya Media, addressed the gathering.
"This year I was amazed at the hospitality from the non-Muslim community. So I had an iftar in a Church. And I had an iftar in a Synagogue. We shared food with our non-Muslim neighbors, our Skih friends, our Hindu friends, our Jewish friends. It was a unique 'London' Ramadan," Akhter said.
Navid continued saying, "The whole point of Ramadan for me is that it is the reset button. It's a month of actually taking time out, resetting everything, and when you're refreshed at the end of it, you get back to it, and of course you start with a bang, with a fantastic celebration like `Eid."
Saba Zaman, one of the co-hosts, a producer, added, "The most testing thing about Ramadan, is a time for spirituality, it's a time for introspection, and it's a time for looking within… A time to extend your friendship to your neighbors."
Entertainment included Pearls of Islam, Cheb Nacim, Common Souls, the Hassan Brothers, Saif Adam, Balinese Dancers and a fashion show.
Britain is home to a Muslim community of nearly 2.8 million.
In 2011, think tank Demo found that Muslims in the United Kingdom are more patriotic than the rest of population.
Responding to the statement "I am proud to be a British citizen", 83% of Muslims said they are proud of being British.
Save
Save