THE HAGUE – As anti-Islam contender seeks to win the country's top seat by targeting the religious minority, divided Dutch voters may draw up a new political map in the country that has been ruled with coalition governments for decades.
Geert Wilders' Freedom party (PVV)'s one-page election manifesto includes pledges to close mosques and Islamic schools, ban sales of the Qur'an, bar Muslim immigrants and take the Netherlands out of the EU.
"We're ashamed of the man," Irene Muusze, 71, walking across Kaasmarkt with her partner, Johan Helffer, 69. Both will be voting for the progressive, eco-friendly Green-Left party next week, told The Guardian on Monday, March 13.
"He's shameless," Muusze added. "He knows how to wind people up. That's all."
Tuesday's poll will see 28 parties competing for the 150 seats in the Dutch lower house of parliament. A total of 76 seats are needed for a majority.
Though the race basically goes between far right, anti-Islam Wilders' PVV and prime minister Mark Rutte's VVD, neither party is expected to win the majority of seats allowing him to form the government alone.
Thanks to a complex system of proportional representation, even small parties can get seats, enabling them to play an important role in shaping the make-up and viability of the next government.
A record 14 parties could end up with at least one MP, eight with 10 or more and six – including the PVV – with up to 25.
According to the Guardian, as many as 40 per cent of voters are still undecided; as many as 15 per cent will not make up their mind until voting day.
"It's a bit strange," said Annemarie Akkerman, 38, a pharmaceuticals manager and liberal VVD party (Liberals) voter.
"We get the BBC and some US channels on the cable, you know, and they're all like, that's it, the Dutch are next in line, for sure. And we're: this is Holland, you know? We don't do that. We do reasonable."
However, this election season might appear less reasonable for many Dutch voters.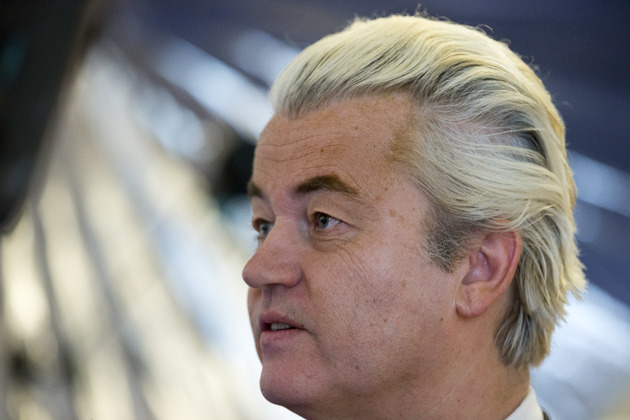 Wilders, a PM?
A PVV victory is still conceivable as Wilders aim to prolong the populist insurgency begun by the Brexit vote and Donald Trump win.
In The Netherlands, voters were abandoning en masse the mainstream parties of center right and center left that have governed the country for the past half-century, turning instead to an astonishing array of smaller, newer, anti-politics-as-usual parties from across the political spectrum.
"Everything could be rationalized away," said Purmerend's avuncular mayor, Don Bijl from the VVD, in the town hall.
"And it was. People felt lost. The traditional parties couldn't give answers people understood. No one knew what anyone stood for. Governing became about efficiency, technocracy, management."
Bijl added that society was also changing in ways some people did not like.
"In Purmerend, there are a lot of people who moved out of Amsterdam because, well, they felt their neighborhoods had changed. Moroccan families had moved there; their streets no longer felt the same," he said.
"Now they're here and they don't want it to happen again. All our surveys show people are happy here – good social provision, no real poverty, minimal crime. But some people in Purmerend will vote for the PVV not because they are unhappy, but because they are happy, and afraid of losing it."
Nevertheless, few seemed happy to say Wilders had their vote in Purmerend.
"The others have just broken too many promises, and done nothing," said one middle-aged man, who asked not to be named.
"I could vote PVV. But I wouldn't expect Wilders to be prime minister. That would not be good."
André Krouwel of Amsterdam's Free University said that the next prime minister will only be decided after the poll.
"Voters simply no longer trust the traditional parties to look after them," Krouwel said.
"And in times like this, people who feel vulnerable, who are angry and worried, want to feel taken care of. They are drawn to an alternative party."