Blackburn's Muslim billionaire Issa brothers have submitted plans for a £5million new mosque in their home town to serve the community and extend bridges between faith groups.
Tom Jeremiah, from planning agents Monte Blackburn Ltd, said the site will "re-develop a vacant brownfield site and bring it back in to an active use for the benefit of the local community," LancLive reported.
He added it would "promote interaction between Muslims and non-Muslims, provide a positive contribution towards Blackburn's community cohesion agenda and allow the Muslim community access to service provision from one location".
📚 Read Also: Two Muslim Billionaires Take Over Asda Giant Retailer
Mohsin and Zuber Issa, founders of the EG Group, submitted via their charitable Issa Foundation a planning application to Blackburn with Darwen Council in December.
The structure, if approved, will feature a gold-colored rolled copper dome and two minarets. The plans include a prayer hall at the junction of Preston New Road, and parking for 129 cars.
The mosque will host five daily prayers, as the community center will be used for a variety of training and conference events as well as educational needs on a weekday evening, from 5pm to 7pm.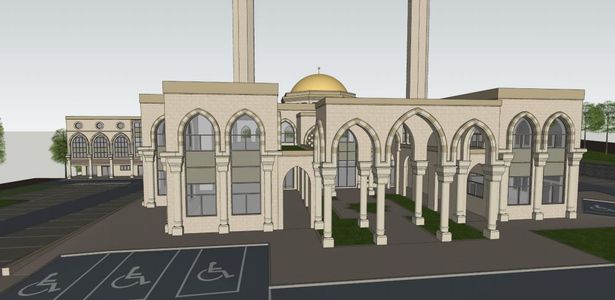 Initial Approval
Though the mosque is facing some criticism over traffic, Blackburn with Darwen Borough Council planning officers have now given the concept an initial approval ahead of next Thursday's meeting.
It is a "viable and sustainable form of development at a prominent and key arterial route into Blackburn, taking the form of a landmark building of bespoke design," they said.
"Community benefits arising include facilities for prayer, training, education and opportunities for community integration, aligning with the principles of Blackburn with Darwen's community cohesion agenda," they added.
📚 Read Also: How to Create More Welcoming Mosques for Converts?
In addition to the mosque plans, the Issa Brothers have also set-up the ISSA Foundation which funds projects promoting health, education, and tackling poverty in UK and abroad. It also which bought an MRI scanner for Blackburn Royal Hospital.
Islam is the second largest religion in the United Kingdom of Great Britain and Northern Ireland. Results from the UK 2011 Census rate the UK Muslim population in 2011 at around 2,516,000, 4.4% of the total population.
According to the 2017 census, the proportion of Muslims in Blackburn is 30.9%. 20.4% of the district's population belongs to South Asian ethnic group, making it the highest percentage in the region.