URUMQI, Xinjiang – In a fresh crackdown on the Muslim religious freedom, the Chinese Communist Party has launched a crackdown on halal products in its predominantly Muslim Xinjiang region.
The "demand that things be halal which cannot really be halal" was a means of helping Islam penetrate secular life, a report on state mouthpiece Global Times was quoted by Reuters on Wednesday.
In a meeting on Monday, the Communist Party leaders of Urumqi led cadres to swear an oath to "fight a decisive battle against 'pan-halalization'," according to a notice posted on the city's official WeChat account.
The party claimed that the Muslim practice of choosing halal food products is vitiating secular life and fueling "extremism".
The party also said government employees should not have dietary preferences based on religion. Eateries at workplaces would be modified to accommodate all kinds of foods, the report says.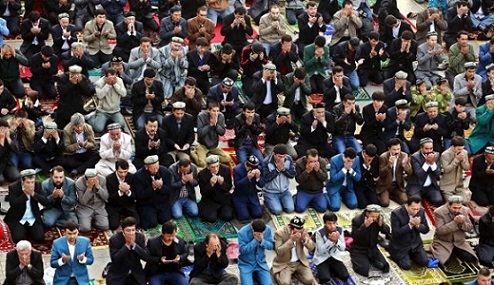 The Xinjiang region is home to the vast majority of China's Muslim population and has been a scene of violent confrontations and brutal crackdowns.
In September, Human Rights Watch (HRW) unveiled further details of China's massive crackdown in the Xinjiang region. The government was engaged in a mass, systematic campaign of human rights violations against Turkic Muslims in Xinjiang, HRW said.
As many as 13 million Muslims living in the region are increasingly subjected to mass arbitrary detention, torture and mistreatment by the Chinese government, the report noted.
The latest measure in Linxia was a soft crackdown, wherein the number of people over 16 who are allowed to study in mosques was cut down. Scholars were told they had to register their residential addresses as well as providing personal details and documentation.
Other repressive measures include the instruction to mandatorily display the Chinese national flags on the mosques.
"They want to secularise Muslims, to cut off Islam at the roots … These days, children are not allowed to believe in religion: only in communism and the party," an imam from Linxia said.