Sure, it's become a bit trendy to do this book-a-month thing, but it's such a good trend! Whether you love to read or not-so-much, we've put together an exciting mix of suggestions to pique your interest and keep you positively progressing through 2019. Read for pleasure or read for personal growth – just IQRA!
Since we are already halfway through January, here's a title you can start now and savor throughout the year.
#1 – 50 Reflections on the Quran
"50 Reflections on the Quran" by Sumayah Hassan is a compilation of brief reflections on the Quran written and compiled by Sumayah Hassan. It's aimed at inspiring others to find their personal truth in the words of our Creator, (swt). May this book be the first step in your own journey towards understanding, living and being transformed by the Quran." (From Hassan's website)
Advertisement


Advertise on AboutIslam
We love anthologies!
They are a great way to 'meet' different people and access their varied world views.
#2 – Khidr Collective Zine(s)
"Khidr Collective" is a group of Muslim artists and organizers. Their aim is to facilitate more spaces & platforms for our diverse communities….Shifaa' is the focus of the second issue of the Khidr Collective Zine.
This issue celebrates the strength found in the mundane and the resilience cultivated in ongoing hardships. (From Khidr Collective's website)
#3 – The Things I Would Tell You: British Muslim Women Write
Edited by Sabrina Mahfouz

"From established literary heavyweights to emerging spoken word artists, the writers in this ground-breaking collection blow away the narrow image of the 'Muslim Woman'." (From the book's description)
As any good anthology should, The Things I Would Tell You has a tantalizing mix of styles and point of views in both fiction and non-fiction formats.
How about some action?
Fantasy, Sci-fi and Young Adult Lit make for great, fast-paced reads. Here's a recommended selection from several talented Muslim authors.
#4 – The Amulets of Sihr
By Abu Bilaal Yakum (Fantasy)

"Mukhtar is a young blacksmith, facing everyday struggles to support himself and his widowed mother. Life is brutal and harsh, even harsher while the empire only looks after its own, and the rest of the people are left to fend for themselves. In an impulsive moment Mukhtar frees four slaves from their captors. Little does he know how this would shape his destiny.." (From the book's description)
#5 – The Broken Kingdom
By HG Hussien (Adventure/Action)

"For weeks a dream has plagued the mind of the most powerful person on earth, the Sultan and Caliph of the Islamic Empire.
Scenes of destruction and pain continue to visit him regarding a strange land, a city that he has never seen before. In his heart he knows that a strong connection exists between this hidden city and the Empire." (From the book's description)
#6 & 7 – The Ducktrinors (Book I & Book II)
By Papatia Feauxzar (Dystopian/Science Fiction)

"The world is coming to an end and Hanifa Ducktrinor can feel it. The seculars rule the world. And keeping the sunnah and the deen intact become a challenge then. Hanifa, the cadette of the Ducktrinor family, is a courageous young Muslim living in a time where practicing her religion is really hard. She wants to be the
courageous educated Coreishy woman she dreams of every day …. " (From the book's description)
#8 – The Moon of Masarrah
(Archipelago Mystery Series Book 1) by Farah Zaman (Young Adult)
"Would you help to look for a famous diamond if you knew it might cost you your life? Zaid had no idea of the danger involved when he and his sister Zahra, join with new friends Layla and Adam in a quest to find the missing Moon of Masarrah diamond… " (From the book's description)
Go ahead and race through the action-packed Moon of Masarrah like we did as the second title in the series is just about to hit the bookstores!
So you think you want to be your own boss?
Or maybe you already are? One of our editors is currently using Taking Action for her non-profit venture and insists it's an essential title for self-employed people.
#9 – Taking Action: The Busy Entrepreneur's Guide To Mastering Time Management and Setting Smart Goals
By Barakah Kemi Hassan
"Whether you are an aspiring entrepreneur or an established one, this guide will help you with setting smart, strategic goals; as well as taking consistent action in order to bring your ideas into fruition.
By enabling you to establish your vision, and helping you break down your big ideas and goals into manageable daily tasks, this guide will help you to manage your time and remain focused and organised as you set about working on your business ideas.." (From the book's description)
Are you managing your money well?
We all need to know how to treat our rizq (livelihood) with the respect and care it deserves. Here's a great title to get you on track.
#10 – Open the Door to a Wealthier Life: A Muslim's Guide to Mastering Money
By Farhan Khalid
"Discover halal ways to make money and halal investing opportunities to grow your wealth. If you don't know where to start, you've found it. Complex subject matter is broken down in simple English with tips you can apply right away. Even seasoned investors are sure to find beneficial, timeless information in this book." (From the book's description)
Because we worry about you
The stresses of this life are just unbelievable. We are so happy to see Tayeba Abdur-Rahman sharing her wisdom to help us get some work-life balance.
#11 – The Brink of Burnout: How to take back control of your work life and stop living for the weekend
By Tayeba Abdur-Rahman
"Has work has become the main focus in your life, but it's not a balanced relationship? Do you feel out of control of the situation and don't know what to do?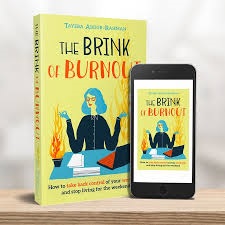 What if you could discover a book that answers your burning problems of work-related burnout in an easy-to-read, results-focused way? The Brink of Burnout is a fully-loaded survival guide on work-related burnout. It's designed to to get you clear on exactly what work-related burnout is, in a concise and easily digestible manner. " (From the book's description)
A classic!
If you never read this one, you are in for a treat! And if you have already, maybe it's a good time to revisit it – we especially love to reread a good memoir.
#12 – The Road To Mecca
By Muhammad Asad
"Part travelogue, part autobiography, "The Road to Mecca" is the compelling story of a Western journalist and adventurer who converted to Islam in the early twentieth century.
A spiritual and literary counterpart of Wilfred Thesiger and a contemporary of T. E. Lawrence (Lawrence of Arabia), Muhammad Asad journeyed around the Middle East, Afghanistan and India. This is an account of Asad's adventures in Arabia, his inner awakening, and his relationships with nomads and royalty alike, set in the wake of the First World War. " (From book description)
#13
Hope Rekindled: A Heart Empowered
By Raghad Ebied
"Hope Rekindled: A Heart Empowered is a compilation of poems, prose, quotes, and reflections on hope, healing, empowerment, and faith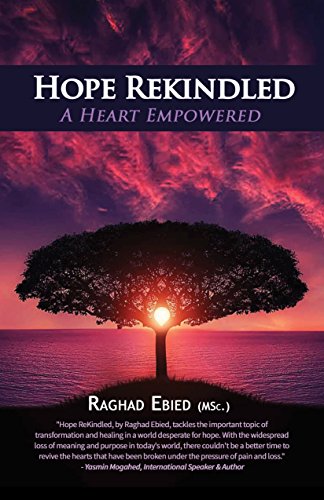 as we journey through life's trials and triumphs, and as we fall and rise. It invites us to listen to our heart's truth, to find the peace our soul longs for, and to be resilient in our pursuit of purpose and finding fulfillment.
It allows us to consider how challenges can provide us with an opportunity to rekindle our spirit, renew our courage, and inspire our hearts to heal. And it encourages us to remember our common humanity and embrace kindness and compassion so we can make a positive difference and live in a more peaceful world.." (From book description)
Bonus!
Any Rumi by Rumi
Grab yourself a best of Rumi, an essential collection, a Rumi for lovers, a pocket Rumi- just be sure to get some Rumi into your heart this year. Actually, you can download a Rumi-a-day type of app, so then of course, it shouldn't count towards your twelve books for 2019.
Most of these titles are available from all major booksellers. Many are also directly available from the authors themselves, which is the most supportive way for us to buy Muslim-authored titles.