Saudi Arabian observatory has issued statement saying they would be looking for the new moon on Sunday, April 11.
The statement by observatory of Al Majmaah University at Hawtat Sudair, near Riyadh, said that after carrying out their scientific calculations, "the moon will set before the sun" on Sunday, April 11. Therefore, they will not be able to be seen by the naked eye, Gulf News reported.
It added that the moon sighting is expected to be clearer the following evening on April 12, which corresponds to the Islamic date of Shaban 30.
The sun will set in Makkah at 6.38 pm and the crescent will rise at 7.01pm, "which means that the crescent will be formed 22 minutes after sunset, at an altitude of 4.75 degrees."
📚 Read Also: Ramadan Guide For Non-Muslims
Therefore, Ramadan most likely will start on Tuesday, April 13.
On the other hand, the Saudi government has announced a number of precautionary measures during the holy month of Ramadan to prevent the spread of coronavirus in the Kingdom.
Saudi Supreme Court also said it would not call on citizens to look for the new new moon of the fasting month to avoid gatherings.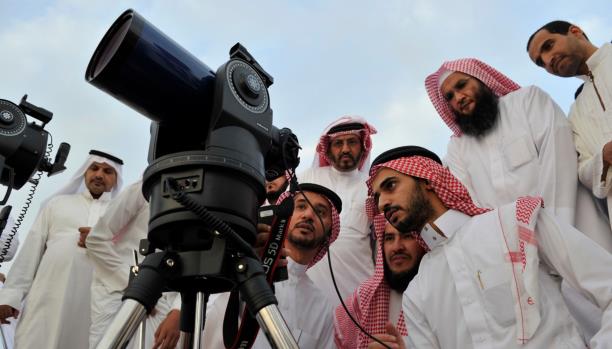 Awaiting Moon
While some American and European Muslim bodies have already announced April 13 as the beginning of Ramadan according to calculations , others are waiting for the moon sighting.
Abdullah Bin Umar (RA) stated that: I heard Allah's Messenger (Peace be upon him) saying:
"Fast when you see the moon (Ramadan), and cease fasting when you see it (Shawwal) but if it is cloudy for you then count the month (as thirty days)." [Al-Bukhari and Muslim]
In another narration, the Prophet (pbuh) said:
"If it is cloudy for you, count out thirty days." [Muslim]
In Ramadan, adult Muslims, save the sick and those traveling, abstain from food, drink, smoking and sex between dawn and sunset.
Muslims dedicate their time during the holy month to become closer to Allah through prayer, self-restraint and good deeds.
It is customary for Muslims to spend part of the days during Ramadan studying the Noble Qur'an.