VIRGINIA – The Adams Compassionate Healthcare Network (ACHN), a nonprofit arm of the All Dulles Area Muslim Society, will be holding its annual health fair on September 29, 2018, at the ACHN Clinic in Chantilly, Virginia.
"This will be our fifth annual health fair," the clinic manager Muhammad Nabeel Hasan told AboutIslam.net via email.
The healthcare network is a multi-faith, multilingual nonprofit organization which welcomed volunteers and patients from different faiths.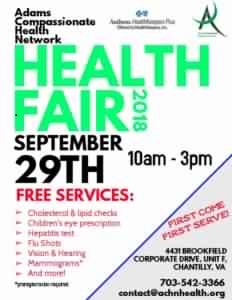 The clinic was first inaugurated in November 2013 to help people of low income get free medical services.
In this year's event, Hasan revealed that more services were arranged to help patients and visitors at no cost.
"This years' free services include lipid panels, hepatitis testing, blood sugar testing, blood pressure checks, mammograms, vision and hearing exams, eyeglass prescriptions for adults and children as well as flu shots," he said.
"We will also have multiple vendors that will be providing information about community resources."
This years' health fair is sponsored by Anthem HealthKeepers Plus, an MCO that provides insurance to Medicaid recipients.
Year-long Effort
The health fair is not the only event in which the ACHN Clinic provides free medical aid.
"The ACHN Clinic participates in health fairs throughout the year at various churches, mandirs, libraries, festivals and more, to facilitate community partners in promoting a healthier lifestyle," Hasan told AboutIslam.net.
"At these fairs, the ACHN Clinic serves as a healthcare vendor providing blood pressure and blood sugar checks. Once a year, we host our own health fair where we offer more free services to the community."
Awaiting the health fair, Hasan wishes the event would bridge relations in the society and offer people a much-needed health care.
"The aim here is to continue to inform community members of our services, and serve as a reminder that they have a medical home if they ever lose coverage," he said.
"It is also to demonstrate ACHN's commitment to ensuring the community makes healthier life choices such as getting their annual flu shot, vision and cholesterol checks."
After five years of work, Hasan believes their efforts are bearing fruits.
"Our continued commitment to engaging the community has produced improved results each year with almost 200 health fair attendees last year and an ever increasing number of patient enrollment," he said.
The organization's effort was also recognized by the government officials.
"Our success has also been recognized by government officials with Former Governor McAuliffe's visit at the 2015 health fair, General Assembly resolution in 2016 commending our efforts and The Washington Post printing a story in 2017," he added.