WASHINGTON, DC – Hundreds of protesters marched on Tuesday, November 13, to support Uyghurs Muslims against the Chinese government, amid reports accusing the communist state of imprisoning and torturing thousands of Muslims in detention camps.
"To those who have your relatives that are still over there, just know that your brothers and sisters here also are for you [God willing]," Omar Suleiman, a prominent Islamic scholar and head of the non-profit Yaqeen Institute for Islamic Research, told the crowd, Yeni Safak reported, citing Anadolu Agency.
"And we'll make sure that every single person in this building who talks about religious freedom, who talks about dignity, who talks about safety, does not get away with omitting your cause," Suleiman added, referring to Congress.
"They know that the cause of the Uyghurs is the greatest violation of religious freedom in the entire world."
Wearing prison jumpsuits, to resemble Uyghurs imprisoned by Chinese authorities, protesters chanted "Free Our Brothers. Free Our Sisters."
For a year or more, the Communist Party has feigned bafflement when asked to comment on evidence that it has detained without trial at least several hundred thousand Muslims.
On October 16th it changed tack, abandoning its denials and loudly defending the internments.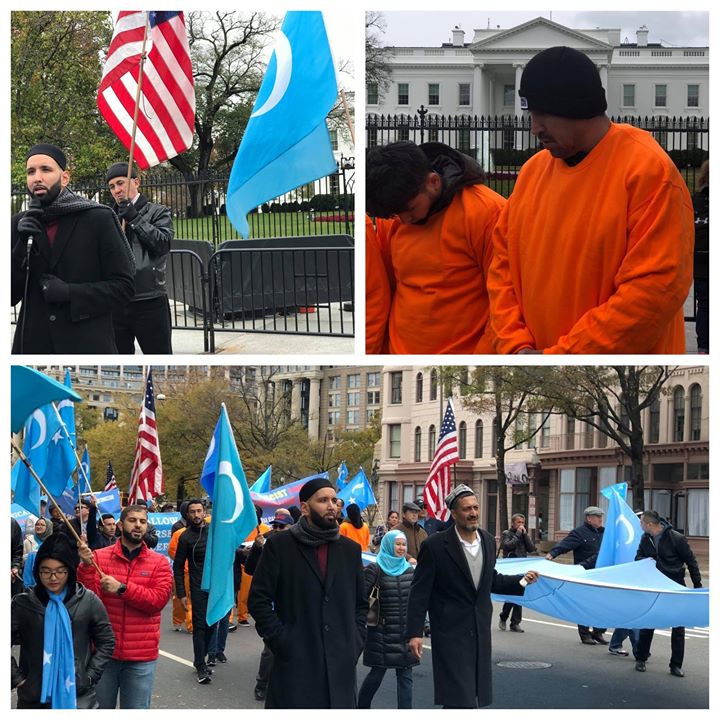 Freedom, Independence
The protesters gathered at the US Capitol building, where crowds waved their US and East Turkestan flags as they held signs calling for "freedom and independence for East Turkestan."
"I come from China, but the name of my country is East Turkestan. I am not Chinese, but I am a Muslim," said protester Mihirgul Tursun.
Tursun said she was imprisoned in China after returning home from her studies in Egypt in 2015.
"East Turkestan is not a part of China. China is occupying our country, our Muslims just because we pray, because we say 'Salaam Alaykum,'" said Tursun,
"They outlaw going to the masjid, reading Quran, wearing hijab and eating anything that is halal.
"Our country is facing a lot of oppression. May the rest of the Muslims help us their prayers," Tursun added.
Many refer to China's Xinjiang Uyghur Autonomous Region — home to many ethnic minorities, including the Turkic Uyghur people — as East Turkestan.
In its 117-page report, "'Eradicating Ideological Viruses': China's Campaign of Repression Against Xinjiang's Muslims," Human Rights Watch presents new evidence of the Chinese government's mass arbitrary detention, torture, and mistreatment, and the increasingly pervasive controls on daily life.
Chinese authorities impose restrictions on Uighur Muslims in the northwestern region of Xinjiang, especially during Ramadan.
Rights groups accuse Chinese authorities of a heavy-handed rule in Xinjiang, including violent police raids on Uighur households, restrictions on Islamic practices, and curbs on the culture and language of the Uighur people.
In December 2015, China passed its controversial anti-terror law, which according to Human Rights Watch gave government agencies "enormous discretionary powers."
The government's April 2017 regulations to "prevent extremism" drew international condemnation, with critics saying they violated basic human rights and religious freedom.