NEW YORK – Dr. Khurshid Khan, the former president of Islamic Circle of North American (ICNA) passed away on Thursday night at the Mount Sinai Hospital in New York at the age of 81, ICNA wrote in a statement Friday.
"Heartbroken at the death of a humble pioneer. Dr. Khurshid Khan, the former Ameer of ICNA and lifetime Islamic worker, passed away tonight in New York," Dr. Omar Suleiman, Islamic speaker and fellow member of the ICNA General Assembly, wrote on Facebook.
"Inna lillahi wa inna ilayhi rajioon. He meant so much to this community, yet mainly worked behind the scenes."
Along with work as ICNA President from 2005-2008, Dr. Khan was also the former Vice President of New York Majlis ash Shura, the umbrella body of all Muslim organizations in New York and the Chairman of the Mid-Atlantic Catholic-Muslim Dialogue.
ICNA President Javaid Siddiqi said, "This is indeed a big loss for our organization. Khurshid Bhai has been one of those truly sincere soldiers of this organization. His sincerity and dedication to his faith and to the Islamic movement require no introduction. He served ICNA in one of its most difficult and turbulent moments."
In a statement on Friday, the Majlis Ash-Shura of New York, for whom Dr. Khan served as the Vice President, stated "Dr. Khan has left behind a legacy of activism, community building, and dawah. He had been an instrumental figure in the empowerment of our communities, he was involved in the community in various capacity, from leading Islamic schools, local mosques, all the way to national institutions. He was truly a pillar of the Muslim community in the US."
Dr. Esam Omeish, former President of the Muslim American Society (MAS) said "A beautiful, wise, humble servant of Allah SWT and a dear teacher and a brother."
He added "I was blessed to be the president of MAS when he was the Ameer of ICNA. We met many times and were on stages together, I have always had the warmest affinity to his purity, humbleness and towering spirit. He would call just to check on his younger brother and would send the warmest messages. He was a man of deep spirituality and a worker of immeasurable devotion."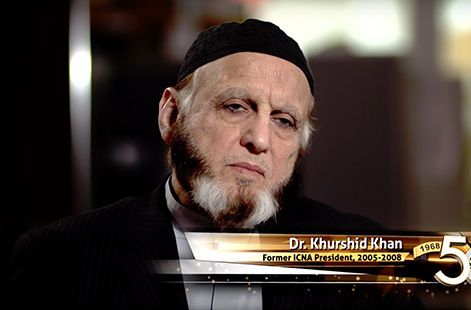 Dr. Muhammad Yunus, ICNA President (1978-81, 84-89, 91-94 & 97-2000) said "In ICNA he was one of my closest friends and advisor. I will always miss him".
He added "I met him the first time in early '80s at ICNA's new central office in NY. He with his wife started an elementary school for children there. It soon became a very popular school. Later, he moved to bigger schools teaching thousands of Muslim children in the NY area. He helped and advised many Islamic schools. He was closely involved with the Muslim Center in Flushing, NY.
Dr. Zahid Bukhari, ICNA President (2009-2012) said " Apart from his dedication to Islamic work, commitment with Islamic education and sincerity in personal behavior, his one of the major contributions was sailing the ICNA ship in a smooth way through the stormy waters during his tenure as ICNA president."
"Those four years will be remembered as a turning point in the history of ICNA. His two extraordinary qualities of showing great patience and doing extensive consultation with ICNA Shura helped him in those turbulent years. His departure is certainly our collective loss. However, It is also personal to me. My four children have lots of wonderful memories of Khurshid Uncle from their childhood when they were his students in the Sunday school at ICNA HQ, Al-Markaz."
Naeem Baig, ICNA President (2013-2016) said "He spoke softly but with a deep sense of conviction about his vision of an ideal Islamic school. That was my first time meeting with Dr. Khurshid Khan, in ICNA HQ in New York. He was convincing in his arguments and one could see the passion in his eyes. He was an educator and loved doing it.
"He was like a quarterback, moving forward towards achieving his goal, taking his whole team with him one yard at a time. Making sure that no one is left behind, and it didn't matter who took the limelight at the end, what mattered was that the whole team succeeded.
"It was his desire for knowledge that I admired the most. He loved to read the Quran and he wanted to do it in the best way possible. He made continuous efforts in improving his tajweed and also encouraged others to do the same. He used to say, "It hurts me when I see our educated Muslims making mistakes in reciting al-Fatiha."
Dr. Khan was among the founders of the Islamic Center of Flushing, New York and also helped in establishing many other Islamic Centers in New York City.
He also served as a member of ICNA Central Shura and ICNA New York Shura for many years. His funeral prayers were held today after Friday prayers at Masjid Bilal in Long Island, New York.