DALLAS – Racing to help the homeless as winter storms blow, Muslim volunteers in the North Texas city of Richardson assembled and handed out hygiene kits for the homeless as part of a leading charity's efforts.
"Nearly every single faith in the world preaches some type of community involvement [and] support," Abdullah Shawky, one of the event's organizers from the Muslim American Society at the Islamic Center of Dallas, told keranews.org.
"Because if your neighbor is hungry or cold or sick, then society as a whole is cold, hungry and sick," he continued.
During the event, held on Martin Luther King Jr. day, volunteers gathered at the Muslim American Society Islamic Center of Dallas, which is based in Richardson.
The volunteers filled 100 bags (which have the logo of the Islamic Relief USA) with reusable water bottles, toiletries, soap, body wash, shampoo and conditioner, lotion, toothbrush, toothpaste, deodorant and feminine hygiene products.
A neighboring mosque has also provided packages of food and socks, and other sundry items.
Rami Kawas, the mosque's youth director, said: "As Muslims in America, there's definitely a lot of aggression and ignorance about our faith."
"Every minority group, including Muslims in this country, have to stand up for the principles that our faith embodies. We should be on the forefront against persecution, against oppression, and against racism," he added.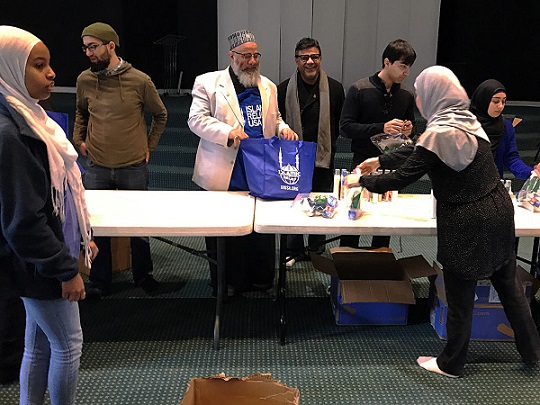 Zainah Asfoor, an English teacher who volunteers with Islamic Relief, added, "You may not be in government or you may not be able to change the laws or make a really huge impact that influences an international community. But at least by doing the small things, you can make a change — small change, small impact — in your own community. And that's what we're doing today."
Islamic Relief USA is a charity that does disaster relief work around the world. It also organizes service projects to help lower income and homeless Americans.
The packs were evidently helpful to many people.
"Right now, I'm low on deodorant, so I'm glad they came. I'm not trying to be funky. Even though I'm homeless doesn't mean I have to be funky," Howard Pope said.
"I am worried about it because I am outside, but they've got places that are going to open up tonight. And I'm going to go in there," he said.
"I've got enough blankets and stuff but I'm not going to try that tonight. It's supposed to be a bad night tonight."