Feeling the trauma of online hate targeting Muslim women, the Canadian Council of Muslim Women (CCMW) have launched a unique national anti-Islamophobia social media campaign to counter online hate and educate girls and women on how to respond to offline and online hate.
Titled #Hate2Healing, the campaign is being unveiled during Islamic Heritage Month in October, Iqra.ca reported.
"The campaign is part of CCMW's Digital Anti-Racism Education 2 (D.A.R.E.2) Project, funded by the Government of Canada, and comprises 15 videos of diverse Muslim women across Canada, candidly sharing their lived experiences of hate, racism and Islamophobia and their struggles they faced with being accepted for who they are," says Firdaus Ali, Manager of the Digital Anti-Racism Education 2 Project with CCMW.
📚 Read Also: Islamic History Month Canada: Sharing & Healing
"The campaign uses storytelling to unpack many complex issues around racism, Islamophobia, homophobia, ableism, sexism and more. Issues that we have remained silent about for far too long.
"We hope that through these empowering video stories, many survivors of hate will come forward to share their own stories on social media and other channels. This will go a long way in helping us heal from the hate pandemic together."
Muslims have been rising concerns about Islamophobic attacks in provinces across Canada amid widespread calls for authorities to tackle racism, hate-motivated violence, and the prevalence of far-right groups.
Over the last decade, Canada has seen reported hate crimes against Muslims rise from 45 in 2012 to 181 in 2018.
That number fell to 82 in 2020, though the past 12 months have seen profound examples of violence against Muslims, including London attacks and the stabbing of a mosque caretaker in Toronto.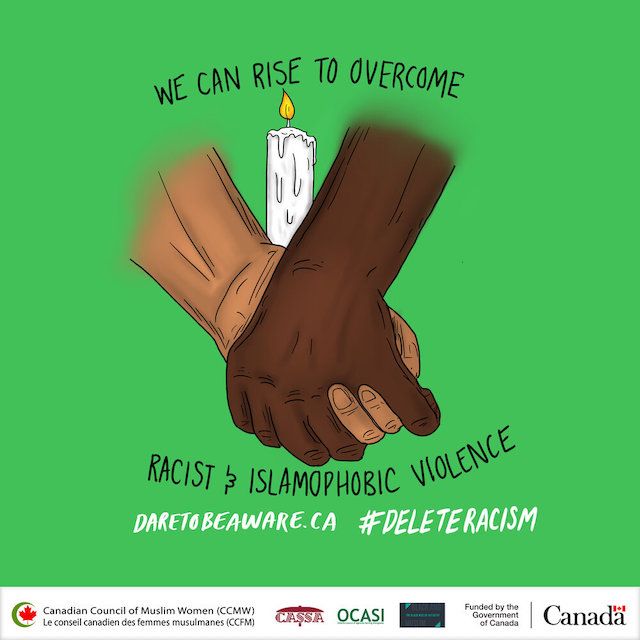 Tools to Counter Hate
Islamophobic attacks across Canada have risen at alarming levels. The attacks have not only increased in frequency, and many are directed towards visibly Muslim women and girls. Street racism is often inspired by online hate speech and extremism, which have surged in Canada.
Women who may face multiple forms of discrimination, such as racial or cultural discrimination, homophobia and transphobia are at an increased risk of cyber violence.
As women ages 18–24 are most likely to experience the most severe forms of online abuse, sexual harassment and physical threats, the D.A.R.E.2 Project aims at offering bilingual tools and resources to racialized Muslim women and girls to effectively counter racism, Islamophobia and cyberhate.
CCMW also hosted a number of bilingual virtual workshops this summer to train 300+ participants across Canada.
The virtual workshops helped participants gain an increased understanding of how Islamophobia further marginalizes Black and Indigenous Muslims.
Muslims are the fastest-growing religious community in Canada, according to the country's statistical agency, Statistics Canada.
Historically, Canada's Muslim population increased by 82 percent over the past decade – from about 579,000 in 2001 to more than 1 million in 2011.