CHICAGO – In the wake of the continuous media coverage and heartfelt funeral of the late Muslim boxing champ Muhammad Ali, Sherman Jackson reflected deeply on the lessons learned from the life of Ali, in an electrifying session in the eve of the opening of North America largest Muslim convention.
Directly outside the session, held during the Islamic Society of North America (ISNA) 53rd annual convention, a dedicated series of artwork and photos were on display capturing the key moments of Ali's life.
The session, held on Friday under the title "Special Tribute to Our Champ the Late Muhammad Ali", began with a video montage of his life, which demonstrated to the audience the immense sacrifices Ali made for social justice throughout the course of his career.
Furthermore, the video gave a glimpse of a man that came from humble beginnings and became a force to be reckoned with by his grit, efforts, perseverance, and bravery.
As the video concluded, Sherman stood at the podium, overcome with emotion, and began to reflect on the transformative power of Muhammad Ali.
"I have been Muslim for almost 40 years, and I think that, what that video reminded of…was once more that something that many of us might not have the occasion, or even the circumstances, to really know, experientially, the transformative power of Islam".
He spoke on how Ali was defined by his willingness to demonstrate courage at every stage of his life, and against all odds, to defy the forces that brought injustice to this world.
"It's time for us to prepare ourselves to fully make that sacrifice," Sherman added.
Sherman then spoke to how Ali was "a man of principle", "a man of great influence", and a "man that used his image and voice to shake the foundations of injustice around him".
Sherman believed it would be unfair to reduce Ali's life achievements to a mere speech, so he chose to speak about a few key lessons to reflect upon throughout his session.
"I want to touch upon three points, as I go about this business of remembering the beloved Muhammad Ali," he added.
Ali, he said, was an example of a man that although was at the height of popularity and prestige, chose to use his influence and power to empower those he believed were less fortunate.
Inspiring Champ
As the session went on, Sherman shared with the audience his "Personal fear that the forces that commanded social, political and even financial capital" would be personified by an erasure of his core Muslim identity and rather dismissed as a small facet of his life.
However, Ali, made it a conscious effort of his life to not only demonstrate that he championed the rights of millions all over the world, but he did it in a way that was inspired by the teachings of the Prophet Muhammad (peace be upon him).
The funeral stayed consistent with this message and it was done in a way that reflected his deep personal beliefs.
Ali, Sherman insisted, reminded us all of the Prophetic example of championing justice, and being a voice of the voiceless.
Moreover, Ali, he indicated, was reminiscent of the youthful companions of The Prophet that zealously dedicated their lives to transform the world around them and to truly rock the foundations of the Oppressors of their time.
Ali echoed these efforts in his life by heavily voicing his opposition towards what he saw as an unjust war in Vietnam.
Ali was truly a recognizable Muslim hero, and a modern example of what the teachings of Islam can do to truly impact the world on a global scale in such a positive manner.
Example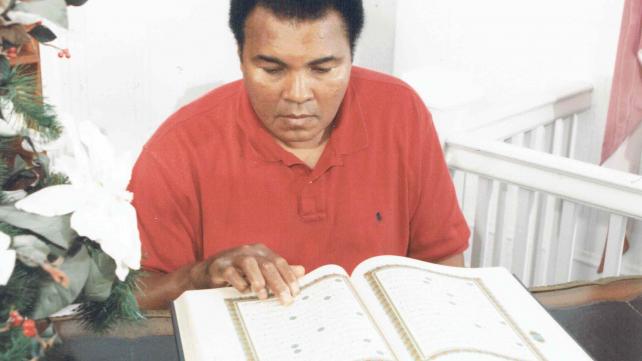 The challenge, that Ali lived through, was a multi-dimensional challenge. His identity was not exclusive to the Black American experience, and his demonstrable example spoke to the universality of his core Islamic beliefs.
Sherman believed that the forces that defined White supremacy at the time, and the subjugation of Black people in the 50s and 60s was simply a mask of an age-old problem: "Iblis-ism".
Ali, Sherman added, was, "one of the many faces that stood in the face of White Supremacy".
Sherman defined "Iblis-ism" as the inherent feeling of superiority over another individual on the basis of skin color, religion or cultural heritage.
Iblis, as Sherman had reminded the audience, was driven by his arrogance and inherent belief that he was superior to Adam.
This feeling of superiority is not only exclusive to Iblis or White supremacists, but Sherman believed that at our core, we all carry a shred of this "Iblis-ism" in us all and that is one of the biggest challenges that Muslim face in their communities.
"Iblis-ism", he said, is a disease that continuously hinders the progress of Muslims in the face of Islamophobia and as a community as a whole.
All in all, Sherman not only defined the great example that Muhammad Ali set for us, but he insisted that we also reignite his enthusiasm and passion to make moral sacrifices in the face of evil in the world.
He explained to us, that sacrifices are not easily made, and in many instances come at a large cost.
It was the sacrifices of men like Muhammad Ali, Malcolm X, Rosa Parks and many others that had transformed the political landscape of their time and had caused the ripple effect of the civil rights movement today.
Sherman believed that the youth of today have much to learn from their elders, but have a great deal of opportunity to emulate the example of Ali. May our Great Champ, rest in peace.
Save
Save
Save