MASSACHUSETTS – The Rebecca Crown Center in the US invited Somali-American Muslim basketballer Bilqis Abdul-Qaadir Wednesday to address the audience of the 'Discover Islam' week event, held by the Muslim-cultural Students Association.
"It's hard to be a Muslim woman in America. It takes strength to walk outside and look different than anybody else," the former collegiate basketballer told the guests, North by Northwestern reported.
Abdul-Qaadir, considered as one of the best women's basketball players to emerge from Massachusetts, was the second speaker in the weeklong engagement with the Northwestern community that aims to "flip the script of the Muslim narrative."
The talented player talked with the visitors about her background and roots; having come from a Somali Muslim family of eight children in Springfield, Massachusetts.
The Muslim athlete grew up playing basketball against younger boys at her local community center to the age of 13. Then, her parents encouraged her to join the local Amateur Athletic Union (AAU) travel team.
By her senior year of high school, she set the record for most points in Massachusetts state history, racking up an astonishing 3,070 — almost 300 more than second-place Rebecca Lobo, who went on to star in the Women's National Basketball Association (WNBA).
She left for Memphis University, where she played the majority of her college before transferring to Indiana State University.
"Only place I felt comfortable was on the court," she said. "I wanted the ball, I wanted to score a basket. People stare and point, [but my] teammates reminded me to just kill them, score your points, and play hard."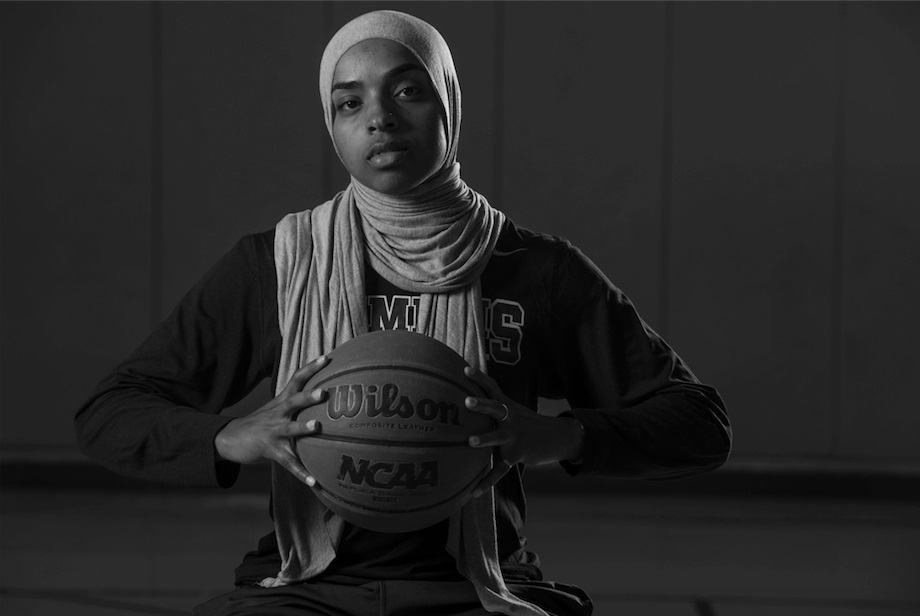 Discrimination
The youthful talent decided to play overseas during her visit to Europe, only to face a ban from the International Basketball Federation (FIBA) over her hijab.
"They wanted to keep the game religiously neutral," Abdul-Qaadir said.
"Anything bigger than a headband can cause injury, [but a hijab] is safer than braids and ponytails. … Everybody that was supporting me knew it was discrimination."
As a result, Abdul-Qaadir began to self-reflect about Islam, basketball, and her role as a possible pioneer for religious athletes around the world.
"I had to empathize and understand what they're coming from, but it just didn't add up," she said.
"For a long time, I was known as that Muslim girl that plays basketball. When basketball was taken away, I was just a Muslim. [With] basketball and me being Muslim, there was a little fame. People think so highly of you, but behind the scenes, you're not even sure who you are. I wasn't sure if I was being Muslim the right away," the Somali girl expressed humbly.
Determination
Abdul-Qaadir's journey of spiritual re-discovery began when FIBA obliged her to make a choice between her passion, basketball, and her religion.
"At some point in our lives you're gonna have to choose," she said.
"For me, as simple as it sounds, basketball was my test of faith. Will you take off your hijab and get a few buckets, or will you [not play] so young girls won't have to go through what you went through? The last thing I knew to do was pray. We as Muslims pray for everything — it's our only connection to God. After that prayer, everything started to fall in its place."
The determined girl campaigned for the end of the discriminatory headwear removal law. Moreover, she also began a nonprofit organization, Muslim Girls Hoop Too, to support an active lifestyle for Muslim girls and introduce young women to basketball.
"What I want is for Muslim women in all sports to walk into a sports arena and not be seen as abnormal," Abdul-Qaadir said.
In October 2017, the FIBA finally eliminated its headwear prevention law, allowing players of all faiths to wear their respective headdress.
Superior Aims
Despite the lift of the ban, Abdul-Qaadir decided to postpone her basketball career and instead teach youth about the game.
"It's more gratifying to teach this girl who has never shot a ball in her life, and the look on her face is [huge]. It's more gratifying than me scoring a basketball in my game," the pioneer Muslim athlete said.
Recently, Abdul-Qaadir represented her motherland Somalia at the annual Arabophone Women's Sports Tournament, where she averaged 30 points per game in three games.
For now, though, Abdul-Qaadir is focused on teaching her students to ignore hatred, and just play.
"[Muslims] can't defend ourselves on social media all the time," Abdul-Qaadir expressed.
"We can't do it. Once you stop caring what other people care about you, you'll feel so free."