A daily news and analysis show has been launched, spotting light on Canadian Muslims, their lives, voices, and aspirations.
"We have been praised for our objective, calm reporting, while many contemporary TV news programs have become sensationalist," said host Katherine Bullock, Iqra.ca reported.
"Canadian Muslim News is amplifying news stories about Muslims, covering stories that are not usually covered in the mainstream media, and bringing Muslim perspectives to bear on issues facing Canada today."
📚 Read Also: Muslim TV Network Launched in North America
Canadian Muslim News is a fifteen-minute show launched on September 9th 2021.
The past episodes dealt with topics such as teaching Islamic studies in a post 9/11 environment; Muslim perspectives on climate change; the human rights abuses against the Uyghur and Kashmiris, and a month long look at Canadian Muslim history from coast-to-coast during Islamic history month.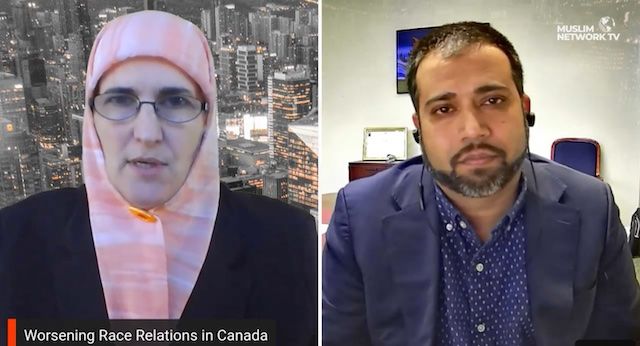 The show's anchor, Katherine Bullock, is a well-known Canadian Muslim who is a writer, university lecturer and publisher. Her books include: Muslim Women Activists in North America: Speaking for Ourselves, and Rethinking Muslim Women and the Veil: Challenging Historical and Modern Stereotypes.
Similar Efforts
The show is a division of Sound Vision Foundation, and part of its Muslim Network TV channel.
This is not the first effort by Sound Vision to launch Muslim-targeted TV shows.
In June 2020, a Muslim TV channel was launched in North America by Sound Vision, a Chicago-based non-profit that is well known for its media productions and public relations work.
Muslim Network TV airs on Satellite Galaxy 19, covering the US, Canada, and Mexico reaching 50 million people. The channel is also on Amazon Fire TV & ROKU and it will soon be on Apple TV, with a total of 120 million reach.
Individual talk shows are streamed live on various YouTube channels and Facebook pages in the USA and Canada.
In Canada, the Muslim Network TV has a launched a "Canada Today", which is promoted to the Canadian Muslim community in partnership with DawaNet.
This channel can be viewed 24/7 on www.MuslimNetwork.tv