BIRMINGHAM, England —With a massive, dedicated following around the world, Muslim pop star Maher Zain is widely regarded as a family man and a role model. His music gained popularity even among some non-Muslims.
"When you're having a bad day or something, you just listen to him and you feel happier," Faiza Kausar, a 23-year-old receptionist for a vacuum cleaner company, told New York Times in Birmingham after a recent show for the pop star.
Zain, who was in Birmingham for the eighth performance of a tour for British charity Penny Appeal, is one of Islamic pop's biggest stars.
The 36-year-old has over 26 million likes on Facebook and gets over 100 million views on YouTube a month, particularly from Muslim-majority countries such as Indonesia, Morocco, and Saudi Arabia.
His song "For the Rest of My Life" is an Islamic wedding fixture. One concertgoer confirmed she'd heard it at a non-Muslim wedding, despite its opening line, "I praise Allah for sending me you, my love."
Three days after the Birmingham show, NY Times had an interview with the star, who was described as "charming and carefree."
"I'm the same guy on and offstage," he said, adding that he liked his privacy and his quiet life in Sweden.
"I don't want to live this life, basically. I really don't," Zain added. "I believe I'm on a mission and you cannot turn it down, you know what I mean? I've been chosen."
Zain was born in Lebanon, but his parents immigrated to Sweden when he was 8-years-old.
The Muslim star releases albums in English, Arabic, Turkish, and sometimes in Malay, and includes songs with lyrics in Urdu and Indonesian.
His songs cover a wide range of styles, from slick ballads to driving Europop. Catering to his more conservative audience, he also releases vocal-only versions.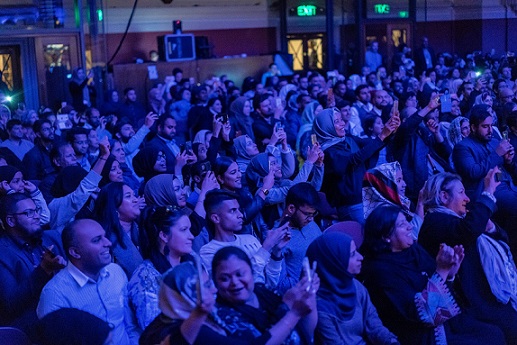 Discovering Identity
As a young Muslim growing up in Sweden, music remained hoppy for Zain until his 20s.
Experiencing many difficulties in his teens and mid-20s, he rediscovered his faith after an acquaintance invited him to a lecture at a mosque.
"And that's how this started," he said, adding that "it wasn't a 'hallelujah experience.'" He said it took time for his faith to grow, "to be strong enough to say, 'I want to leave it behind, all these opportunities.'"
"Islam, for me, is not just about God, about the Prophet; Islam is emotions, it's human beings, it's what I breathe, it's what I do every day," Zain said. "Just by waking up and hugging my wife, that's Islam."
Zain is very active on social media and regularly highlights issues that affect Muslims, showing support to Rohingya Muslims in Burma and Syrian refugees.
He insisted that highlighting such issues was "more humanity than politics."
"I'm really, like, so not into politics," he said. "When you see these things, I feel as a human and as an artist I have a responsibility to highlight what people are going through."