LONDON – As a nation, we are fortunate that the fifth terrorist attack this year in London, while causing disruption and injury to 29, did not cause the large-scale panic intended by terrorist actions.
The blast which took place at 8:20 am Friday on a tube train at Parsons Green station failed to deliver its full impact, a reflection of the incompetence of those who have failed in life, seek to find some semblance of relevance and identity by harming others.
Speaking of the incident, London Mayor Sadiq Khan said, "The terrorist attack this morning was an attempt by evil and cowardly individuals, to kill, to injure and to disrupt our way of life."
Advertisement


Advertise on AboutIslam
And while some disruption did take place, and the threat level has been raised to its highest grading, London largely carried on with its daily routine, with many of us oblivious to what took place on the other side of the city.
While the police have yet to release details of the terrorist who has been caught on CCTV, American President Trump tweeted, "Another attack in London by a loser terrorist. These are sick and demented people who were in the sights of Scotland Yard."
In doing so, he suggested that our police knew of the terrorist beforehand, or he lied. And in response to this our Prime Minister Theresa May referred to Trump's comment as being 'unhelpful':
"I never think it is unhelpful for anybody to speculate on what is an ongoing investigation. The police and security services are working to discover the full circumstances of this cowardly attack and to identify all those responsible."
Responding to the act of terrorism, Harun Khan, Secretary General of the Muslim Council of Britain said, "The actions of the perpetrators are reprehensible and we are thankful that the incident has not claimed lives as it had the potential to do… I appeal to anyone who may have information that may assist the investigation to contact the police straight away. We do not yet know the identity or motivation of the attacks, but whatever it is, we must not allow them to achieve their ultimate aim – to drive a wedge between fellow citizens in our society."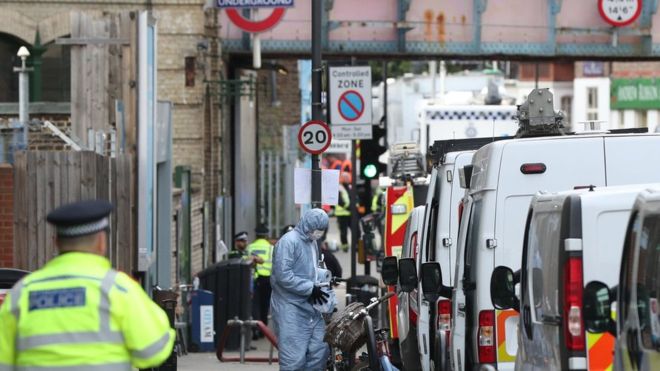 London Spirit
In a reflection of London's spirit, a local restaurant owner, Chef Teo Catino, set up a pop-up to offer free pizzas to any of the emergency services who happened to be attending the incident at Parsons Green.
Speaking to ABC news he said, "Someone has to say thank you (for their services). I do that for because it is a pleasure to do that. It is a way to recognize what they do."
Similarly, a taxi company, Hayber Cabs offered its services for free, for those caught up in the incident, while local resident Holly Leslie, opened up her home to those needing a toilet or somewhere to recharge their phone.
As tragic and unfortunate terrorism is, its impact can and is traumatizing. If such cowardly actions are the new norm then we, as citizens, must counter is with increasing demonstrations of kindness, love, and support for one another.
Prophet Muhammad (peace be upon him) once said, "In the name of God, a person is not a believer in God. In the name of God, a person is not a believer in God. In the name of God, a person is not a believer." When those around the Prophet asked who he was referring to, he replied, "The person whose neighbor is not safe from him."
While we do not know ye the identity of those involved, the very notion of terrorism, especially causing harm to one's neighbor conflicts entirely with the spirit of Islam. Meaning that these expressions of violence are simply a reflection of faithless individuals who have failed to understand the underlying importance of looking after and securing the safety of our neighbors.
London is no stranger to terrorism. The Great Fire of London in 1666 was itself an act of religious terrorism, 'a nefarious Catholic conspiracy' as reported by the Smithsonian Magazine.
Then, just as now, it is the everyday citizens of the city, of our nation, who band together to support one another at these times of difficulty. And in the words of Nick Newman, Head of global defense and security at PA Consulting, "Very British response to #ParsonsGreen terror attack. Get blown up on train. Walk to work. Carry on. #WeAreNotAfraid."