LONDON – Religiously-motivated hate crime has risen 40% in England and Wales, with more than half directed at Muslims, according to a new Home Office report.
"For years, Muslim communities have called for meaningful Government action against the rise in Islamophobia, yet this has been met by a tepid response at best," Harun Khan, Secretary General of the Muslim Council of Britain, said in a statement shared on MCB's website.
In the new report released by Home Office, police have recorded a surge in hate crime directed at people in England and Wales because of their religious beliefs.
It rose by 40%, from 5,949 in 2016-17 to 8,336 in 2017-18, with most hate crimes, 52% of all offenses, directed at Muslims.
In the past year, the types of offenses have included: a man soliciting murder after sending letters calling for "Punish a Muslim Day"; a man attempting to murder a Muslim woman and 12-year-old schoolgirl in "revenge" for terror attacks; and a Britain First supporter telling police "I'm going to kill a Muslim. I'm doing this for Britain" before ploughing his car into an Indian restaurant.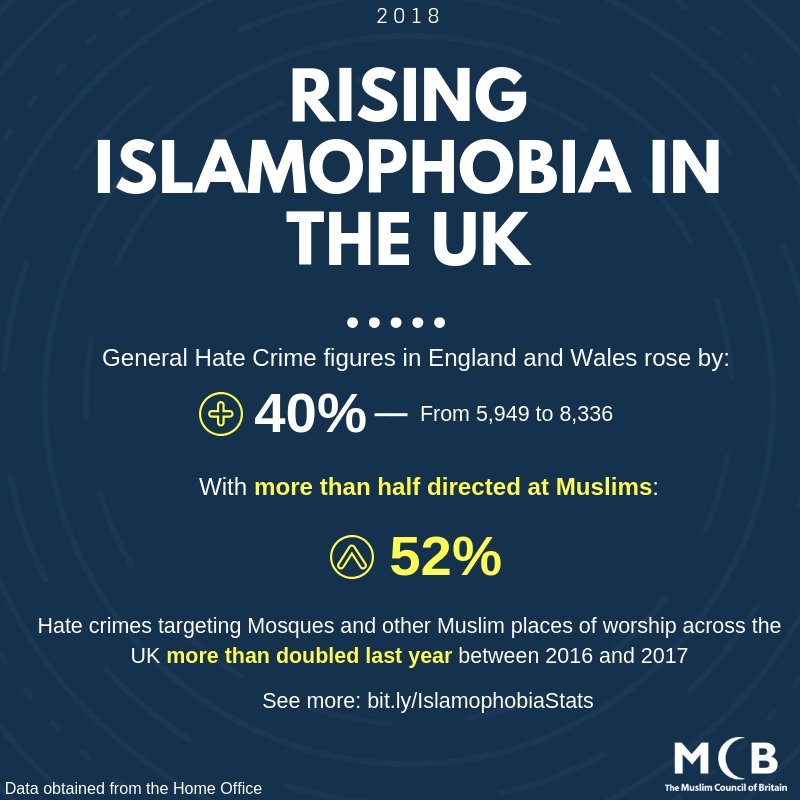 Visibly Muslim women have been particularly targeted. Only last week a Muslim teenager was beaten and her headscarf grabbed during an attack in Bethnal Green.
"No longer can the Government sit back and watch as the far-right rises, Islamophobia is mainstreamed and vulnerable Muslim communities are attacked," Khan continued.
"There has been little action against bullying of Muslim children, minimal funding for security for Muslim institutions (and only during specific periods) and no support to Muslim communities to encourage reporting of hate crime. And the list of inaction continues."
The ineffective response to Islamophobia is reflected in the poor and perilous state of relations between the Government and Britain's diverse Muslim communities.
Whilst the Conservative Party continues to ignore calls by hundreds of Muslim organizations to deal with Islamophobia amongst its ranks, the Government has dismissed all forms of meaningful engagement with the representative Muslim organizations in the UK.
"We welcome the Ministerial Roundtables on antisemitism and Islamophobia to be chaired in late 2018 to listen and respond to concerns from within communities, but unlike in the past two years, we hope that warm words will be followed by strong action," Khan added.
The Muslim Council of Britain is the UK's largest Muslim umbrella body with over 500 affiliated national, regional and local organizations, mosques, charities, and schools.