One of the United Kingdom's leading contemporary Islamic Artists, Amina Malik, invited family, friends and three other artists on Friday, November 22, for the opening of her new gallery space, just a few steps from Norwood Junction train station in a suburb of London.
Amina's art is a mix of eclectic designs, vivid colors and rich details, connecting the viewer with one of two experiences. From afar, one sees a creative piece. Up close, the detail often espouses the names of God or spiritual devotions. This dual effect allows everyone to appreciate Amina's work in passing or with more rich detail.
Speaking of her most recent piece which captures attention as one steps into the gallery, Amina said, "I don't know where it comes from, I just do what I feel like doing. Mostly it is emotion-based. If I'm feeling connected to something I might paint that experience. Lots of people don't see it, even after I tell them that it's a heart, they still don't see it. I started it in 2013 and I finished it this June (2019) as I was doing it on and off."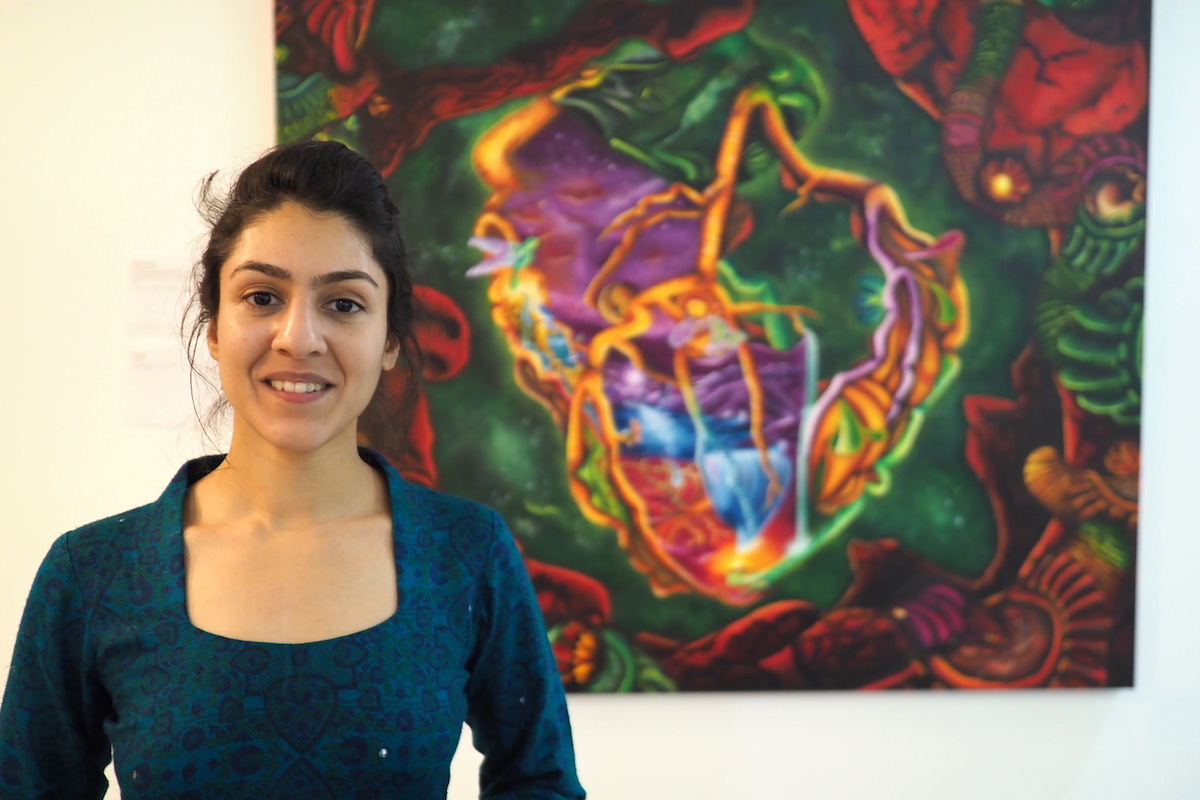 When asked about the butterflies and waterfalls within the heart, Amina added, "You might see one thing on the outside but there are lots of things happening inside. I was trying to depict the different emotions that were going on inside me at the same time. Also, I was trying to show the different layers inside of people.
"So the mountain you see is clear but all of the little flowers have worlds inside of them. They reflect different emotions from being born."

Amina Malik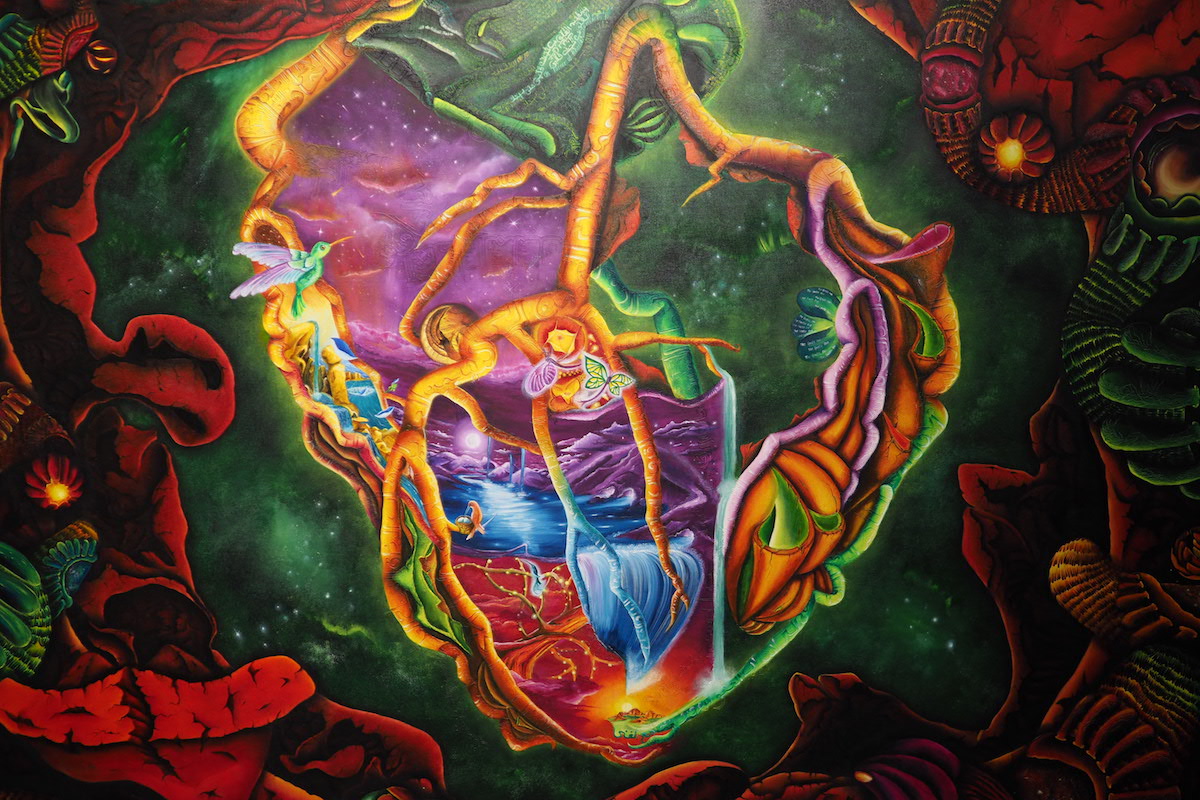 One of the most striking aspects of Amina's artwork is the painting of the 99 names of God , within and around the heart. This is something that can only be appreciated up close, and the moment you spot it, you can feel your own heart pounding. It is a truly intense experience.
Three guest artists displayed some of their work in support of Amina's gallery: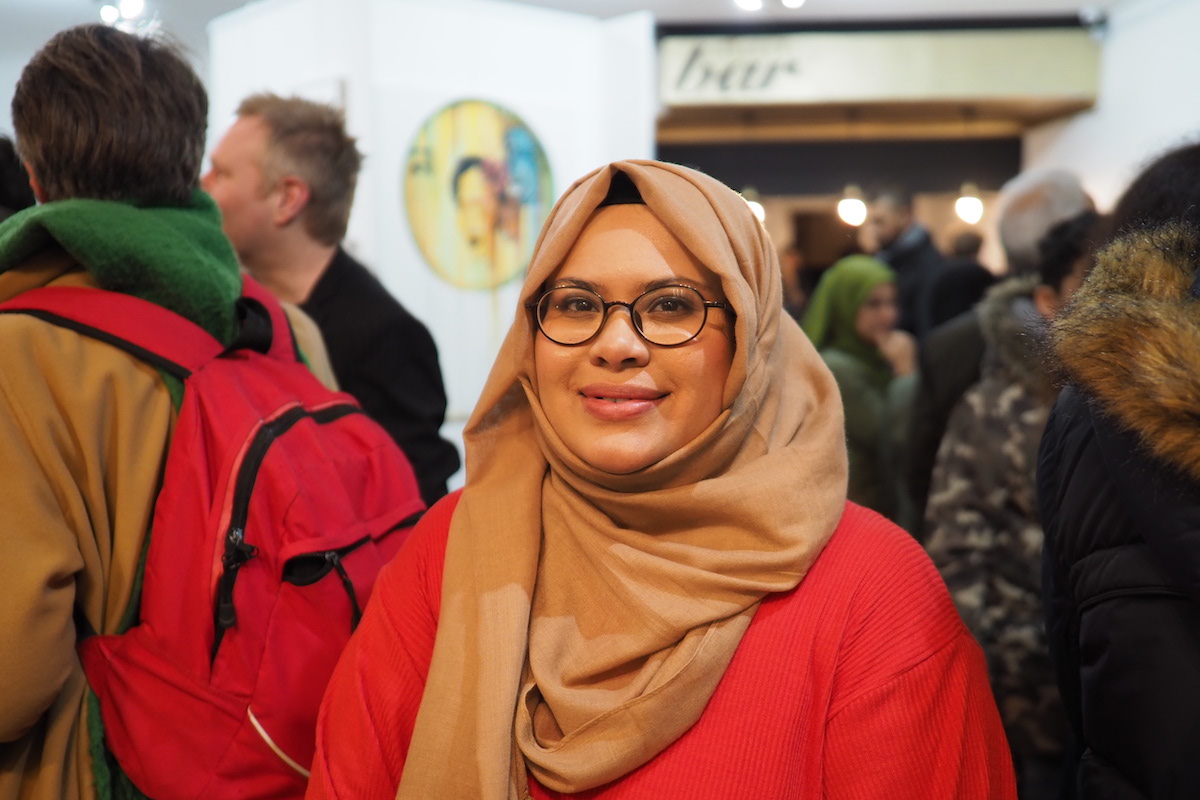 Rahima Begum
Rahima Begum, a British Bengali Muslim woman, is a human rights activist and the co-founder of Restless Beings.
Speaking about her work Rahima said, "I've been painting, producing creative work for the past 15 years or so, and to be part of collaborative exhibitions is always such an honor.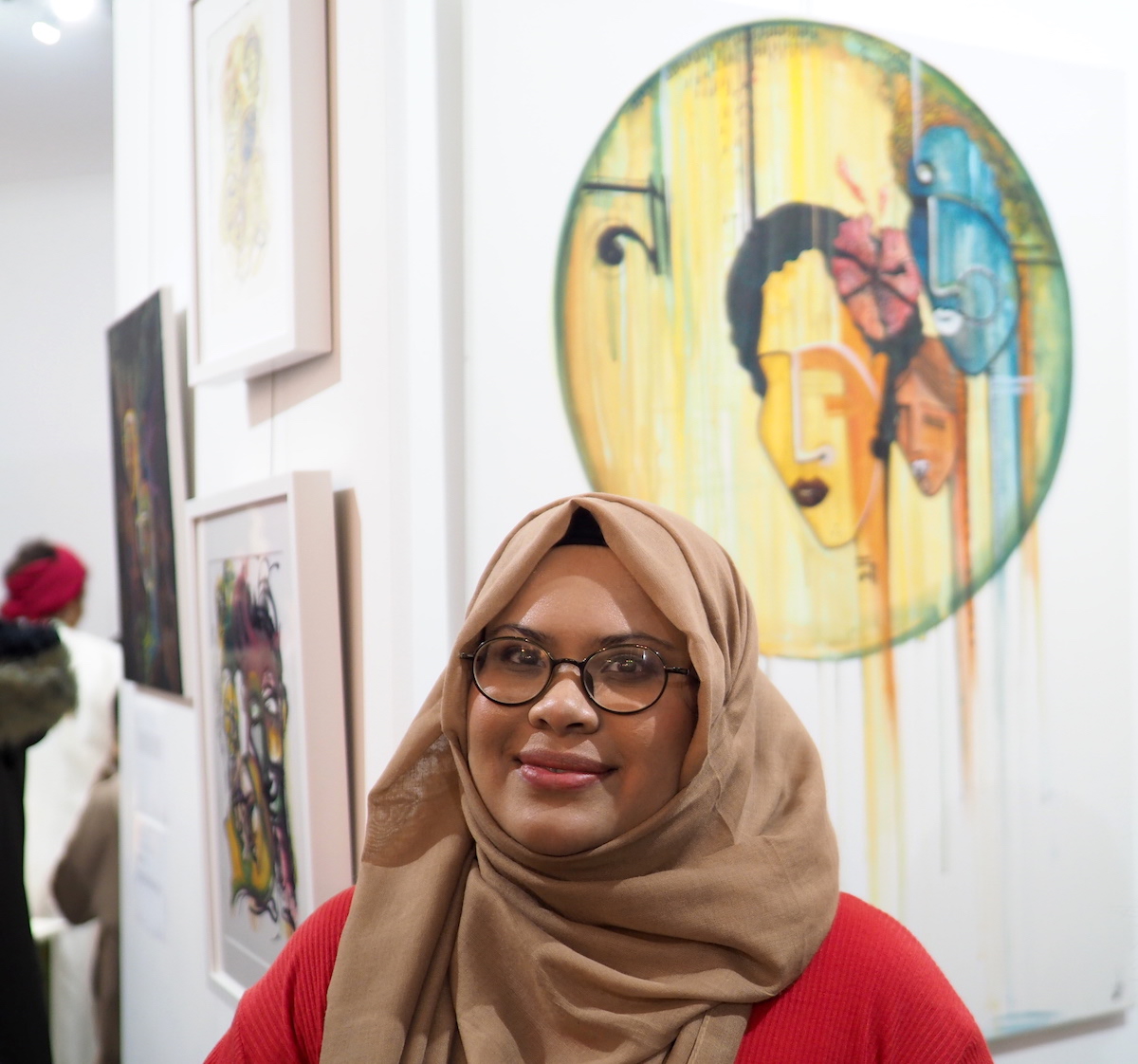 "In terms of what inspires me, I am inspired by folk cultures and folk communities, and also the struggle of refugees and women's rights. As an activist, it is the kind of thing that runs through a lot of my artwork. And so it is always great to see how I can bring those subjects through my work."

Rahima Begum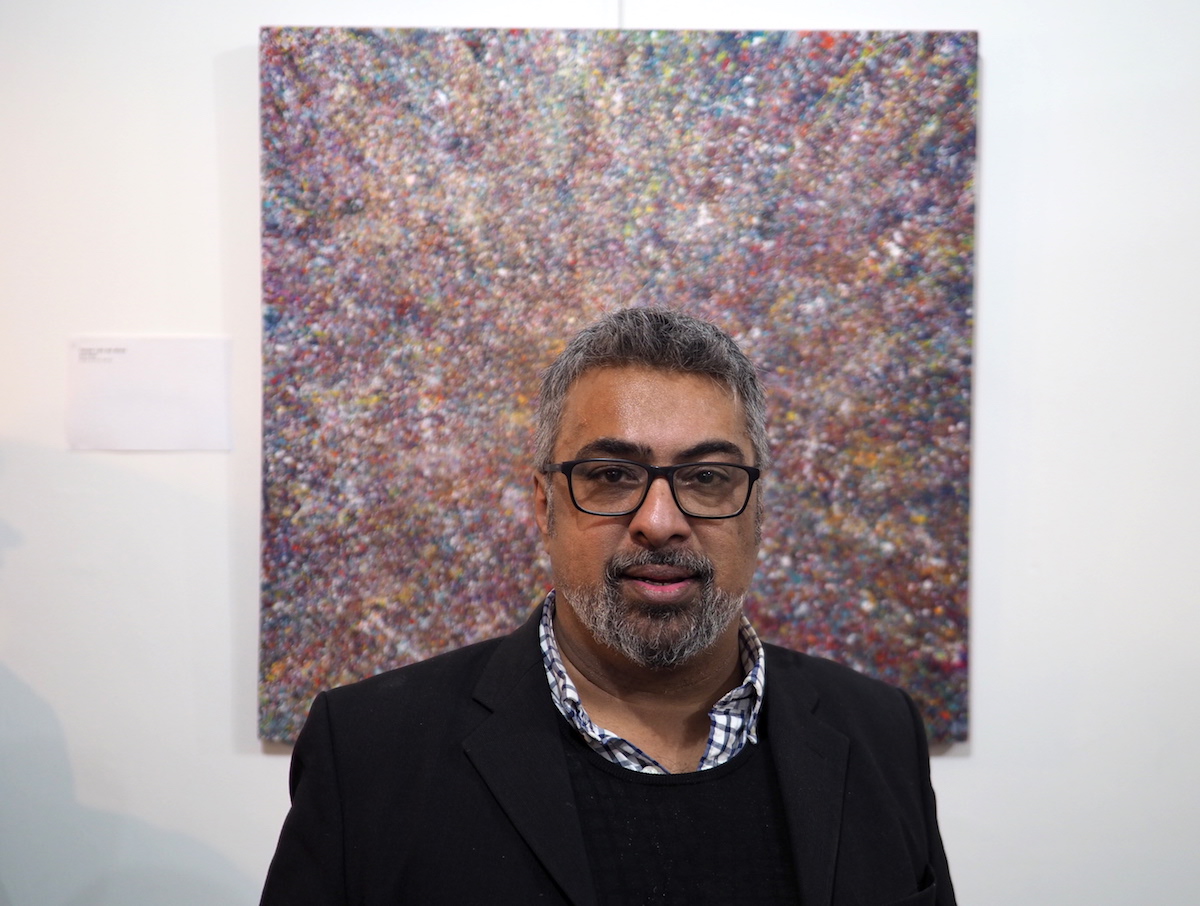 Samir Malik
Samir Malik is an artist, calligrapher, designer, and coach who has worked with corporations, royalty, and galleries. His art is a part of the UK National Collection and is held in private galleries around the world.
Speaking on his motivation, Samir replied, "Life, the universe, everything. My search for truth, my search for God, my search for peace in the universe. The people in the communities around me. That I am in touch with locally and globally.
"This piece is 20 years in the making. 20 years ago I went on Hajj (pilgrimage) and I tried to understand the whole concept of (hajj). The Muslim world, millions of people, send a wave of love and devotion towards the empty space that lies within the brick cube (the Ka`bah) in Makkah. So it's not the haram, the clocktower or the bricks, but the space that it represents.
"So this piece represents all the prayers coming in that direction from all over the world, in a wave, 24 hours a day, towards a space that we cannot touch, cannot feel, we cannot see, but our heart gives into."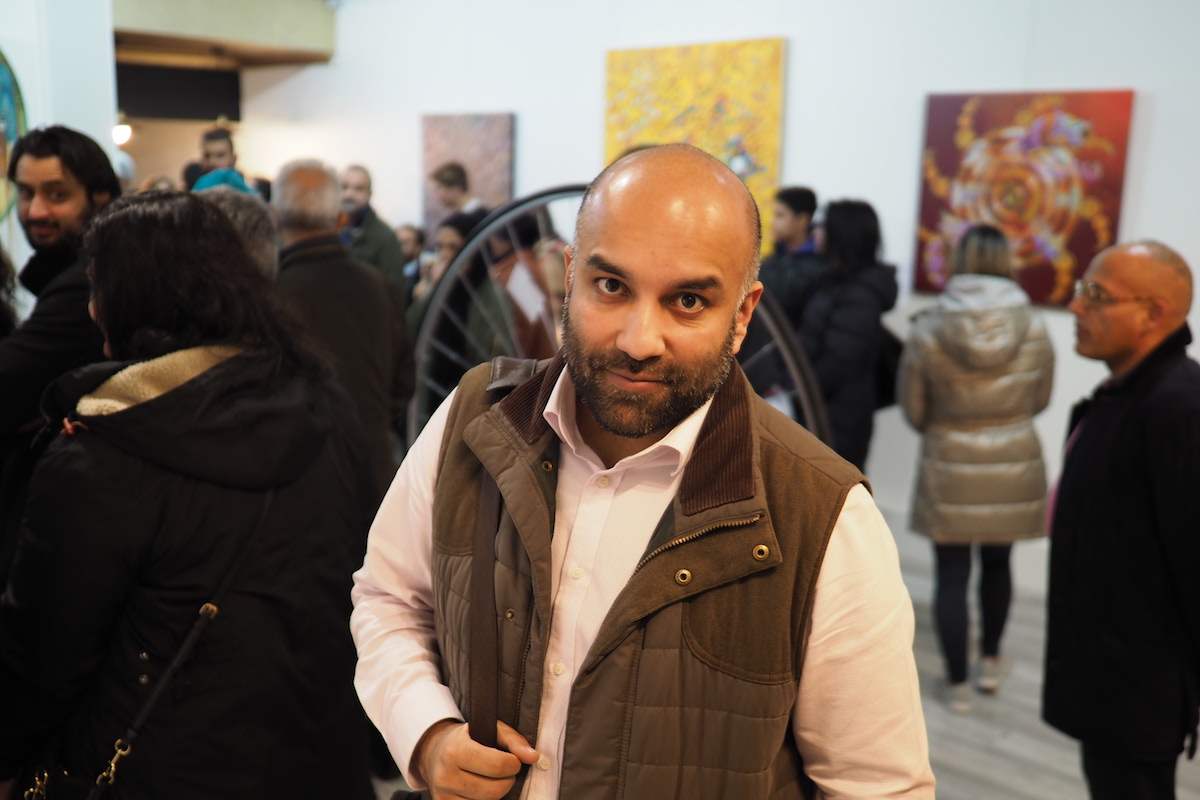 Umer Murtaza
Umer Murtaza is by profession a pharmacist, but by night he becomes a writer and artist. His work captures a person's imagination propelling them at times into worlds unknown. The rich detail, the underlying messages, they require time and patience to be truly appreciated.
When asked what inspires him, Umer shifted the focus, "I'm not going to talk about myself, I'm going to talk about Amina over here. I'm so proud of her. Just to see her trajectory, her evolution as an artist. As someone who has gone beyond, because I think there's an honor, to be able to provide a nurturing ground for other people of your kind. And that's what's happening here.
"Amina, herself an artist, is now providing other artists, an opportunity to display their work. How amazing is that! Usually, you have business people with their galleries, but here you have an artist doing it. I'm really proud of her."

Umer Murtaza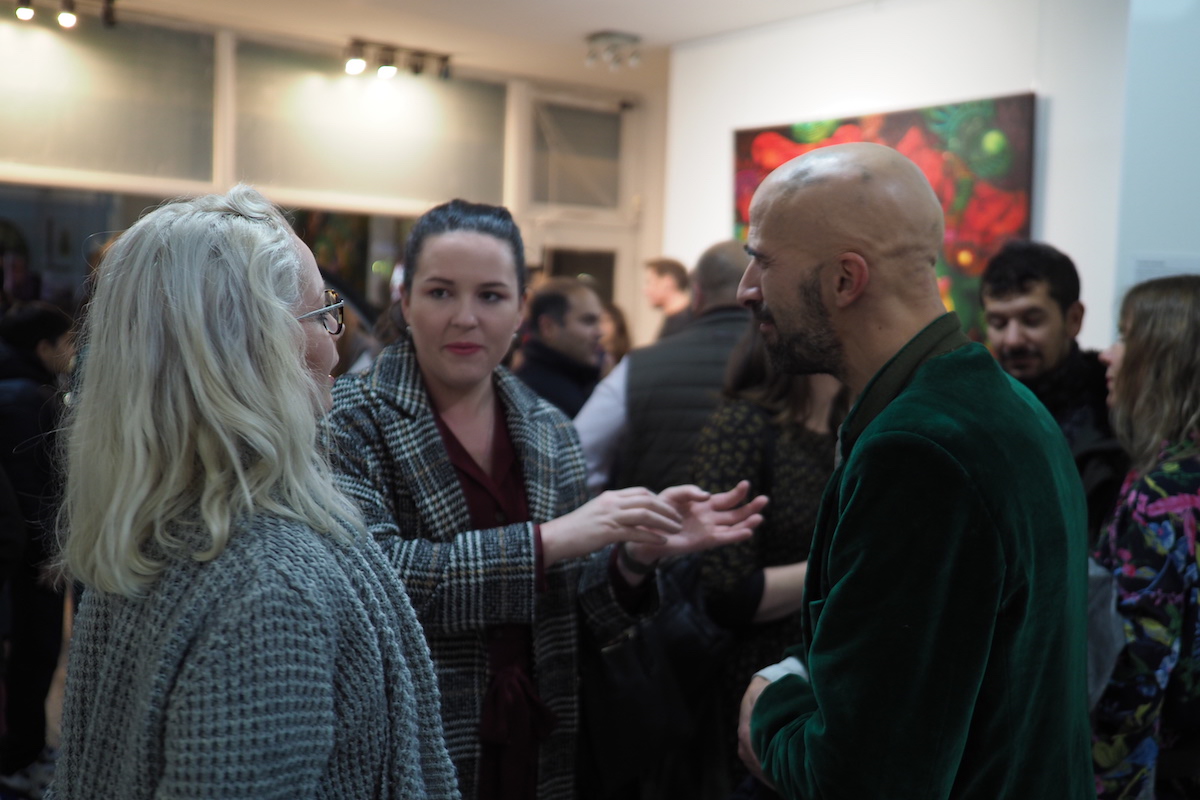 An open invitation
What used to be a former bicycle shop is now an art gallery. The current exhibition, Divine Stroke, can be enjoyed in comfort and style, as within the gallery there is also a small bar serving non-alcoholic beverages and light bites.
Contemporary Islamic Art is a genre in its own right. The traditional calligraphy which adorns every Qur'an has jumped off the pages, been reinterpreted by way of design, and landed on canvas.
It is said in the Qur'an that inspiration is something that comes from God. Blessed are those who have such a wonderful expressive talents from God; which surely are another form of drawing near to, honoring, respecting and loving, God.