Fresh fighting across Yemen continues to drive people from their homes, worsening what is already described as the world's largest humanitarian crisis and stretching depleted resources, UNHCR, the UN Refugee Agency said.
More than 22 million people are in need and over 85,000 displaced as a result of the ongoing conflict, as well as a collapsing economy and diminished social services.
Single mother Hayat Saif, who escaped Al Khawkah last month, described the recent upsurge in violence as the worst she had seen during the conflict.
"At some point the intensity increased so much that we just had to leave," she said. "We were sleeping under our furniture just to try and protect ourselves. Some of the families that stayed behind are now having to hide underground."
Yemen's west coast continues to be the highest source of new displacement, with 71 per cent originating from Al Hudaydah and Taizz governorates. Most people remain hosted by relatives or friends, trapped inside homes or in caves as ground clashes, aerial bombardment and sniper fire rage around them.
UNHCR, the UN Refugee Agency, is particularly concerned for those who remain in areas clo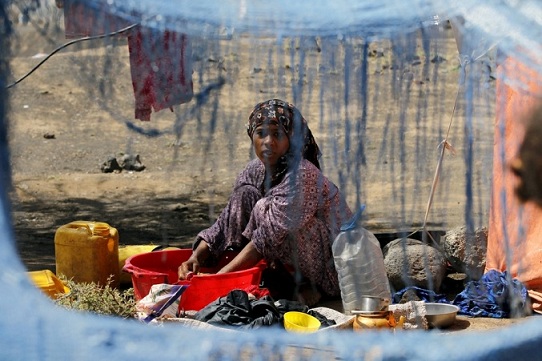 se to hostilities in Taizz and Hudaydah.
"As a result of prolonged fighting in those two governorates, conditions continue to rapidly deteriorate, exposing people to violence and disease, without basic services," UNHCR spokesperson Cécile Pouilly told journalists in Geneva.
For 2018, UNHCR is appealing for nearly $200 million to respond to critical and prioritised humanitarian needs. However, the agency has started the year with just three per cent of funding available.
For Fatemah Murai and her three orphaned granddaughters, who were displaced from Nihm – a district of the capital Sana'a and a flashpoint of the conflict – UNHCR's help has become a lifeline.
"We lost our land, home and furniture and became homeless overnight – this is the first time we received assistance since we were displaced," she said. "Our hope is for this ugly war to end and the warring sides to leave us to live in peace."
Below are International and Muslim relief organizations through which you can donate and support the Yemeni People.
Source: UNHCR
Read more