In the last few years, thousands of Rohingya Muslims living in Myanmar have become displaced and with increasing restrictions on their freedoms, over 100,000 have fled the country.
According to the latest UN report, The Burmese Rohingya Muslims are recognized as one of the world's most persecuted minorities, stateless and oppressed people living in constant fear. Recently, violent clashes in Rakhine State since October 9th have left dozens dead and whole communities destitute without access to food or shelter.
It has been reported that over 30,000 people from the Rohingya community have fled their homes in search of safety. Living in make-shift camps on the border between Burma and Bangladesh, they are in desperate need of food, shelter and medical aid.
Muslims For Humanity page brings to you the following list of the most well known Muslim organizations which are launching emergency appeals to help the Rohingyas. So we urge you to take action and join the appeal.
Islamic Help is on the ground working with our partners to deliver life-saving emergency aid to Rohingya communities. We are distributing food packs and water to families to ensure as many as possible receive the basic necessities of life.
Muslim Hands has been working in Myanmar since 2008. As well as constructing sustainable housing for displaced families we are also distributing vital relief both in Myanmar itself and in Indonesia's refugee camps. By giving to the Rohingya Crisis Appeal you are ensuring that we can provide essential food, water and medical supplies to those in dire need.

Islamic Relief has been working in Myanmar since 2008, delivering life-saving emergency aid, food and hygiene kits to those displaced by inter-communal violence. We've also rebuilt schools and provided healthcare through our innovative mobile boat clinics, which allows us to reach isolated communities.
Islamic Relief is on the ground inside Myanmar and has delivered life-saving humanitarian support to over 800,000 people, but there are many more people desperately in need – please donate now and help save lives.

Muslim Aid is at the forefront of tackling poverty and providing assistance to thousands of people across the country. Muslim Aid's vital emergency assistance and long-term development projects reach thousands of people in desperate need throughout Myanmar each year.

In the past 12 months, UMR has been working to deliver life-saving emergency food aid to Rohingya communities in Rakhine State. This Ramadan, we have expanded our efforts and are distributing aid inside Burma and in camps across Asia. We will be providing life-saving food, water, clothing and shelter to those in desperate need.
With your help, we can provide the Rohingya with enough aid to improve the current condition of their lives. It takes sacrifice and will require all of us to contribute. But we have to start contributing today.

Our teams are on the ground in places like Sittwe, Burma, delivering life-saving essential aid to those in the camps. We're providing food, hygiene and sanitation items, and clean water. We're also rebuilding shelters that have been destroyed or damaged.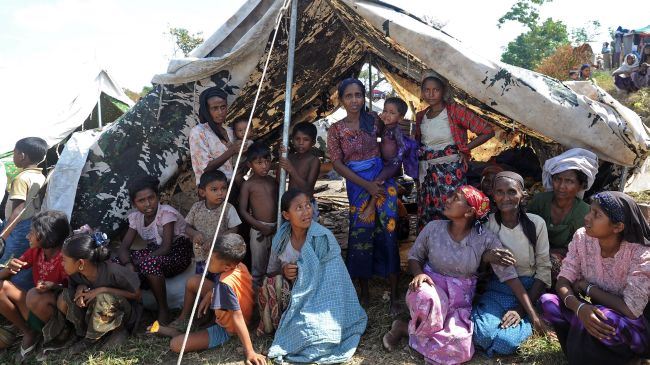 Muslim Charity has been working for the Rohingya community since 2013 and in Arakan State we have constructed permanent homes for affected families, distributed food and non-food items in IDP camps, established a primary school for Rohingya children. Muslim Charity is currently working on constructing new homes for Rohingya families in Arakan, Burma, as well as supporting the Rohingya Refugees in Bangladesh.

Thousands of families are destitute, in grave danger and without food or medical supplies.
Human Appeal works to alleviate this suffering, with your help, delivering vital aid.

Al Khair Foundation (AKF) has been providing direct aid to the Rohingya in Myanmar. Across Rakhine and Kachin State's, we've supplied hundreds of families with food during Ramadan. In our recent efforts, AKF was able to reach over 3,100 people in those areas most affected by inter-communal violence.
With your help, Al-Khair Foundation (AKF) can continue its advocacy efforts in demanding asylum for the Rohingya. Once they're safely on land, we will be delivering food, shelter, clothing and emergency aid. Meanwhile, your donations allow us to continue supporting the Rohingya in Myanmar.