I have spent most of the last few days in tears, and many of you will have done the same, all over the passing of Muhammad Ali.
But if you think about it, it's not really logical is it?
For the last twenty odd years, he did or said very little new which he became so famous for. As we say in the legal sciences, "Its presence is the same as its absence." But Ali wasn't just an "it" and life is more than just legalities.
His presence was gargantuan and the world just seemed better for him being there. That indomitable spiritual reality, which we felt in every corner of the world. He was still there. Somewhere. Anywhere. But Muhammad Ali was still around. And now he isn't. And the world is mourning a huge hole, a rip in the fabric of modern day life itself.
But that's also interesting, no? I mean if we are going to be brutally (or controversially) honest, then he was not the best boxer in history in my opinion and he was not the most obedient Muslim we have seen and he was not the most eloquent of speakers and he wasn't the most consistent of activists either.
However, to reach the ridiculously high levels he did in all the fields above and adding many more, combining them effortlessly, his excelling in public life and touching the hearts and minds of more people in modern history than any other individual, it is easy to see why he was the greatest of them all. A true champion, a champion of the process and a champion of the people.
He would bring profound truths. He would refuse to play second fiddle to anyone. He would clown about to make folks feel at ease. He would sacrifice his stature to make a child laugh and adults laugh harder. He would have the gravitas of a lion and bring it down to that of a fox in order to bring joy.
He would "embarrass" himself saying and doing outlandish things in the name of entertainment but with a key objective: to make people happy. He genuinely wanted to make people smile and feel good. He knew it was an act and so did we, but we loved it. He would show the personal touch when needed and make you feel special, and he would speak for the Ummah on a global scale in front of the world's media, and make you feel proud.
Confidence, happiness, pride. That is what he brought into our lives. And if smiling in the face of your brother is charity as stated by the Prophet (upon whom be peace), then what of the one who makes you smile? And makes you confident? And makes you proud of who you are?
There's no doubt of the blessings of such an individual. Those who cheer up the believers, and remove their distress, will not only become loved by the believers but will also become protected and helped by the Lord of the believers.
There are so, so many lessons to learn from the impact Muhammad Ali had on our lives. You have read hundreds of quotes, and hundreds of pages of eulogies and commentaries and personal stories, and you will see many more in the coming weeks but just add this one to the list: he was the greatest in our times because he lived a brand of Islam that made people and particularly the believers feel good about themselves in difficult times. The lesson? Please carry on his legacy by doing the same.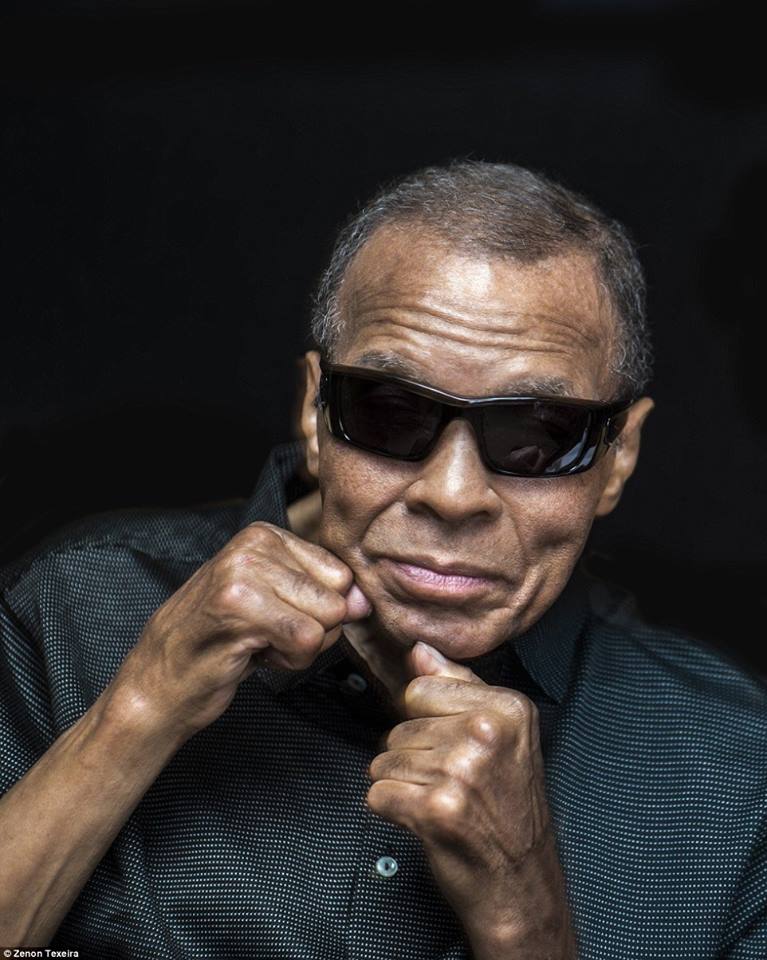 Bring joy and love to your fellow brother and sister and realize that this was not only the Sunnah of your Prophet (upon whom be peace) but also a proven way in modern times as shown by The Champ to make the world a better place for everyone. And this last photo of his so perfectly sums up that even until the end. It was always about putting a smile on everyone else's face.
Muhammad Ali: you will be missed so much and let my tears even now be a witness of my love for you and what you did for me personally in my dark times, and let the outpouring of love from the world be an even greater witness for you. We will not let you down in this blessed month. We pray with a supplication that will not be rejected, that Allah enters you into His highest level of Paradise without accounting or punishment. Ameen!
---
Based on a post published on the author's Facebook page.