Though Kashmir is known for its beauty and the youth of Kashmir are known for their intelligence, the majority is suppressed due to government negligence, and is not getting support to develop their intellectual capabilities.
Like hundreds of other young boys and girls, twin brothers Refaz and Ishfaq from the far-flung village of Wandevelgam of south Kashmir's Anantnag District have invented so far more than fifteen innovations to their credit which have been recognized with awards at the national level but none so far from the Kashmiri government.
The two young brothers Refaz Ahmad Wani and Ishfaq Ahmad Wani have a dream to become 'The Wright brothers' of Kashmir, they look alike, think differently, and work together as a team, which is behind their success. Fascinated by innovative ideas since childhood, the curious brothers always wanted to invent new things but have received so far no government appreciation.
Some of their accepted inventions that got patented by the National Innovation Foundation (NIF) in Ahmadabad, included foldable water bottle, injection breaker, apple catcher clip, easy meat cutter, geometry pen, bread lifter, drain cleaner, gas portable cylinder, easy apple lifter, been thresher, digging machine, lighting pen, lighting shoes, hand spade, furrows making machine, strainer, and several other inventions.
"Our dream product was a space pen and it was accepted by NIF too," Ishfaq told AboutIslam.net, explaining, "it took us a entire year to invent that space pen and inshallah our new product will be used by astronauts."
Ishfaq gives credit to his sister Runcy Jan who supported them throughout the journey of their achievements. She used to take care of them and prepare tea for the inventors during the late hours of the night. "We are highly indebted to our sister Runcy Jan who provides us with moral and domestic support and helps us in making plans, something which extends her help to us in making our dream products a real success." Ishfaq said.
Runcy has also invented a 'Plate washing machine' which she claims to be a unique machine for washing utensils in kitchens. "Being part of the Innovation club of my brothers, I also invented a unique product for housewives, a plate washing machine." Runcy told AboutIslam, adding, "in 15 minutes the machine is able to wash as many as 50 plates."
"The plate washing machine is a 30cm-wide box with a one meter-height that is motored by a normal small motor", she added. "We have not yet estimated its cost but it might cost around $120," Runcy suggested. Runcy told AboutIslam that despite running from pillar to post, no government official came to check on their work.
Artistic Trigger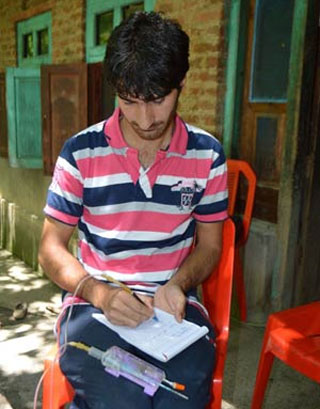 "We started to think of inventing things at the age of nine when we made tools and other household items from mud, and later replaced that material with wood," Refaz the eleventh grade student said. "We got the idea of innovations from the movie 'Three Idiots' when Amir Khan was questioned by his professor regarding a space pen."
"At the same time we surfed the internet to see whether there were any space pens and we found that the USA had invented such type of pen but it was a costly one," Refaz informed. "That influenced us to invent our own space pens and conduct four experiments for them at our club," added Refaz.
"We have created a small science club and named it 'twin brothers' innovations club' at our residence in a small room where we keep all the models and discuss our projects and innovations," Refaz said proudly. "We are thankful to our parents who support us in managing things despite living below poverty line".
"Initially people were laughing at us and weren't trusting our innovations, but now they order us to provide a sample of the agricultural tools we have invented so far," Refaz said proudly.
The parents of Refaz who are practicing Muslims have no source of income to send their innovative children for further studies abroad. "Our father is a poor laborer and cannot support us in exploring our talent", the bright Kashmiri guy added. "Our parents are unique in the world as they never delivered to us the impression that we are poor. They always uphold our morale and stand by our side," Refaz said.
"We were awarded for our innovations by NIF in an event that was organized by the Indian Institute of Management" Refaz said, adding that the former president Abdul Kalam called us "the creative twin".
We are thankful to our esteemed Prof. G.M. Bhat who provides us with all the facilities he could provide on behalf of Ghan Cell, Refaz informed. "The only forum 'Ghan cell of Kashmir University is giving us boost and also provide us with some financial aid", Refaz claimed.
"We have no laboratory to carry on further experiments", he regretted, adding that his family is still facing financial problems.
He said that there was no aid or scholarship granted to them by the government despite having a separate and a specialized department for Social Welfare who is supposed to provide support to talented and poor students.
Cheap Space Pen
On his dream product 'the Space Pen' Refaz explained that space has zero gravity, thus whatever type of pen we use in space none of it works due to the absence of gravitational force to drop ink, as is the case on earth. He added, "If we use air pressure in space it won't work. As a result, I was struck by the idea of using magnetic force which is a sort of natural force like the gravitational one."
The twin's space pen will probably cost around $4.5 in the open market, while the American space pen costs millions of dollars. "If we could get support from any company or organization, we will be able to send our space pen out to space, otherwise this will remain in our minds and hearts only because we won't be able to bring the innovation on to market", Refaz said with tearful eyes.
On the invention of injunction cutter, Refaz clarified that the injection is inserted in a holder, and by rotating the rod, the injunction gets broken. "It saves time, we can easily cut the injunction, moreover the broken part does not fall on the ground." Kids of the area who are inspired by the innovative products of this young twin visit them and urge them to perform experiments, but the club is not equipped with sufficient instruments.
"Government should support our innovative brothers so that they can fulfill their dreams," Ajamul, a young boy living in the neighborhood of Refaz told AboutIslam, adding that children there see the twin as their role model and that they are highly inspired by the twin's work. Ajamul said: "Kashmir is proud of these twin brothers and one day they will be known as the Wright Brothers of Kashmir.
"The innovation club of the twin brothers is open to all young boys and girls," Ajamul said and added that the government never supports the young innovators of Kashmir. "Government should support these young boys and provide all the necessary facilities for advancing their innovations," Ajamul called.
"I wonder why the government of Kashmir is not encouraging young minds, particularly those who could do best in the field of inventions?" Talha, another young member in the innovation club told AboutIslam.net. Though the government of Kashmir is not providing any financial support to the inventors of the trouble torn valley, however, the University of Kashmir has come to the rescue of the young intellects and established the 'Ghan Cell' headed Dr. G.M. Bhat, where the smart youth are provided a platform under the Grass Root Innovation & Augmentation Program.
"We gave the inventions of the young talented youth to consumers and we receive feedback from them", the professor said. "Some of the innovations like walnut cracker are even now available on the open market". "We are in fact providing a platform to these young boys and girls under Grass Root Innovation & Augmentation Program at Ghan Cell of the university's campus," Bhat explained.
The Ghan Cell is funded by NIF but no support is given by the state government. "We are even providing financial support to these young inventors and so far about 45 or more of them are registered in Ghan Cell," Bhat clarified. The Kashmiri professor announced, "I have personally taken up the matter with the state government's Science & Technology Department but there is still no response from them."
"These young boys really need support from the state's government to explore their products. I think the Kashmir government is not serious." Bhat claimed.