American singer Miles, vocalist for Michael Jackson and Whitney Houston, has converted to Islam, saying she learned much about the faith during her stay in Turkey, Anadolu Agency reported
"Everything is new for me at the moment," said American singer and recent convert to Islam Della Miles.
"I consider myself a baby in Islam because there is so much to learn."
Miles, a US jazz singer who has worked with global stars such as Michael Jackson and Whitney Houston, said she converted to Islam after spending sometime in Turkey where she said the religion "surrounded" her.
"Istanbul is the best place to get the real atmosphere of what Turkey is about," she said.
"Even though there are Muslims in America, where I am from, I have never felt it."
On her understanding and experience of being a Muslim, Miles said: "Actions speak louder than words."
"I have seen Muslims whom I know who literally take the shirt off their back to give to someone in need," she said.
She praised Turkish people in this regard saying: "They do not even know who I am but they are making me feel very comfortable."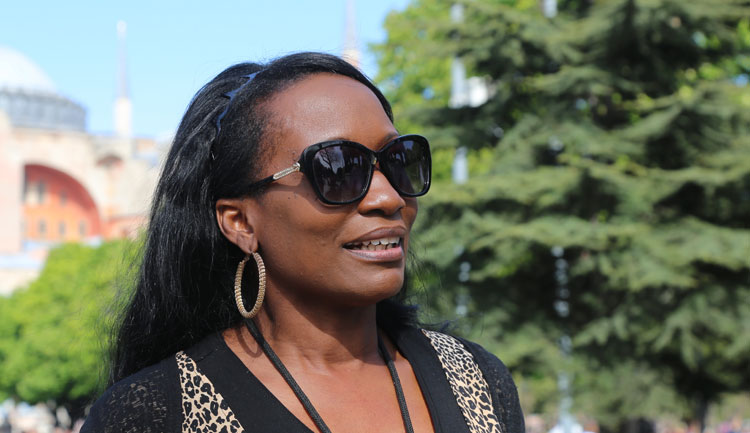 Born into an extended family of 5 brothers and sisters, Miles was born into a musical family. Her mother sang and directed music in church while her father was a jazz enthusiast and owner of a music venue.
Also a songwriter, Miles took to the stage with German actor and musician Marius Muller-Westernhagen.
In 2012, she took a leading role in the American opera Lulu and later portrayed the wife of former US President Barack Obama in Hope – The Obama Musical Story.
Miles has also worked on tribute albums for Turkish musicians such as Muslum Gurses and Zeki Muren in Turkey.
The Irish singer-songwriter Sinéad O'Connor, also known as Magda Davitt converted to Islam and changed her name to Shuhada' Davitt last October, 2018.
Indian TV actress Dipika Kakar has also embraced Islam before marrying Indian actor Shoaib Ibrahim, saying she is proud to be a Muslim.