A few days ahead of hajj, Saudi Arabia is all set to provide a digital pilgrimage this year, relying on robots to assist pilgrims with fatwas, guidance, among other services to preserve the health of people.
After introducing robots to distribute Zamzam water, the General Presidency for the Affairs of the Two Holy Mosques has intensified the use of artificial intelligence (AI) in the Grand Mosques, Saudi Gazette reported.
📚 Read Also: I Had Zero Feeling About Hajj! Emotional Hajj Experience!
These robots will be used for sterilization and epidemic control.
Mansour Al-Mansoori, the assistant director of technical and service affairs, said AI is used in operating robots inside the Grand Mosque according to maps programmed through Google Map, covering all parts of the mosque, including the Mataf courtyard, Al-Masaa, and all its facilities.
This comes as part of the Kingdom's comprehensive development plan 2024 to use modern technologies in the service of the Two Holy Mosques.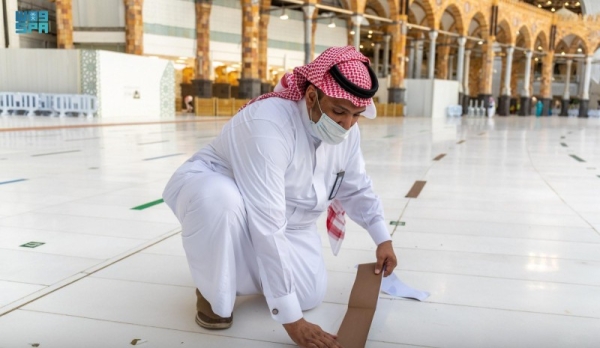 Mataf Tracks
As part of the final preparations for hajj, the Presidency has realigned special tracks for performing tawaf, placing new physical-distancing floor stickers on mataf.
The presidency, represented by the General Department of Crowds and Grouping, has completed the work of removing the old stickers and placing the new ones to facilitate the movement of pilgrims during their circumambulation.
Osama Al-Hujaili, director of the General Department of Crowds and Grouping at the Grand Mosque, said the stickers were put to facilitate pilgrims movement and to enhance the safety and comfort of the pilgrims.
Downsized Hajj
Saudi Arabia will host another downsized hajj from Saturday, with only residents fully vaccinated against the coronavirus permitted and overseas Muslim pilgrims barred for a second year.
The kingdom seeks to repeat last year's success that saw no virus outbreak during the five-day Muslim ritual.
It is allowing 60,000 residents of Saudi Arabia to participate, higher than in 2020 but drastically lower than in normal times. People will begin to arrive on Saturday, a day before the start of rites.
Chosen from more than 558,000 applicants through an online vetting system, the event is confined to those who have been fully vaccinated and are aged 18-65 with no chronic illnesses, the hajj ministry said.