Praying for a greater reward from Allah, many Muslims choose to visit the holy city for hajj or umrah walking, biking or cycling.
Riding his bike for nearly 5000 kilometers, young Indonesian Muhammad Fauzan's journey to Makkah took more than seven and a half months.
Fauzan kicked off his journey from Magelang, Central Java, on Nov. 4, 2021. He performed Umrah after reaching Makkah last week.
📚 Read Also: These Are the Strangest Hajj Journeys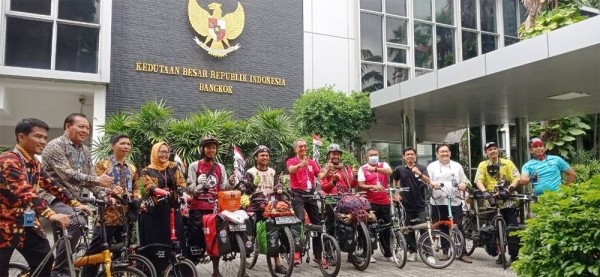 "My intention is to perform Hajj and visit the Three Holy Mosques in Islam — the Grand Mosque in Makkah, the Prophet's Mosque in Madinah and the Aqsa Mosque in Jerusalem," Fauzan, 28, told Saudi Gazette.
"After performing Hajj, I have plans to continue my bicycle journey to Palestine to visit the Aqsa Mosque and also visit other Gulf Cooperation Council (GCC) States," he added.
No Wait for Hajj
Fauzan said that the bicycle pilgrimage was the best way to perform hajj without having to wait for long years.
"Normally Indonesians have to wait for around 40 years for their turn to perform Hajj after their registration. But I was impatient to visit Islam's holiest places and perform the annual pilgrimage and hence started preparations by saving money from my salary as a teacher," said Fauzan.
Muslim pilgrimage or hajj is a lifetime journey that many aspire to. So far, around 21,000 Indonesian pilgrims have arrived in Madinah for this year's hajj.
There have been previous similar adventures, especially with regard to performing Hajj.
In June 2019, a group of four Kenyan cyclists and two support members embarked on a lengthy trip from Nairobi to Makkah to perform Hajj and raise funds to educate needy children in Kenya.
Earlier in 2018, a family of five Indonesian Muslims took a lengthy cycling journey of 13,000 km to Makkah to perform Hajj.
Another Indonesia Muslim walked more than 9,000 kilometers to perform Hajj in 2017.